Tornado watch issued for most of Central Texas through 6 pm
Published: May. 4, 2022 at 4:20 PM CDT
|
Updated: May. 5, 2022 at 4:38 PM CDT
WACO, Texas (KWTX) - A tornado watch remains in effect for parts of Central Texas until 6 PM. While the main concern with today's storms will be strong wind gusts, potentially over 70 MPH, there's a concern for hail and also a few tornadoes too.
TIMING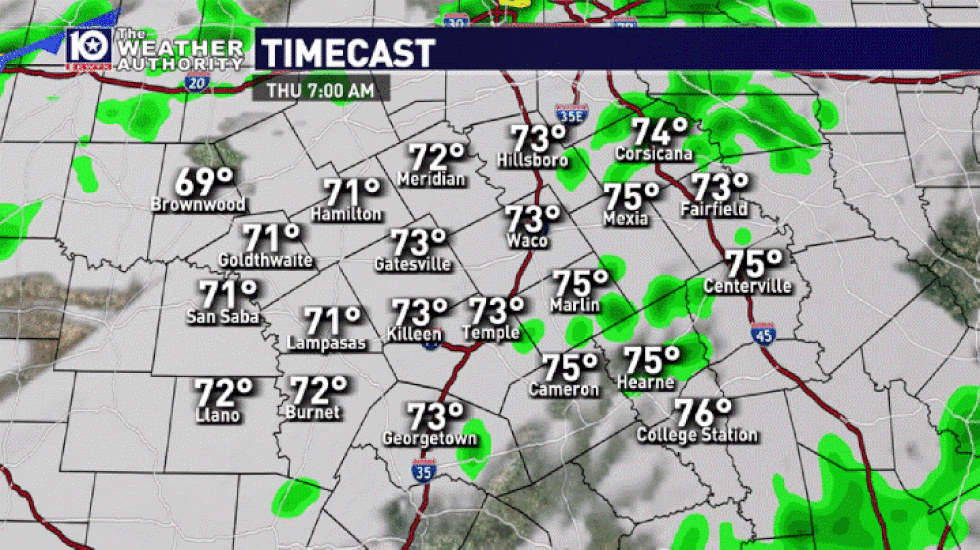 The storms will likely initially be widely scattered and not formed into a cohesive line, but those storms are expected to congeal into a line as they near I-35 around or shortly after lunch time. The line of storms will push eastward across I-35 with most locations near and west of I-35 drying out around 4 PM. East of I-35, especially in the Brazos Valley, storms will arrive around the same time, late this morning, but the storm chances won't be over until around sunset.
IMPACTS
The initial cluster of storms through around midday will carry a lower severe weather threat than the line of storms will from lunchtime onward. The highest severe weather risk today is from the line of storms that'll form as the cold front presses eastward.
- Main threats: 60-70 MPH wind gusts, quarter+ size hail
- Tornado potential low, but not zero
- Locally heavy rain, in spots, could create minor flooding issues
Thursday will be cooler - some will be stuck in the 60s and 70s behind the front, some may make it back into the mid 80s where rain and clouds clear, but everybody should enjoy the spring air because it summer-style heat is on this weekend.
THE WEEKEND
Summer is making an early appearance this year to celebrate moms on Mother's Day! As sunshine gradually returns Friday, temperatures are expected to warm back into the upper 80s and maybe even the low 90s. Building high pressure and gusty south winds this weekend will pull warmth into Central Texas. Highs Saturday through Tuesday should warm into the mid-to-upper 90s each day.
It's entirely possible to see a triple-digit temperature late in the afternoon west of Highway 281 too. Enough humidity will be around, especially this weekend, to send heat index values into the triple-digits too. Unfortunately, there's no real relief from the heat next week either and long term forecast models depict a good chance of low/mid-90s through next week and maybe into the following week.
Copyright 2022 KWTX. All rights reserved.