Judge declares mistrial in case of Waco man accused of murdering mother of his three children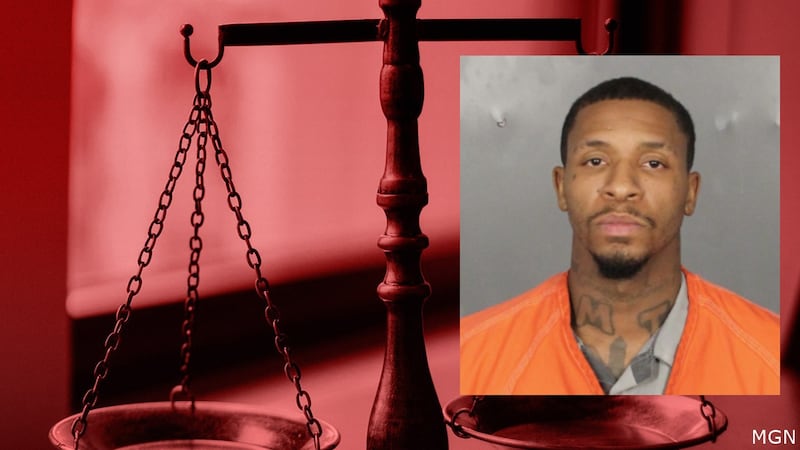 Published: Sep. 23, 2022 at 5:06 PM CDT
WACO, Texas (KWTX) - Jurors deliberating whether Quest Aljabaughn Jones shot and killed the mother of his three children in 2019 deadlocked 11-1 in favor of guilt Friday, forcing the judge to declare a mistrial.
The 19th State District Court jury of six women and six men deliberated about seven hours before telling Judge Thomas West that one woman on the panel was "steadfast" that Jones was not guilty and that the jury was hopelessly deadlocked.
Jones, 31, was on trial in the Feb. 3, 2019, shooting death of Sherrell Carter at their home on Wilshire Drive in Waco. Carter, 26, the mother of three of Jones' young children, suffered five gunshot wounds, including two shots to the head, at about 3:30 a.m. after she returned home from partying at a club in Mexia.
Trial testimony and court records revealed that Jones and Carter had a rocky relationship that included a number of incidents of domestic violence, including one that sent Carter to the hospital in 2012. Witnesses said Jones threatened to kill Carter if she ever left him and testified she had plans to end their relationship before she was killed.
Waco Police Detective Eric Trojanowski, the lead investigator in the murder, testified Thursday that the most dangerous time in relationships marred by domestic violence is when the woman tries to end it.
"Shooting somebody with a gun is an extremely violent act," Trojanowski testified. "But shooting someone in the face from 2 feet away is an act that says, 'I hate you and I really want to kill you.'"
Jurors sent out seven notes requesting certain snippets of testimony, crime scene photos and other evidence introduced during the five-day trial before sending a note about 3:45 p.m. that they were deadlocked 11-1. West instructed them to keep deliberating, but about 10 minutes later, they sent another note with the same message.
West gave the jury what is known as an "Allen charge," instructing them to keep trying to reach a unanimous verdict because if a mistrial were called, another jury will have to hear the same evidence and be asked to return a verdict. Ten minutes later, the jury said again that more deliberation would be fruitless.
Assistant District Attorney Will Hix, who prosecuted the case with Maddie Beach, said, "the state is fully committed to this case and those affected by it in our community. We look forward to presenting our evidence to the next jury selected."
Abel Reyna, who represented Jones with Craig Depew, said he was limited about what he could say after the mistrial because the case remains pending. However, he also said they look forward to presenting their case to the next jury.
Freda Brown, Carter's mother, said she is disappointed by the mistrial because she and her family have been waiting more than three years for some semblance of closure and justice for her daughter. Brown, who has custody of her daughter's three children with Jones, said she hasn't slept well and suffers from depression, anxiety and PTSD since her daughter was killed. The children were 5, 4 and 3 when their mother was killed.
She advised women who are involved in violent relationships to get out of them and to seek help from law enforcement and counselors.
Jones, who did not testify at his trial, returned to the McLennan County Jail, where he has been held for more than 1,300 days under bonds totaling $600,000.
After the mistrial was declared, there was a brief altercation in the courthouse parking lot between Jones' family and friends and Carter's family and friends, who packed the courtroom during the trial. Courthouse deputies, who escorted jurors to their cars, broke it up and sent both sides on their way.
Jones told police an intruder broke into their home and shot Carter. He said the masked gunman pointed the gun at him and pulled the trigger four times but the gun did not fire.
Trojanowski said the physical evidence at the crime scene showed that no one was at the home other than Jones, Carter and their three children.
In closing statements Friday morning, Hix reminded jurors of Trojanowski's testimony that indicated Jones told multiple versions of what happened that morning and said his story changed each time the detective confronted him with conflicting evidence.
Hix said that while Carter's family and friends have waited 3 1/2 years for justice, Jones' defense team has had the same amount of time to try to concoct a tale that would match the evidence.
He also reminded the jury about the testimony of Lacreshia Jackson, a Mexia woman who had a nine-year relationship with Jones. The couple has two daughters together, ages 13 and 12.
Jackson said Jones threatened her in a recorded phone call from the McLennan County Jail in December 2020, saying, "I should have got your ass, too," and "Don't worry. I'll catch up to you in 30 years. I'm going to do you worse."
Reyna downplayed the recorded threats, asking the jury in closing statements why Jones would wait more than three years for his day in court and then suddenly confess to murder a year later on a jail phone that both he and Jackson knew was being recorded.
Reyna argued police investigators never gave Jones the opportunity to make a written statement and then "preyed on the inconsistencies" in his statement. He said Jones had just been through a traumatic experience, the mother of his children was killed and he was operating on no sleep and little food during extensive police interrogations.
He said under those circumstances, anyone would have difficulty answering those questions consistently.
COPYRIGHT 2022. KWTX TV. ALL RIGHTS RESERVED.