Storms are gone, windy weather takes over
Wind Advisory until noon Tuesday
Published: Oct. 24, 2022 at 6:59 AM CDT
|
Updated: Oct. 24, 2022 at 10:41 PM CDT
Wind Advisory to start Tuesday
Strong winds are expected behind our cold front overnight through Tuesday morning which is why a Wind Advisory is in place from 2 am to noon Tuesday. West winds are expected to blown in about 20-25 mph with gusts up to 45-50mph. Unsecured outdoor items may be blown around in the wind. Driving on area roadways may become difficult, especially for high-profile vehicles. The winds start to die down after noon tomorrow and we settle into lighter winds and cooler weather for Tuesday afternoon.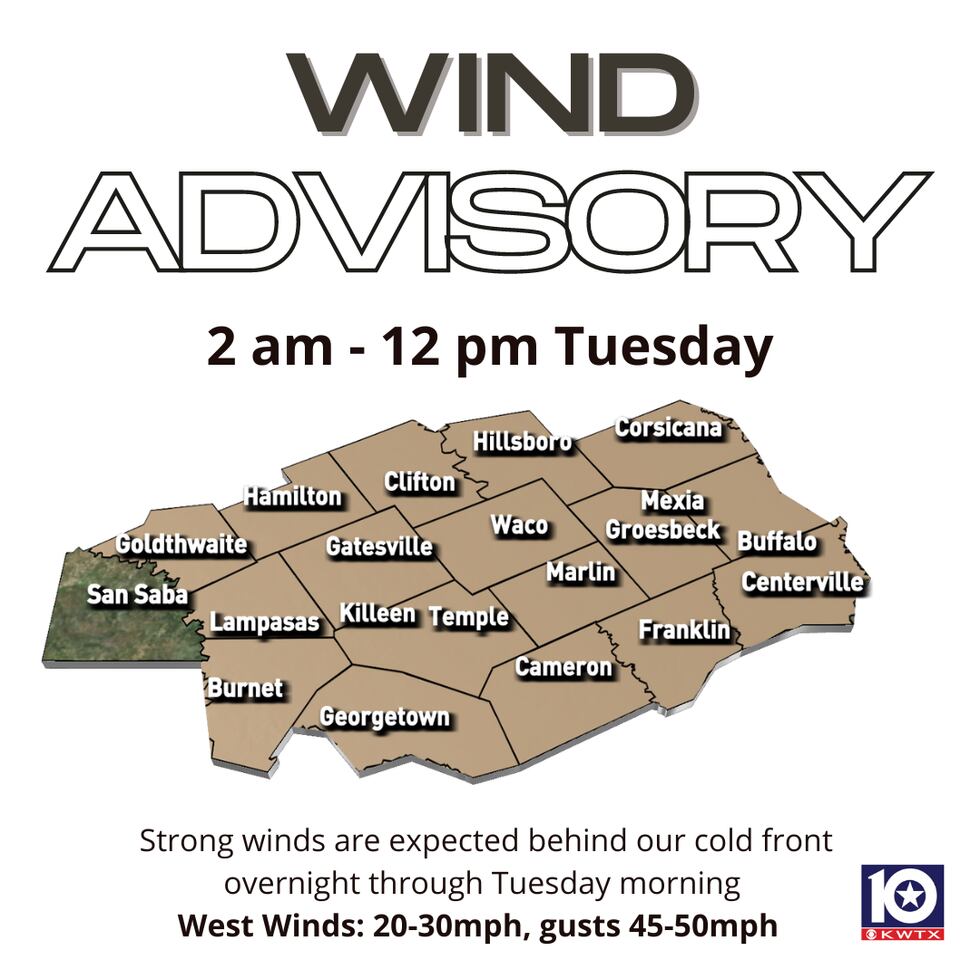 We're expecting lows Tuesday morning to dip into the 40s and low 50s. Winds could still be rushing in about 20-25mph through noon tomorrow but once we cross into the afternoon hours, winds should start to die down. Full sunshine for Tuesday, but sitting behind the cold front + breezy NW winds will keep highs in the mid-70s. As winds go calm Tuesday night, we'll dip into the mid-40s Wednesday morning.
Things are warming up a bit for Wednesday and Thursday - highs return to the upper 70s and even the lower 80s. Another storm system should move in late Thursday but mainly Friday. Most of the day Thursday will be dry, but there's a chance for storms likely after sunset Thursday with rain chances nearing 70% Thursday night and Friday.
The storm system rolling through will be compact and likely won't bring us a high storm risk, but heavy rain is possible for most of the morning Friday with potentially some clearing in the afternoon. The cooler air behind Friday's front arrives during the day so morning lows in the 50s may struggle to reach even 70°! Wraparound moisture behind the storm system could kick up some rain Saturday too, but it'll mostly be a quiet and breezy day with highs near 70°. Halloween weekend looks nice as we gradually warm back into the mid and upper 70s on Halloween.
Copyright 2022 KWTX. All rights reserved.