Apparent Monterey Park shooting suspect dead, law enforcement source says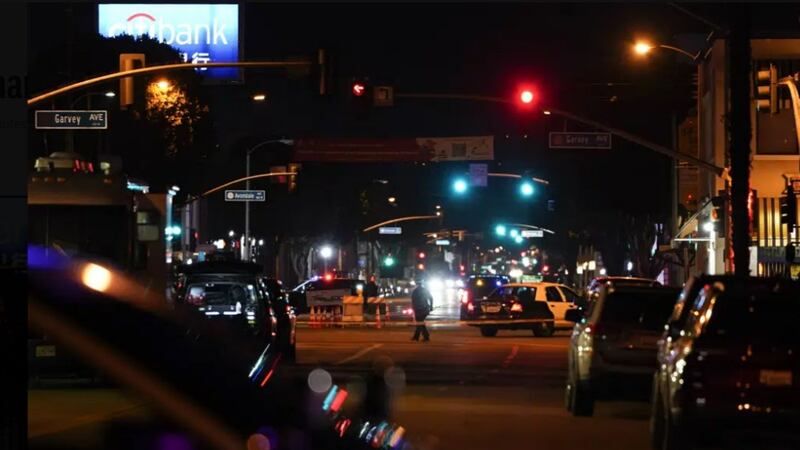 Published: Jan. 22, 2023 at 7:27 PM CST
MONTEREY PARK, Cali. (CBS NEWS) - The apparent suspect in a shooting in Monterey Park, California, that left 10 dead and another 10 wounded has died, a law enforcement source told CBS News on Sunday.
The suspect apparently shot and killed himself inside a white van that police had surrounded. Los Angeles Sheriff Robert Luna said earlier Sunday that law enforcement was dealing with a "barricaded suspect situation" in the Torrance neighborhood.
Luna said five men and five women were killed and another 10 wounded in the shooting at the Star Ballroom Dance Studio in Monterey Park late Saturday night. Then, 20 to 30 minutes later, a man with a gun entered the Lai Lai Ballroom in nearby Alhambra.
Authorities believe the two events are connected. They offered no details about a possible motive.
On Sunday afternoon, police surrounded a vehicle with a person inside who Luna said could "possibly" be the suspect, but said they did not know the condition of that person.
"We believe there is a person inside of that vehicle. We don't know their condition, but we're going to handle that in safest manner that we possibly can and try and identify that person. Could it be our suspect? Possibly," Luna said.
The dramatic scene involving the vehicle was captured overhead by news helicopters. Luna said they were still investigating how the van was linked to the suspect and the shooting. Footage from a helicopter above the van, which was located in a parking lot in Torrance in west Los Angeles, showed two armored vehicles positioned in front of and behind it, with officers in fatigues and body armor at the rear of one of the police vehicles.
Police had released a bulletin Sunday morning that described the suspect was a man of Asian descent who stands about 5 foot 10 inches and said he should be considered "armed and dangerous."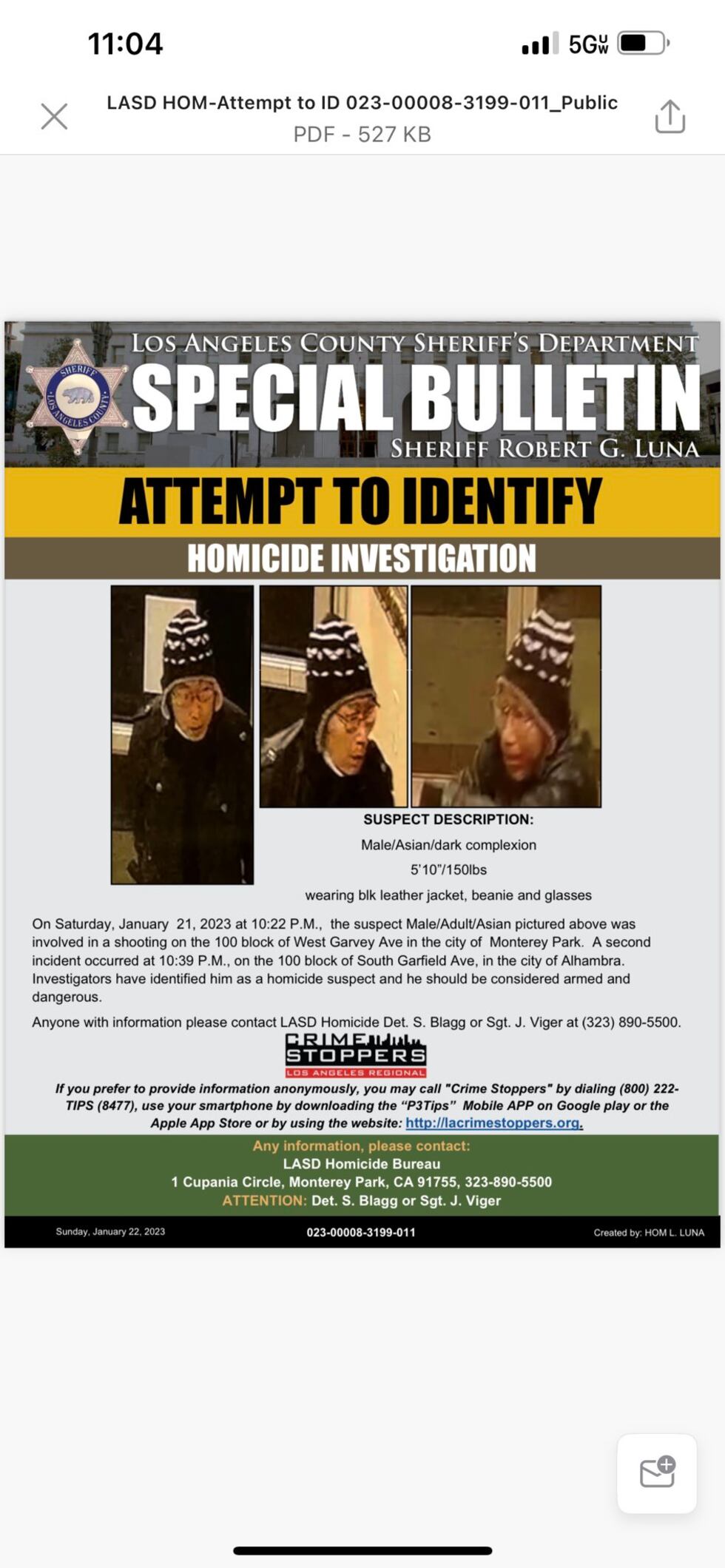 Luna said Sunday afternoon that a victim center had been set up and urged anyone to go who suspected a family member had been at the dance hall.
Luna said earlier Sunday that the investigation indicated that the suspect walked into the Star Ballroom Dance Studio in the city of Monterey Park on Saturday night and began firing before he was disarmed by patrons.
"He walked in there with a firearm and some individuals wrestled the firearm away from him, and that individual took off," Luna said.
Luna did not elaborate on what type of weapon was used except it was not a high-powered assault rifle. He said they were investigating if there was more than one weapon used.
Shortly after 10 p.m. Saturday, officers arrived on the scene of the shooting in response to a call of shots fired and found 10 people wounded outside the dance studio. The 10 wounded individuals were transported to local hospitals where they are in stable to critical condition, according to Luna.
Homicide investigators were working with the Monterey Park Police Department, the FBI and the California Governor's Office of Emergency Services, in addition to other law enforcement bureaus, in the search for the suspect.
"We're going to use every resource available to us because we need to get this person off the street as soon as possible," said Luna, who called the crime "one of the county's most heinous cases" and added, "There is a lot more that we don't know than what we know at this time."
Monterey Park is a city of about 60,000 people that sits at the eastern edge of Los Angeles. The majority of its residents are Asian immigrants or their descendants, most of them Chinese. The dance studio in downtown Monterey Park is just a few blocks from city hall on its main thoroughfare of Garvey Avenue, which is dotted with strip malls that are full of small businesses whose signs are in both English and Chinese. Cantonese and Mandarin are both widely spoken, Chinese holidays are celebrated, and Chinese films are screened in the city.
Federal agents from the FBI and Bureau of Alcohol, Tobacco, Firearms and Explosives are on the scene assisting local police, and White House press secretary Karine Jean-Pierre said President Biden had been updated on the shooting.
"Jill and I are thinking of those killed and injured in last night's deadly mass shooting in Monterey Par," Mr. Biden said in a statement Sunday night. "While there is still much we don't know about the motive in this senseless attack, we do know that many families are grieving tonight, or praying that their loved one will recover from their wounds."
Local resident Wong Wei told the Los Angeles Times his friend had been at the dance studio, and she had been in the bathroom when the shooting erupted. When she emerged from the bathroom, she saw a gunman and three bodies — two women and one person who he said was the boss of the studio.
The friend then fled to his home at around 11 p.m., Wei said, adding that his friends told him that the shooter appeared to fire indiscriminately with a long gun. "They don't know why, so they run," he told the newspaper.
Peter Fong, a friend of one of the owners of the dance studio, told CBS News that the owner was one of the people killed in the shooting.
Officials were also investigating a second incident that occurred shortly after the Monterey Park shooting about two miles away in the city of Alhambra to see if the two were connected.
Preliminary reports indicated that detectives were searching the Lai Lai Ballroom and Studio in Alhambra early on Sunday morning, where an armed suspect — possibly matching the description of the Monterey Park gunman — had entered before being disarmed by patrons and fleeing. According to CBS Los Angeles, authorities were looking to determine whether the suspect left the scene of the Monterey Park shooting and went to the Alhambra dance studio. No one was hurt at the second scene, officials said.
Two law enforcement sources told CBS News that investigators were conducting ballistic analysis of the weapon found at the scene in Alhambra to try to determine if the weapon is connected to the Monterey Park shooting and whether the person was the same suspect. The weapon recovered from Alhambra was not an assault weapon, police said.
One neighbor of the Monterey Park studio told CBS Los Angeles the gunshots sounded like fireworks, but due to the celebrations in the area, he did not think much of it at the time.
The festival in Monterey Park has been canceled for Sunday, officials said.
Videos posted on social media showed people being loaded onto stretchers and placed into ambulances. Other photos showed bloodied and bandaged victims being treated by Monterey Park firefighters in a parking lot.
Pat Milton contributed reporting.
© 2023 CBS Interactive Inc. All Rights Reserved. This material may not be published, broadcast, rewritten, or redistributed. The Associated Press contributed to this report.