Suspects in Killeen crashed into parked vehicle during drive-by shooting, police say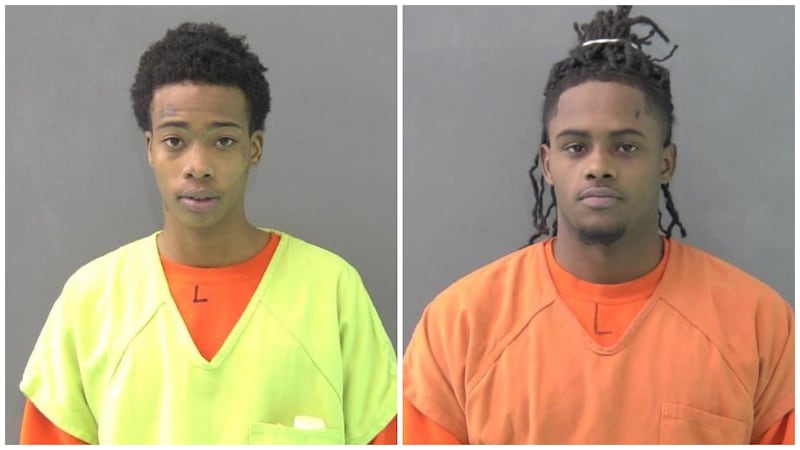 Published: Jan. 23, 2023 at 4:17 PM CST
KILLEEN, Texas (KWTX) - Tyshawn Lamar Degrate and Kanterrius Javon Johnson were arrested on Jan. 20 after they allegedly crashed into a parked vehicle while firing several rounds in a drive-by shooting in the 200 block of Evergreen Drive.
Police officers were dispatched to a residence on Evergreen Drive to investigate the shots fired disturbance Shortly after 10 p.m.
A neighborhood resident told the officers she was inside her residence when she heard a vehicle and gunfire.
When the woman went outside, she observed a blue car traveling west on Evergreen Drive from Florence Road.
As the vehicle continued to travel, two more gunshots were fired towards a residence across the street.
At that moment, the witness told police, the car involved in the drive-by shooting crashed into a parked vehicle and two men were seen exiting the vehicle and running away.
While officers were investigating the scene, Johnson returned to the scene and told them that the vehicle belonged to him.
Johnson, police said, stated he and Degrate were in the vehicle when the driver of another unknown vehicle began firing rounds at them.
Johnson said he crashed into a parked vehicle when he turned away to look back at the driver firing rounds at him.
According to police, Johnson said he Degrate decided to leave the wrecked vehicle behind and run away.
"Through the investigation, it revealed that Degrate and Johnson were in the vehicle that drove by and fired shots towards a residence on Evergreen Drive," police said.
Johnson was arrested at the scene and transported to the Killeen City Jail.
Degrate was located at a residence in the 600 block of Hallmark Avenue and taken into custody for an outstanding warrant.
Both suspects were charged with Aggravated Assault with a Deadly Weapon.
Copyright 2023 KWTX. All rights reserved.