Dallas County couple charged in kidnapping, beating, and shooting of man's ex-girlfriend in Waco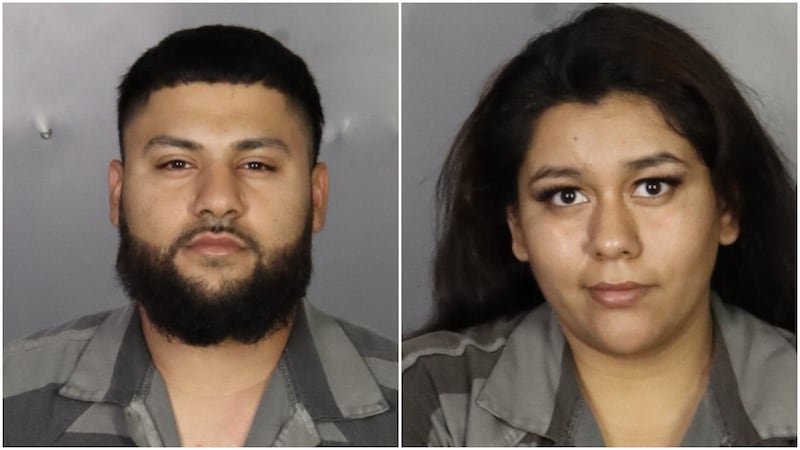 Published: Feb. 6, 2023 at 4:36 PM CST
WACO, Texas (KWTX) - Edwin Adan Rodriguez, 21, and his girlfriend, Veronica Sanchez, 21, of Dallas County, are both charged with aggravated robbery, aggravated kidnapping with a deadly weapon, and aggravated assault with a deadly weapon after the couple allegedly kidnapped the man's ex-girlfriend at gunpoint before beating and shooting her.
EDITOR'S NOTE: KWTX initially, and incorrectly, reported Rodriguez and Sanchez were from Waco.
Deputies with the McLennan County Sheriff's Office found the victim shortly before 2 a.m. in the 8100 block of Old Dallas after the wounded woman called 911 for help. She was reportedly bleeding and suffering from gunshot wounds to her hand, arm, and abdominal area.
The victim was taken to Baylor Scott & White Hillcrest for treatment and later told detectives Rodriguez, her ex-boyfriend, drove to her house and demanded she leave with him.
When the victim refused to go with him, Rodriguez allegedly grabbed her by the hair and dragged her to his truck, a complaint states. Sanchez was allegedly wearing a mask when she exited Rodriguez's truck and forced the victim into the pickup.
Rodriguez allegedly drove north on a highway in a "reckless" manner and the victim attempted to exit the pickup on several occasions. She told deputies that Sanchez was holding on to her inside the pickup to prevent her from jumping out of the truck.
Rodriguez eventually drove off the highway into a road and kicked the victim out the truck, causing her to fall into a drainage ditch.
As the victim got up, Rodriguez allegedly fired several rounds, striking her multiple times. Sanchez allegedly told Rodriguez to get the victim's cell phone before fleeing the scene. That victim was able to walk a nearby home, where she asked for help calling 911.
The suspects were arrested in Lancaster, Texas. McLennan County Sheriff Parnell McNamara credited the combined efforts of law enforcement in making the arrests.
"This a result of the fast action of the McLennan County Sheriff's Office FAST (Fugitive Apprehension and Special TASKS) unit, along with the U.S. Marshal's Lone Star Fugitive Task Force, the U.S. Marshal's North Texas Fugitive Task Force and the Lancaster Police Department in the capture of these two would-be killers. This shows what can be done when all the agencies pull together in a combined effort to take down these criminals," McNamara said.
Online jail records show Sanchez and Rodriguez are each being held on bonds totaling $2 million.
Copyright 2023 KWTX. All rights reserved.