Baylor graduate earns second Super Bowl victory with Kansas City Chiefs
Published: Feb. 13, 2023 at 6:03 PM CST
WACO, Texas (KWTX) - A Baylor graduate who is in his sixth season on the Kansas City Chief's staff, and touted by star quarterback Patrick Mahomes as a future head coach in the NFL, is relishing his second Super Bowl win with the Chiefs in the past four years.
Porter Ellett, 33, serves as the offensive quality control coach, and prior to that role, worked as a senior assistant to Kansas City Head Football Coach Andy Reid. The Leo, Utah, native is a 2017 graduate of Baylor's master program in education sports management.
Ellett credits Baylor with getting him to where he is today, and says the support from Central Texas has been amazing.
"We're grateful for you guys," Ellett said. "All the support you've shown us, and all the encouragement that you've given me, and made it possible for me to chase this dream, and have some success."
Ellett's road to the pinnacle of professional football has been a windy one, which included loosing his arm as a teenager after he was thrown from the back of a truck while working sheep when he was only four years old.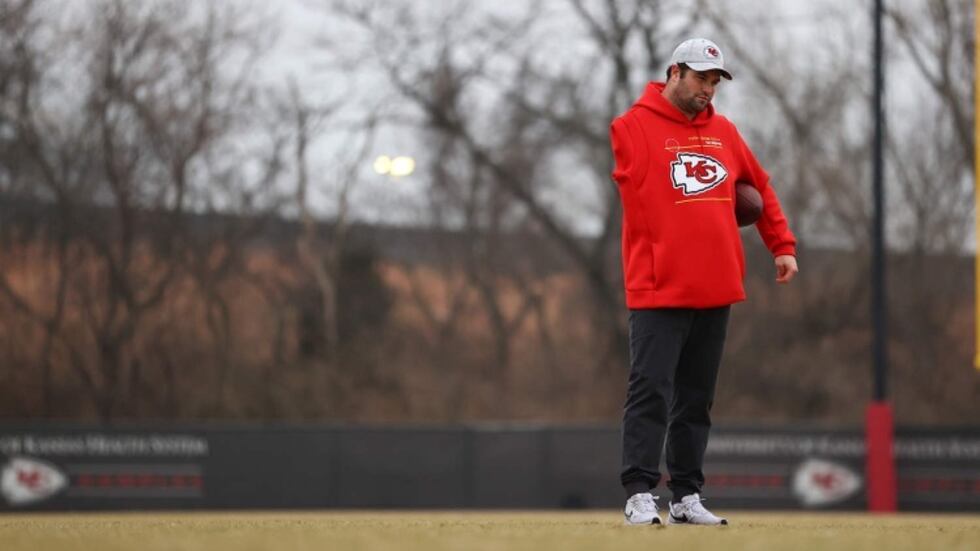 Ellett continued to play sports, excelling as a pitcher on the baseball team, and a basketball player who learned to shoot by balancing the ball on his cheek.
He never let his disability keep him from dreaming big, which is why when he had a chance encounter with Andy Reid following a football game, he asked for the opportunity to follow him around to learn from the best.
Ellett was still a student at Baylor when Reid called him and offered him that chance as a senior assistant.
Porter says he owes much of his good fortune to Baylor for supporting him when he decided to leave the program in Waco early to pursue his dream while continuing his education online.
"Coach Reid, in the middle of schooling, was like, 'well, you need to finish that' and I said, 'let me go talk to my professors.' My professors said 'no, you've got to take it. You can finish (the degree) online,'" Ellett said.
"If they wouldn't have been as flexible, I don't know if I would have gotten that degree, or if coach would have been willing to hire me."
Ellett ended up graduating from Baylor while also working for the Chiefs.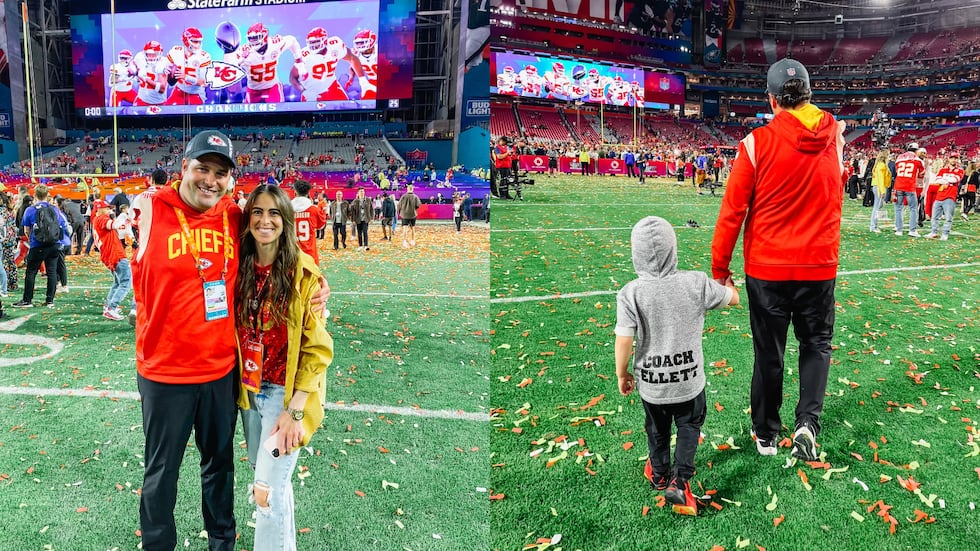 He won his first Super Bowl in 2020 when the Chiefs beat the San Fransisco 49ers.
Ellett talked to KWTX just after that historic win which was the first one for Kansas City in 50 years.
"There is only one team at the end of the year. I don't really think it will sink in until I have a moment to sit down with my wife and talk about it," Ellett said.
Two years later, Ellett is celebrating another Super Bowl victory alongside many of the same staff members and players.
Ellett is well respected within the organization having a close bond with Reid, and Super Bowl MVP Patrick Mahomes.
Ellett can be seen on the field before each game warming up Mahomes, who said to be superstitious and only wants the Baylor grad next to him to prepare.
Mahomes spoke about Ellett, who is featured in a recent NFL Films video.
"He brings energy. He never has a bad day," Mahomes said. "He's gonna be the best himself he can be every single day."
Ellett has received lots of praise for overcoming all odds and achieving so much success as a young NFL employee.
The Baylor grad is still trying to wrap his head around it all, but says none of it would have been possible without so many people who believed in him along the way, including his wife, Carlie, and now their three young kids.
"I'm grateful for Carlie, too, and my three kids and the support they've shown me," Ellett said in a video sent to KWTX hours after the win. "I just wanted to say hi and Sic 'Em Bears!"
Copyright 2023 KWTX. All rights reserved.