Kentucky revival draws in members from Christ Church in College Station
Members of Christ Church in College Station went on a spontaneous trip on February 14 to attend a revival happening at Asbury University in Wilmore, Kentucky.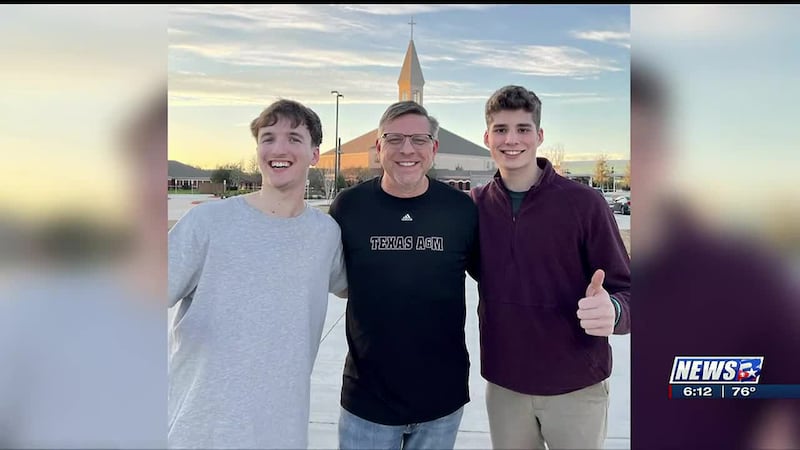 Published: Feb. 21, 2023 at 7:50 PM CST
COLLEGE STATION, Texas (KBTX) - Members of Christ Church in College Station went on a spontaneous trip on February 14 to attend a revival happening at Asbury University in Wilmore, Kentucky.
What started out as a regular chapel service at Asbury University on February 8 turned into a massive revival that had its last service on Monday. The revival drew in people from all over including residents living in Bryan-College Station. Without any planning, Brian Smith, pastor of students and colleges at Christ Church gave two of his students less than an hour to pack their bags for what would be a 14-and-a-half-hour trip to Kentucky.
Smith had heard about the revival through his connections and prayed for a way to attend. On Sunday, February 12, Smith asked a few students if they would go if he went.
"I kind of playfully what if I leave in 30 minutes to an hour," Smith said. "I didn't feel like I could do that on Sunday, so Sunday turned to Monday and ultimately to Tuesday morning. When I shared that with our staff here at the church that I felt like I needed to go, they all said in unison why are you still here."
Jackson Bobbitt, a graduate of A&M Consolidated High School, and Collin Kinney a student at Blinn College both went on the trip with Smith.
"He (Smith) looked at me through his office and was like I think I'm going to go and I was like why are we still here let's go," Bobbitt said. "We're in the staff hall talking about if we're going to go or not, within a five-minute conversation we're ready, so I leave, go pack, met back at the church an hour later, and head to Kentucky."
When they arrived in Kentucky Wednesday morning February 15, Smith said the trio stayed in Lexington with one of his friends before they went to chapel midday.
"We arrived on the scene and they had already opened the door, the auditorium was already full and there was a line outside of 800 to a thousand people," Smith said. "Everybody was kind of in the same boat I think, really excited about being there."
While waiting in line Smith was asked if he was a pastor with experience in prayer ministry. Once it was confirmed Smith joined the prayer ministry to pray for those in line.
"As people were waiting in line they would wait anywhere from 30 minutes to a couple of hours," Smith said. "They basically said while these people are waiting we want them to know they can still pray and be prayed for and connect with God in this space."
While Smith has attended other revivals he said when he stepped foot inside he could tell the atmosphere felt different at this one, it was sweet and peaceful.
"I would say in a spiritual sense there was a thickness and a heaviness of the spirit in that space and you just knew the spirit of the lord was there and you could feel it," Smith said. "When I began to enter into that I just felt like I was entering into something very special and the presence of God was there."
Kinney described the environment and the people who attended with the words "radical humility."
"There were people praying over each other, weeping in each other's arms just joining together as the body of Christ to seek him and find that experience," Kinney said. "The most amazing part was that there were no celebrity speakers, no captivating serums. The only celebrity was Jesus Christ."
Bobbitt said for him the experience was beyond words and the best moment was watching Kinney give his testimony on stage.
"That second portion of the night, from 7 until 11 was extremely breathtaking," Bobbitt said. "It was sweet, it was a great community, a great body to be there. All there for one purpose, there's no shame no condemnation we are all there as one worshiping the one."
As they prepared to leave on Thursday, February 16, Kinney felt compelled to stay, but there were questions on how he would get home. Then a miracle happened, his preschool teacher from Katy, who was a mutual of Smith, was heading up to the revival and offered to give him a ride back home.
"Its hard to even put into words as to why I stayed, but it was for a reason for me to be marinated in that space and in the outpouring of the holy spirit for ultimately my purpose and my calling which the Lord had most indefinitely revealed to me."
After their experience at the revival, the group is hopeful that something similar will happen in Aggieland.
"I'm not expecting that it's going to look like it did there, but if we can at all feel like God is for us and with us, and if we feel there is an opportunity to offer freedom and offer Jesus that is the mission of the church," Smith said.
Christ Church will open a prayer room on Thursday from noon until 7 p.m. afterward the group will share their experience at the revival.
Copyright 2023 KBTX. All rights reserved.