"A four-day week wasn't best for us": Rogers ISD adopts 'hybrid' schedule for '23-'24 school year
Published: Feb. 24, 2023 at 9:02 PM CST
ROGERS, Texas (KWTX) - While many districts across the state and here in Central Texas are considering four-day school weeks, Rogers ISD decided to try something different.
The district says they did explore the four-day calendar, but ultimately they felt that it wasn't the best fit for them. Instead they are trying a "hybrid" calendar.
And for long time educators like Kristen Parker, it's a first.
"In 25 years of teaching, I didn't know that I would ever see more flexibility with my schedule," says Parker who is a English teacher at Rogers Middle School.
She says her new schedule will not only benefit her as a teacher, but as a parent too.
"I'm a parent also, so having those extra days to handle appointments without having to pull her out of class will be extremely helpful," Parker adds.
Joe Craig, the Superintendent at Rogers ISD, says that the district used a committee of staff members from different campuses and departments. Also, they gathered feedback and input from parents and students in a collaboration to create the calendar.
The calendar will have seven fewer student days and will only increase their school days by 10 minutes. Some weeks are only four days, some holiday breaks are extended, and some days are an early release.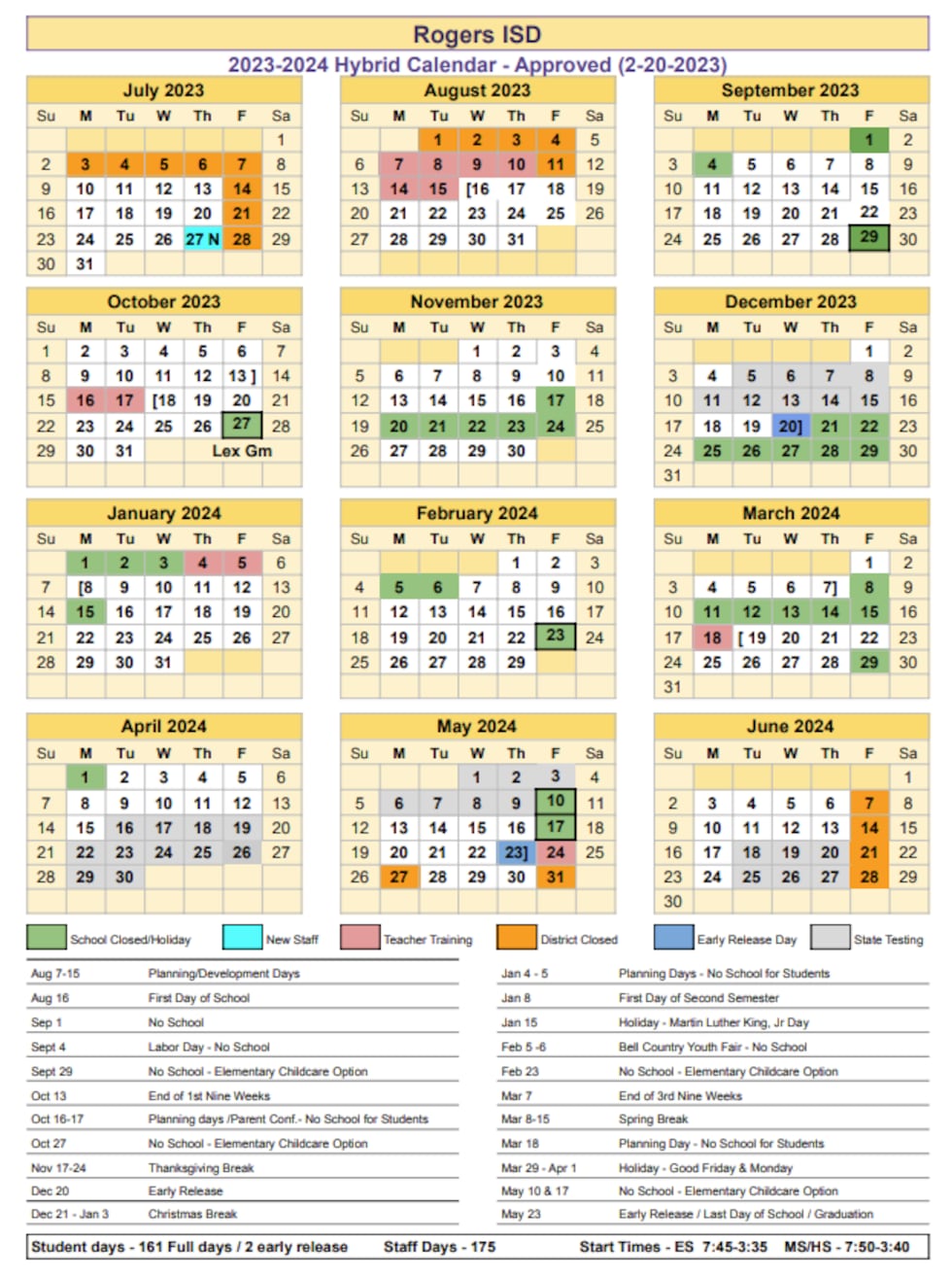 "We really went in and selected some targeted days that we would create some opportunities for staff and students to kind of have a break throughout the month," Craig explains.
It is their solution to a problem consistent across the state, hiring and retaining teachers. They say as a smaller district they have to be creative to stay competitive.
"It's hard for us to compete with the larger districts for salary, but we have some more flexibility sometimes on these types of things. The culture of a campus is such a big part of teacher retention," Craig adds.
And for teachers like Kristen, this decision does help that culture.
"I'm happy we're doing the hybrid. I don't know that we were quite ready to go to the 4-day, but I think the hybrid is a good compromise," Parker says.
The district says they will be providing childcare for free to students whose parents need it.
Copyright 2023, KWTX. All rights reserved.