Ten arrested in Bell County prostitution sting
Published: Feb. 25, 2023 at 10:28 AM CST
BELTON, Texas (KWTX) - The Bell County Sheriff's Department arrested 10 would-be johns during a prostitution sting Wednesday and Thursday, February 22 and 23 that it held in partnership with the Bell County Organized Crime Unit, the Fort Hood Military Police, and the Fort Hood Criminal Investigations Division.
Digital ads were posted to known websites promoting prostitution Wednesday and Thursday, where officers responded to more than 700 communications from 73 different contacts in response to the ads.
Officials say six of the men were arrested the first day with four more being taken into custody on the second day of the operation.
All 10 are charged with Soliciting a Prostitute, a state felony in Texas. One of the men also received a charge of resisting arrest.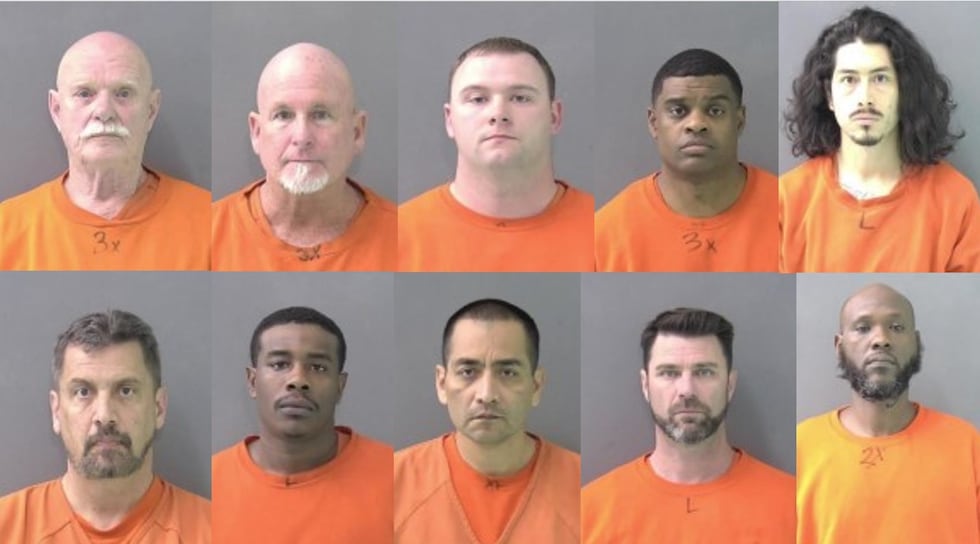 Those arrested and shown above include from the top left, Clifford Visel, 77, of Round Rock; Brian Whipple, 55, of Killeen; Kevin Roe, 26, of Killeen; Danny Reed, 36, of Georgetown, Luis Ramirez, 32, of Killeen; Steven Gwynn, 59, of Eddy; Jamal Davis, 23, of Killeen; Vicente Pereira, 47, of Killeen; Christopher Bell, 44, of Temple; Shawn Ginn, 37, of Killeen, registered sex offender.
"In the past, we have heard public criticism to operations like this that amounted to 'this is just sex between consenting adults,'" Chief Deputy T.J. Cruz said, "but that's far from the truth."
"In a previous sting, we arrested an individual with body bags, duct tape, and bleach in his trunk," Cruz said. "During this week's operation, one of the defendants negotiated a price but arrived with no money. What do you think his plan was?"
The Sheriff's Department is also concerned with the potential connection between prostitution and human trafficking.
"Many prostitutes are themselves victims of human trafficking," Cruz said. "They can be subjected to physical and sexual assault, robbery, and even murder."
Bell County residents, who suspect or have knowledge of human trafficking or are in need of assistance themselves, can reach out locally to Aware Central Texas at 254-813-0968, or can nationally report by calling the Human Trafficking Hotline at 1-888-373-7888, or by texting "Help" to 233733 (BEFREE).
Officials say another concern is for potential johns themselves, who have often become the victims of other crimes.
"There are known incidents, though many go unreported, of johns being assaulted, robbed and, right here in Bell County, recently murdered," Cruz said. "Our effort is to deter all people from seeking out this criminal behavior, and, therefore, making our County safer for everyone."
Each of these defendants' arrests have been reviewed by the Bell County District Attorney's office and all criminal charges have been accepted.
Copyright 2023 KWTX. All rights reserved.