LIVE: Trump tells supporters in Waco he will be president again when dust settles in 2024
Published: Mar. 24, 2023 at 12:32 PM CDT
WACO, Texas (KWTX) - The Trump for President campaign's "Make America Great Again" rally is underway at the Waco Regional Airport in Waco, Texas.
Trump landed at the airport at about 5:40 p.m. The former president began delivering his speech at about 6 p.m.
"You put me back in the White House, America will be a free nation once again," Trump told supporters, "When this election is over, I will be the President of the United States. You will be vindicated and proud, and the thugs and criminals who are corrupting our justice system will be served."
CLICK HERE to watch a live feed on KWTX.com.
WATCH TRUMP LIVE ON YOU TUBE:
WATCH TRUMP LIVE ON FACEBOOK:
PART 1 OF THE TRUMP RALLY AVAILABLE FOR REPLAY ON FACEBOOK:
Below is a breakdown of what you need to know about the event, from ticket information to a list of prohibited items.
WEATHER
Chief KWTX Meteorologist Brady Taylor said the weather on Saturday afternoon will be sunny, breezy, and warm. Temperatures should climb into the low 70s by noon, and afternoon highs will make it into the upper 70s. West winds will range between 10 and 20 miles per hour most of the afternoon. Skies will remain sunny all afternoon, so sunscreen will be needed if outdoors for a prolonged period of time.
EVENT INFO
Entry gates for the rally will open at noon and attendees are being asked to arrive no later than 1 p.m. to allow time for a Secret Service screening.
The event is expected to begin at 2 p.m. and Trump is expected to take the stage at 5 p.m.
There will be food trucks and restroom facilities for those who attend the rally, a standing room only event.
Waco city officials said that no chairs will be allowed.
TICKETS
The Trump campaign website said you may only register up to two tickets per mobile number per event. All tickets are subject to first come first serve basis.
CONFIRMATION
Upon confirmation, you will receive the following email: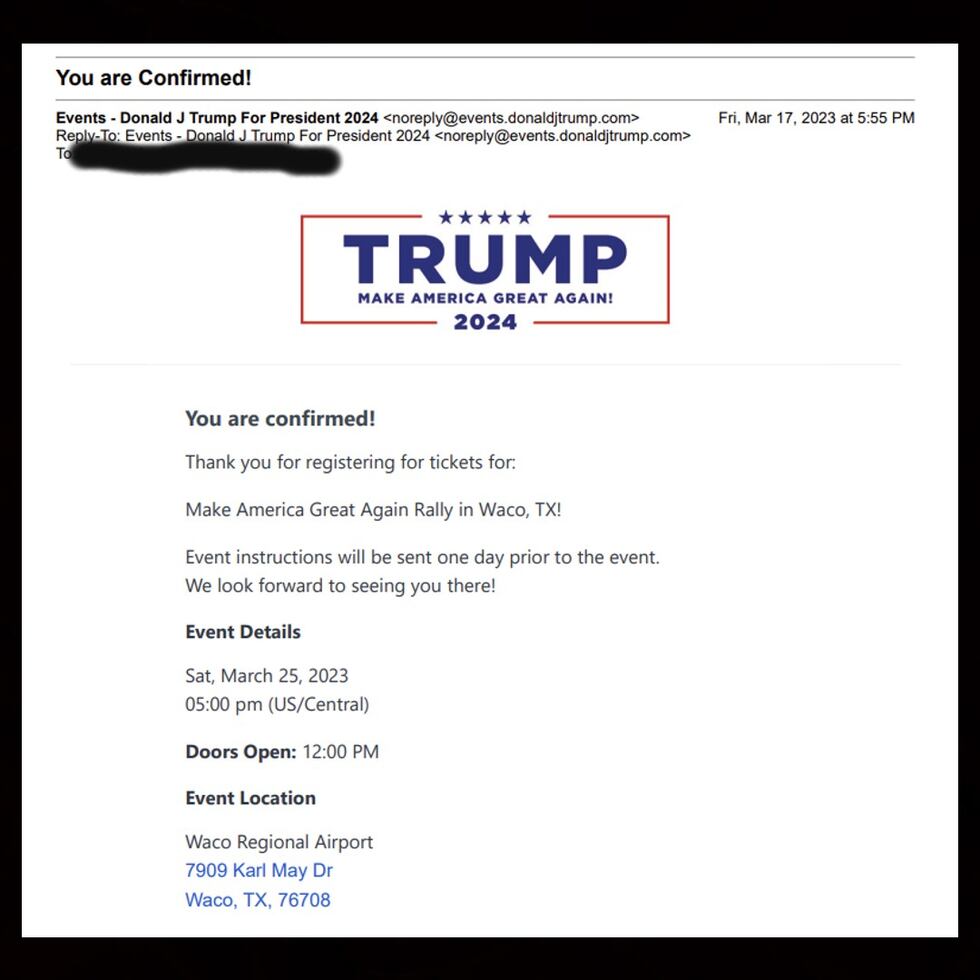 LIST OF PROHIBITED ITEMS
• Aerosols
• Alcoholic beverages
• Appliances (i.e. Toasters)
• Backpacks, bags, roller bags, suitcases, and bags exceeding size restrictions (12″x14″x5″)
• Balloons
• Balls
• Banners, signs, placards
• Chairs
• Coolers
• Drones and other unmanned aircraft systems
• E-Cigarettes
• Explosives of any kind (including fireworks)
• Firearms
• Glass, thermal and metal containers
• Laser lights and laser pointers
• Mace and/or pepper spray
• Noisemakers, such as air horns, whistles, drums, bullhorns, etc.
• Packages
• Poles, sticks and selfie sticks
• Spray containers
• Structures
• Supports for signs/placards
• Tripods
• Large Umbrellas (small umbrellas are permitted)
• Weapons
• And any other items that may pose a threat to the security of the event as determined by and at the discretion of the security screeners.
At previous campaign events, attendees were told surrendered items would not be returned.
TRAFFIC INFORMATION
The main entrance to the airport is at the intersection of Steinbeck Bend and 19th Street.
Parking is available at the venue on a first-come, first-serve basis at the numbered parking lots illustrated on the map below.
ADA parking is available at the venue on a first-come, first-serve basis.
Guests should enter from Steinbeck Bend Drive to access the General Admission Parking located on the map below.
The parking area for the event will open at 6 a.m. Airport staff and uniformed police officers will be on hand routing drivers to parking spaces.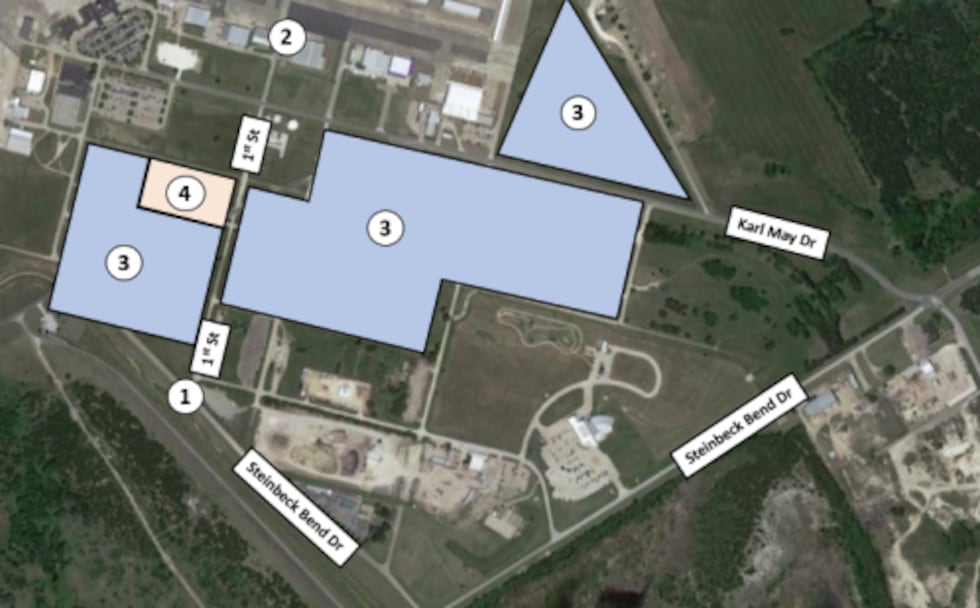 The City of Waco said airport visitors are to travel on Steinbeck Bend and proceed on Karl May Drive to the airport.
The intersection of Flat Rock Road and Skeet Eason Road will be controlled by law enforcement, and will be used for event exit only or access to Airport Park.
Yankie Road should be used for local traffic to access Flat Rock Road west of Skeet Eason.
Steinbeck Bend and China Spring Highway/N. 19th Street will be controlled by officers throughout the day, and the signal will be in flash mode as needed.
Copyright 2023 KWTX. All rights reserved.