Judge reschedules sentencing hearing for Cecily Aguilar to August 2023
Defense requested a delay in the sentencing process after witness was unable to attend hearing on April 5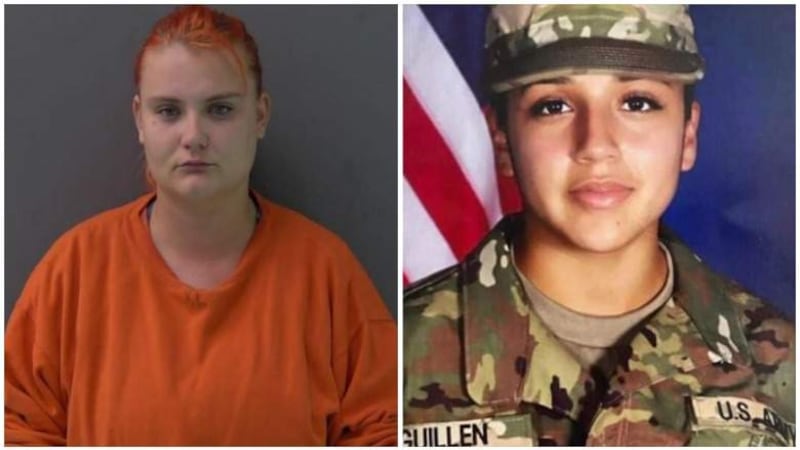 Published: Mar. 29, 2023 at 12:51 PM CDT
WACO, Texas (KWTX) - United States District Judge Alan D. Albright on March 3 granted a request to delay the sentencing date for Cecily Aguilar, the woman who pleaded guilty on Nov. 29, 2022, to a single count of accessory after the fact, and three counts of making a false statement, in the brutal on post murder of Fort Hood soldier Vanessa Guillén, court documents obtained by KWTX reveal.
Albright rescheduled the sentencing hearing for August 14, 2023, at 9 a.m. Aguilar was originally scheduled for a sentencing hearing on April 5, 2023.
In his motion to continue sentencing, Aguilar's defense attorney, Lewis B. Gainor, wrote the defense team retained an expert psychiatric witness to testify during the sentencing hearing. On March 3, 2023, the defense notified the court the witness would be unavailable to testify on April 5.
"Counsel would be unable to adequately represent and defend Ms. Aguilar at sentencing without the expertise of the retained witness," the motion to continue sentencing states.
Aguilar is facing a maximum sentence of 30 years in prison, a $1-million fine, and the possibility of 12 years supervised release after serving her sentence.
She was the only person charged in Guillen's murder and was initially indicted on eleven counts for her involvement with Army Specialist Aaron Robinson in dismembering Guillen's body before burying her remains in shallow graves along the Leon River.
Guillen was last seen on the night of April 22, 2020, in the parking lot of her 3rd Cavalry Regiment Engineer Squadron Headquarters. Keys to her car and her barracks room and her ID card and wallet were later found in the armory room where she had worked earlier in the day.
More than two months later, on June 30, 2020, contractors working on a fence along the Leon River discovered the slain soldier's remains.
Aguilar was arrested after officers pulled over the van in which she was riding on June 30, 2020 on post at Fort Hood, not long after Robinson allegedly shot himself to death as Killeen police officers approached him off post.
Copyright 2023 KWTX. All rights reserved.