Man who killed Fort Hood soldier sentenced to 40 years in prison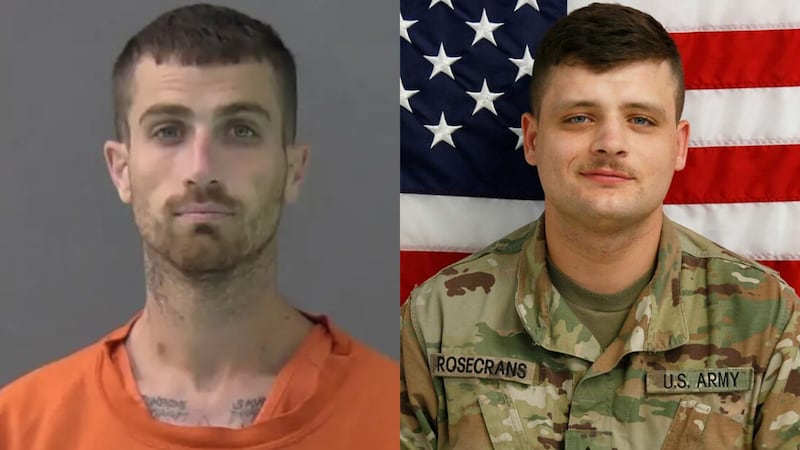 Published: Apr. 2, 2023 at 10:04 PM CDT
HARKER HEIGHTS, Texas (KWTX) - Almost three years later, the family of a Fort Hood soldier who was murdered is finally getting some sense of closure.
Bell County Judge Paul Lepak sentenced Brandon Olivares to 40 years in prison for the murder of private Brandon Rosecrans. Olivares also received a 10 year sentence for a charge of unlawful possession of a firearm by a felon. The two sentences will be served consecutively.
Olivares had previously pleaded guilty to the two charges.
"With this, do I believe that Brandon Olivares got what he deserved?" Rosecrans' father, Thomas Berg, said. "No and I believe he deserved way more."
Police say the two were riding together in Olivares' car when Olivares shot and killed the soldier on May 18 2020. He dumped his body off the side of the road in Harker Heights and lit his car on fire not long after.
"People ask me all the time why I'm not upset and crying and they don't understand that for 3 years that's all I did," Berg said.
At the time, Olivares and Rosecrans were driving from Bell County to San Antonio to purchase narcotics. According to an arrest affidavit, Olivares killed the private over a dispute over the drugs.
"My son was not an angel by any means. He tried drugs, just as many other Americans," Berg said.
According to Berg, the soldier's death put an end to his 26-year marriage.
"The death of my son has pretty much changed our lives where they cannot be fixed," he said.
Berg and one of his sons still wear black bands and carry photos of the late private to make sure his memory stays alive.
"I can't change any of this, but I can make sure that my son's name lives on forever," Berg said.
Copyright 2023 KWTX. All rights reserved.