GRAPHIC: Oklahoma sheriff, county officials under fire after they were recorded talking about killing reporters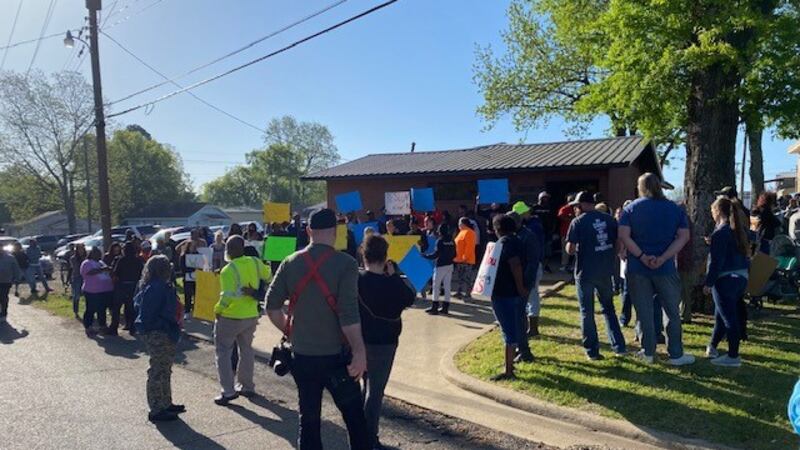 Published: Apr. 17, 2023 at 11:55 AM CDT
McCURTAIN COUNTY, Okla. (KSLA/Gray News) - A large protest was held Monday morning outside of the McCurtain County Sheriff's Office as more than 100 people called for the resignation of the sheriff, Kevin Clardy, and other county officials.
The governor of Oklahoma, Kevin Stitt, and the mayor of Idabel, Craig Young, are calling for the resignations as well after disturbing comments were recorded after a county commission meeting in early March.
A reporter at the McCurtain Gazette-News made the recording in question, in which those involved could be heard discussing plans to murder kill two Gazette reporters, Chris and Bruce Willingham, after a commission meeting on March 6.
GRAPHIC WARNING: A video in this story may include content some may find disturbing:
According to the newspaper, Clardy, District 2 Commissioner Mark Jennings, investigator Alicia Manning and jail administrator Larry Hendrix could be heard making light of a case involving a woman dying in a fire, among other things.
According to a transcript of the recording published by the Gazette, Jennings also made comments referencing the lynching of Black individuals. Jennings, Manning, and Clardy were heard discussing the possible hiring of hitmen, according to the newspaper.
Stitt says Clardy, Jennings, Manning and Hendrix should resign immediately. The governor is also calling on the Oklahoma State Bureau of Investigation to look into the recorded comments.
KSWO reported that Stitt said he was "both appalled and disheartened to hear of the horrid comments made by officials in McCurtain County. There is simply no place for such hateful rhetoric in the state of Oklahoma, especially by those that serve to represent the community through their respective office. I will not stand idly by while this takes place."
Copyright 2023 KSLA. All rights reserved.