Sheriff: Man arrested after throwing rock through front doors of jail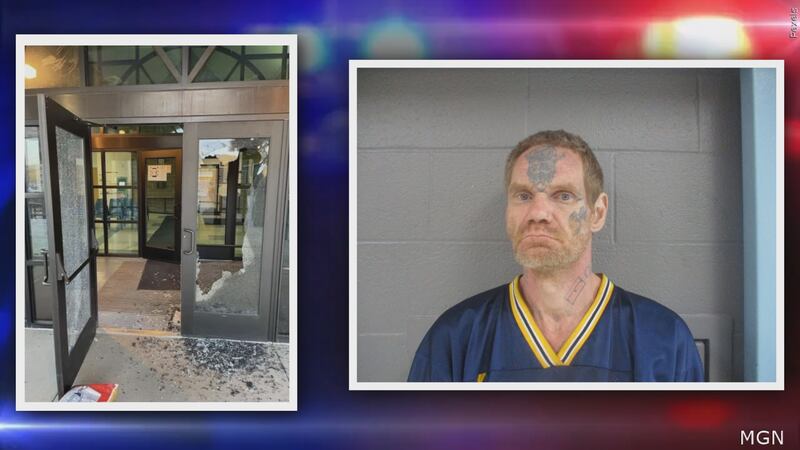 Published: Apr. 20, 2023 at 2:31 PM CDT
BELINGTON, W.Va (WDTV/Gray News) - A man was arrested after authorities said he threw a rock through the front doors of a West Virginia jail.
Deputies went to Tygart Valley Regional Jail (TVRJ) in Randolph County on Wednesday about a destruction of property complaint regarding a man who threw a rock through the front glass doors of the jail in broad daylight and left the scene on a bicycle, according to a news release from the Randolph County Sheriff's Office.
A witness who knew the suspect, later identified as Richard Manuel, 50, reportedly saw him put down his bicycle in front of the jail, heard a "bang," and "turned around to see him throwing stuff at the doors," deputies say.
Another witness reported seeing Manuel walking along the road outside the jail and heard two loud bangs, the release says.
Both witnesses mentioned to deputies that Manuel had a "big tattoo across his forehead."
Authorities said a "large rock was laying on the inside of the two doors amongst the shattered glass."
The outside pane on the left door was shattered, while both panes on the right door were destroyed, causing thousands of dollars' worth of damage.
Deputies said they later found Manuel walking with a bicycle near railroad tracks and took him into custody.
While Manuel was being arraigned at TVRJ, deputies said they found a note in his pocket that said "I'm going to the TVRJ, not be 4 one last good high" and "It's my time 2 Ride 2 Die live by the gun, die by the gun," with his signature on it.
Manuel has been charged with destruction of property. He is being held at TVRJ on a $15,000 cash-only bond.
Copyright 2023 WDTV via Gray Media Group, Inc. All rights reserved.