Texas education board could ban textbooks that discuss gender identity under proposed bill
Other legislation this session has targeted school library books, which are optional reading materials, but House Bill 1804 might be the first to go after textbooks that teachers use for their lessons.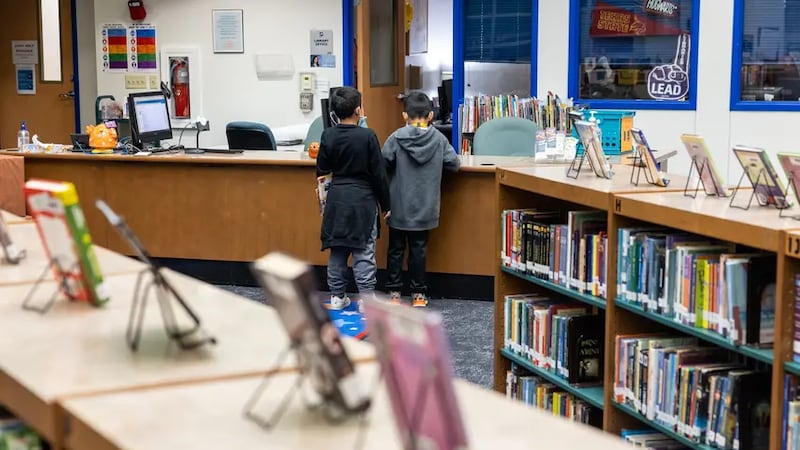 Published: Apr. 25, 2023 at 6:57 AM CDT
AUSTIN, Texas (TEXAS TRIBUNE) - Conservative lawmakers are trying to expand their war on books they find objectionable with a bill that critics fear would allow the state's authorities on school curriculum to reject textbooks based on their political and religious beliefs.
House Bill 1804, authored by freshman state Rep. Terri Leo-Wilson, R-Galveston, would allow the State Board of Education to reject textbooks for students below ninth grade if they include content on sexual orientation, gender identity and sexual activity. Textbooks could also be rejected if they fail to present U.S. history in a positive light or "encourage lifestyles that deviate from generally accepted standards of society."
"It is imperative that we empower parents and their elected voices rather than textbook publishers in regards to the content of our children's textbooks," Leo-Wilson wrote in a tweet.
Leo-Wilson's bill was left pending in the House Committee on Public Education on Thursday. Members will need to vote it out for it to go before the full House floor.
Texas has banned more books at the local level than any other state in the last year, mostly targeting titles centering on race, racism, abortion and LGBTQ topics. Usually, these books have been from school libraries and optional to read. HB 1804 might be the first recent attempt to target textbooks that teachers use for their lessons.
Other legislation trying to restrict the kinds of books kids can access includes Senate Bill 13, from Sen. Angela Paxton, R-McKinney, which aims to keep sexually explicit material off school library shelves and has already passed in the Senate. In the House, members passed House Bill 900 — a priority for House Speaker Dade Phelan — which would also take sexually explicit books off school library shelves and would require that some books with sexual references get parental consent before a student can check them out.
HB 1804 is also part of a long list of bills targeting LGBTQ Texans this legislative session. So far, the Senate has passed a bill that would restrict classroom lessons, campus activities and educator guidance about sexual orientation and gender identity in public and charter schools up to 12th grade, with very limited exceptions. It also passed a bill that would defund public libraries where drag queens read to children.
The State Board of Education, a 15-member elected board, dictates the state standards for what children need to learn in classrooms, known as the Texas Essential Knowledge and Skills. The board's only criteria at the moment is that textbooks be free from factual errors and suitable for the grade level and subject being taught, and that academic experts have reviewed them. School districts aren't required to use the board-approved books.
The bill would essentially restore a power to the SBOE that lawmakers restricted over a decade ago and potentially resurface an old controversy.
Until 2011, the board could reject textbooks based on subjective criteria, but legislators took that power away after the board recommended textbooks that questioned the theory of evolution.
HB 1804 would reverse that decision. The bill says textbooks selected by the state board must present strengths and weaknesses for scientific theories like the theory of evolution.
Marti Bier, vice president of programs at the Texas Freedom Network, which fights for more inclusive classroom materials, said the bill would create subjective criteria for SBOE members to select books. The legislation's two-sides take on scientific theories would open the door for the board to adopt textbooks that give equal weight to creationism and science, they said.
"We condemn the actions of radical right-wing members of the state House who are seeking to allow textbook censorship based on the personal and political beliefs of extremist SBOE members," Bier said.
The bill also says that textbooks may not include works that condone civil disorder, social strife or disregard for the law. It also says they must present both sides of political or social movements throughout history.
The SBOE has moved further to the right recently, with new members elected in November who ran on campaigns railing against the teaching of "critical race theory" in schools. Critical race theory is a college-level discipline that examines why racism continues in American law and culture decades after the civil rights movement in the United States. It is not taught in elementary or secondary schools in Texas, but conservatives have used the term as a shorthand to criticize what they see as a liberal bent on how schools teach children about race.
During the hearing Thursday, Rep. James Talarico, D-Austin, said the bill makes him nervous because it could open the door for textbooks that give two perspectives on the Civil War, slavery or the Holocaust.
Supporters of the bill argued that it would give textbook publishers clear standards of what to include in their products when pitching them to the state board.
"Having these parameters will give transparent expectations to publishers to ensure they not only follow the TEKS but create appropriate content that educates and presents both sides of the issue," said Mary Castle, director of government relations for Texas Values Action, the legislative arm of Texas Values, a conservative religious advocacy group.
Jonathan Covey, policy director for Texas Values, said the bill would refocus schools on teaching the basics such as math and science while decreasing the money and time spent "creating social justice warriors."
"We have a long way to go, but the way to get there is to come together as Texans and Americans and not encourage division," he said.
Chloe Latham Sikes, deputy director of policy at the Intercultural Development Research Association, said in a statement that the provision against condoning civil disorder could allow for adoption of materials that avoid topics such as the Rodney King riots of 1992 and the U.S. Capitol insurrection on Jan. 6, 2021.
Billy Beard, a private citizen who testified against the bill, said its language is so broad that textbooks might be tempted to omit mentioning historical events like the Boston Tea Party because it is a condoned act of violence.
Ricardo Martinez, CEO of Equality Texas, said the bill would be harmful to young queer people, who strive in their academics when they can see themselves represented in books and the classroom setting.
"Removing any of these supports makes it harder for young queer people to feel a sense of belonging," Martinez said. "Not having those supports can lead to lower academic achievement, absenteeism and lower postsecondary aspirations and attainment."
Copyright 2023 Texas Tribune. All rights reserved.