Killeen ISD Alumni Named to Lead Harker Heights Knights Football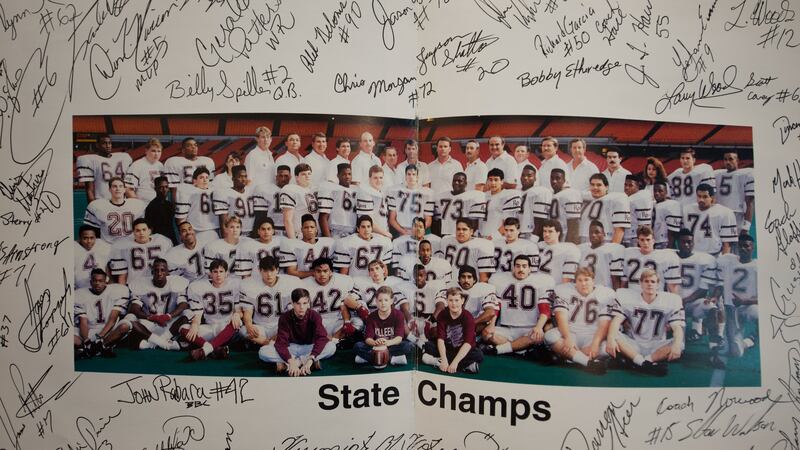 Published: Apr. 26, 2023 at 9:51 PM CDT
HARKER HEIGHTS, Texas (KWTX) - Killeen ISD named a new head football coach and athletic coordinator Wednesday to continue the Harker Heights Knights' push to "Rep the Shield" in all sports.
Mark Humble comes to the Knights from Denton Ryan High School, where he was assistant coach one season following a stint as head football coach and athletic coordinator at Rock Hill High School.
He also held coaching positions at powerhouse Lone Star High School in Frisco, Carroll High School in Southlake, and Keller High School. Humble is most known for producing top offenses during his coaching career, most notable his 2019 Lone Star High School State Semi-Finalist team and offense which broke many records including 50 touchdown passes in a season and the state and national single season receiving record holder.
Humble was running backs coach at Southern Methodist University three years.
For local high school sports fans, Humble's most notable experience may be the four years he played football for the Killeen Kangaroos, including the 1991 team that won the district's only football state championship.
That Roos' team followed the championship season by reaching the state area finals in 1992 and the state quarterfinals in 1993.
Humble graduated from Killeen High School in 1994, the most prolific passer in school history, and was named All-District, All-Centex, All-State and All-Academic.
Killeen ISD Executive Director of Athletics Micah Wells said, "We are very excited to bring Coach Humble back to the KISD family. His championship experience as a player and coach is a perfect fit for the Knights and I fully expect them to continue their success as a football program. I am looking forward to seeing the impact that Coach Humble makes on all of the athletic programs at Harker Heights."
Humble went to SMU on an athletic scholarship, where he was a three-year letterman for the Mustangs as a quarterback and won the Lester Jordan Award as the most outstanding player on the field and in the classroom.
He follows Jerry Edwards, who transformed the Knights on the football field and oversaw a similar turnaround in numerous athletics venues in his 10 years at the helm.
In December, Edwards took the Knights all the way to the state quarterfinals, where they lost to DeSoto, finishing the season with a 12-2 record, just two victories away from a state championship appearance.
It was the deepest the Knights had ever gone in the football playoffs.
Edwards announced in March he accepted the head football coach position with Colleyville Heritage in the Grapevine-Colleyville ISD in the Dallas-Fort Worth area.
Humble is returning home to Killeen, bringing with him the same dedication, expertise, and leadership that has characterized his coaching career. His wife, Kerri, a former All Big 12 Soccer Player at Texas Tech University, and their children, Kaylee and Hudson are excited about his new career in Killeen ISD.
Copyright 2023 KWTX. All rights reserved.