Misplaced water pump station forces Texas & Oklahoma to talk state boundaries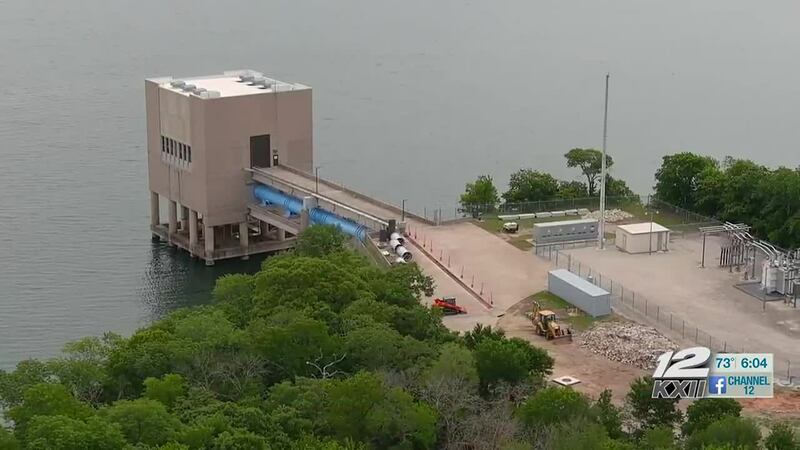 Published: May. 10, 2023 at 6:16 PM CDT
POTTSBORO, Texas (KXII) - A previous version of this story incorrectly stated the pump was accidentally built in Oklahoma. The pump was built following the correct 1989 maps. More than a decade later, the boundary was redrawn, causing the pump to end up in Oklahoma. We regret this mistake.
There's a Red River rivalry happening between Texas and Oklahoma, and this time it's not about football.
After the Texas-Oklahoma boundary in Lake Texoma was redrawn in 2000, a Texas water pump now sits in Oklahoma territory.
The pump was originally constructed in 1989 and deeded in Grayson County, Texas following correct state and federal maps.
But, it's now center stage between the two states as legislators try to figure out what to do with it.
After construction finished on the pump in 1989, all was flowing smoothly for the North Texas Municipal Water District or NTMWD.
"Until, in 2009, zebra mussels, an invasive species, were discovered in Lake Texoma," said Jenna Covington, the executive director and general manager of the NTMWD.
Some of those zebra mussels were found on an NTMWD water pumping station just north of Pottsboro.
That led to the revelation that the Texas-Oklahoma map created in 2000 placed the pumping station partially in Oklahoma.
"Anytime one state finds that one of its assets is not located in state boundaries anymore, I'm sure it's a unique situation," said Oklahoma House Speaker Charles.
The NTMWD proposed a land swap.
"There's not a net loss of property between the states, so that neither increases or decreases in political power," said David Kelly, the NTMWD's government relations and special projects manager.
The swap would come out to 1.34 acres from each state.
"It's something we'll have to look at," said McCall.
Oklahoma House Speaker Charles McCall is part of the Red River Boundary Commission trying to clear up the murky waters.
"We have to take a look at all aspects," said McCall. "It's a multifaceted issue."
Oklahoma is requesting the president of the University of Oklahoma to put together a private group for legal advice and solutions.
The commission will have to avoid breaking Oklahoma laws prohibiting interstate water sales and consider the Lacey Act, which makes it illegal to transport invasive species, like Zebra Mussels, across states.
"We hope to remedy this situation equitably for both of our states and in a period of time that makes sense for both of us," said McCall.
The North Texas Municipal Water District sent the following statement to News 12:
North Texas Municipal Water District (NTMWD) is a wholesale provider of water, wastewater, and solid waste services for more than 2 million North Texans in one of the fastest-growing areas in the country. Lake Texoma is a shared resource for both Texas and Oklahoma, with equal water rights for both states. NTMWD is the largest water district in Texas and receives 22% of its raw water supply from Lake Texoma through the Texoma Raw Water Pump Station (RWPS).
In 2000, the Texas-Oklahoma boundary was incorrectly drawn in the Lake Texoma area, which placed a majority of NTMWD's Texoma RWPS in Oklahoma. As a result, NTMWD is seeking the proper correction of the Texas-Oklahoma state line to return the Texoma RWPS to Texas, an undertaking that is currently awaiting action by the Oklahoma Red River Boundary Commission. This would involve an equal swap of land totaling 1.34 acres from each state and would have no impact on the allocations of water made to either state.
At NTMWD, we are grateful to our friends and colleagues in Oklahoma for considering this issue and for working collaboratively with us to find a solution to this unique problem. We are confident that, by continuing to work together, we will resolve the boundary while providing uninterrupted critical services to our service area.
Copyright 2023 KXII. All rights reserved.