Texas schools say it's time to stop tying mental health funding to school safety money
Federal pandemic aid helped build public school mental health services in Texas. School officials now brace for the expiration of those funds next year. They're urging lawmakers to create a dedicated funding stream for mental health assistance in schools.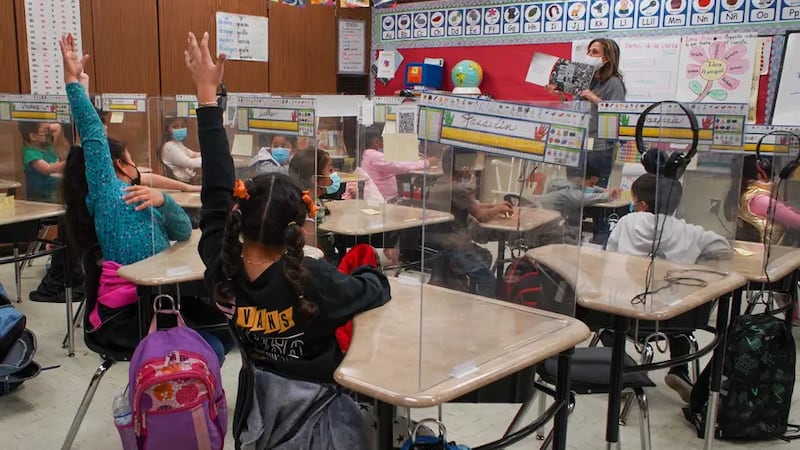 Published: May. 15, 2023 at 11:06 AM CDT
AUSTIN, Texas (TEXAS TRIBUNE) - Security cameras or a suicide prevention program? Bulletproof glass or a staff mental health counselor?
Those are the difficult, heartbreaking choices Texas school officials say they will have to make when billions of dollars in federal emergency COVID-19 funding evaporates next year.
At the start of the COVID-19 pandemic in 2020, the federal government sent money to states from the Elementary and Secondary School Emergency Relief Fund, also known as ESSER.
Texas schools received more than $19 billion and have been spending the money on everything from improving air ventilation systems to summer school to hiring more teachers.
However, of the 714 school districts that participated in a statewide survey, over 73% reported using ESSER funds for mental health, primarily to help with rough transitions for students who faced numerous classroom disruptions because of the pandemic. Now districts are worried that when those funds expire at the end of 2024, little will be available to replace them.
"It's hard for us to predict great outcomes when this fiscal cliff is coming at the end when the ESSER dollars dry up," said Adrian Kohler, policy director at Texans Care for Children. "Overall, the expiration of ESSER funds will absolutely put at risk many of the innovations for mental health."
While it is true that hundreds of millions of dollars have been poured into Texas school districts these past few years to address school safety and student mental health in the wake of a series of mass shootings, much of that was spent on reinforcing doors and entrances to schools to obstruct shooters.
What schools would like to see is a dedicated funding source for mental health needs that isn't tied to school safety spending. So far, that's not been the case.
School safety and mental health services
In 2019, the first legislative session after the deadly Santa Fe High School shooting where a 17-year-old killed 10 people and injured 13 others, lawmakers passed a sweeping school security bill.
That measure created the school safety allotment, a funding mechanism to help schools upgrade their security and help with programs to better identify students at risk of suicide or suffering from other mental health problems.
Several bills have been introduced this legislative session in terms of school safety, but House Bill 3, authored by Rep. Dustin Burrows, R-Lubbock, is specifically meant to address funding for school safety and mental health.
But again, school officials and mental health advocates believe that the bill, which could roughly bring $1.6 billion more to schools, will be used mostly for school security instead of helping to sustain services created during the pandemic with ESSER funds.
"We think it's critically important that our campuses are safe, but we also want to make certain that legislation moves forward that has mental health in mind so we don't miss the resources needed to continue mental health initiatives at a school level," said Seth Winick, director of the Texas Coalition for Healthy Minds, a mental health advocacy group.
The problem has become that most schools will choose locks and cameras over suicide awareness programs and counselors.
Last week, 36 Texas health and wellness organizations wrote to the Texas Legislature, urging the creation and funding of a separate "student mental health allotment" in the remaining weeks of the session.
"The Legislature is taking important, positive steps this session to address children's mental health — but there is a major gap in the bills that are moving," the letter stated. "The Legislature's mental health plan needs to reach a much larger number of children and include support for prevention and other strategies that reach children before a crisis."
HB 3 has several funding mechanisms that add money to the school safety allotment, as well provide funding in the ways of grants and other means. But a final decision on exactly how those funds will work is being debated as the bill is pending in the Senate education committee.
New safety requirements baked into HB 3 worries school officials and mental health advocates because just meeting those requirements will mean most schools will spend the money to comply.
"Under the current funding legislation being considered, there's really not a way to fund mental health support because districts are going to have to get those safety standards before they can spend dollars on anything else," said Brian Woods, superintendent of the Northside Independent School District in San Antonio.
Following the Uvalde shooting, where 19 children and two adults were killed by an 18-year-old gunman, Texas House Speaker Dade Phelan, R-Beaumont, wrote a letter to Lt. Gov. Dan Patrick requesting the state take a multifaceted approach to school safety that included adding millions to telemedicine services, creating "pediatric crisis stabilization and response" teams across the state and yearly funding for "multisystemic therapy" teams.
Patrick responded favorably to many of Phelan's requests, agreeing to add "five to seven" multisystemic therapy teams in the fall of 2022 and two new coordinated specialty care teams (with one in San Antonio available to serve the Uvalde area), as well as providing additional funding for technology systems if needed.
Any requests would have to be approved by Phelan and Patrick, as well as the leaders of the budget-writing committees in each chamber: Rep. Greg Bonnen, R-Friendswood, and Sen. Joan Huffman, R-Houston.
This has been an issue for multiple years as a Texas School Safety Center report has found only 8.4% of districts used a portion of their school safety allotment funds for behavioral health services and 12.2% used some funds on providing mental health professionals.
"Typically, any dollars, whether they be local dollars or state dollars have been prioritized to physical safety, you know, hardening buildings, and so forth," said Woods, the Northside ISD superintendent. "What we're realizing now is that we need a greater priority on mental health supports and there just simply aren't enough dollars to do both of those things."
Alvia Baldwin, director of guidance and counseling at Alief Independent School District in Houston, said this is particularly problematic for school districts like Alief which has used ESSER funds for emotional awareness training for students, the hiring of mental health counselors and contracts with community mental health vendors.
"I have been looking at some of the language this legislative session and they are talking about an additional $100,000 for mental health," she said. "For us, that is one salary for a master-level clinician. These are licensed professional counselors, and so they're gonna come in $65,000 plus. By the time you add tax that is pretty much the entire $100,000."
The Alief district was able to hire four mental health counselors with ESSER funds, she said.
Mental health experts are now hoping for a last-minute amendment to HB 3 to add dedicated funding to mental health programs.
Funding cliff
Gary Patterson, interim superintendent at Uvalde Consolidated Independent School District, said after a gunman entered Robb Elementary nearly a year ago that Communities In Schools, the largest provider of school-based behavioral health services for students in Texas, was there in a matter of hours.
"Now, we are very fortunate that CIS is providing mental health professionals to serve UCISD throughout the district," Patterson said in an emailed statement.
This mental health assistance might be coming to an end in Uvalde and over 400 other campuses in Texas in the very near future as additional funds for these services have not been approved by the Legislature.
"After seeing how impactful their work has been this past school year, I strongly encourage the Legislature to increase funding for CIS so they can serve more schools and students in need in Uvalde and beyond," Patterson said.
Communities In Schools requested an additional $25 million per year be added to their budget. It's already received $35 million to help maintain the services they have already made available to 1,500 campuses. Yet with less than a few days left in the session, dedicated funds from mental health services have yet to materialize as two budget riders have been left on the wishlist in the House.
"I felt like we moved into the session with a strong sense of mental health in schools being a priority and supporting that effort and it has gotten kind of lost towards the end. I think the language has kind of gotten lost within the discussion around school safety," said Jessica Weaver, CEO of the Communities in Schools affiliate in San Antonio.
The idea of a school mental health allotment was an idea pitched in this legislative session in House Bill 2451 and Senate Bill 948 as a solution to addressing behavioral health while also allowing schools to focus on security.
Neither bill has progressed, but Winick, the director of the Texas Coalition for Healthy Minds, said he hasn't given up hope.
"It's going to be key in these last few days to make sure [the] Legislature's intentions are matched with actions," he said. "We can do both. We have the resources to fund both school safety and mental health. We can do both and we should do both."
Uneasy relationship
School safety and student mental health have found themselves in an uneasy relationship that goes beyond funding for many years now as the perpetrators of school shootings are often viewed through the lens of mental illness.
Chris Bryan, a senior staff member at Clarity Child Guidance Center, said this is unfortunate because mental health advocates work hard to separate mental health from violent acts.
"When it comes to gun violence and mental illness, the numbers aren't there unless you are talking about suicides," Bryan said.
Mental health experts say a safe and supportive school environment is much broader than tragic school shootings. Mental health resources can be used to help students who are not only going through a mental crisis but also those who are going to class every day dealing with bullying, suicidal thoughts, anxiety and depression.
Bryan Mares, government relations director for the Texas chapter of the National Association of Social Workers, agreed.
"Safety really does extend beyond a bulletproof door or armed school officers. It's about a student feeling secure and surrounded by caring adults and healthy peers," he said.
Mental health advocates and school leaders say school mental health should have its own funding but it has been connected to school safety measures because of mass shootings.
"As we know, hardening schools is about external safety of schools, but the mental health of our students and staff is also as important to maintaining a safe environment and culture," said Mary Libby, director of guidance and counseling at Northside ISD. "The concerns that we hear frequently with mass shootings and so forth is 'if only this individual had mental health support when they were younger.' And although school counselors provide mental health support, we need that additional support to provide more intensive mental health services like individual counseling."
Libby said that after the Uvalde shooting, there was a sense of fear surrounding students as they attended summer school. She said her school district was able to lean on the mental health resources it had built up during the pandemic.
"The school counselors went in and taught some of the baseline skill-building by helping students learn how to express their feelings, and then referrals to Community In Schools went up because the students knew how to talk about what they need," she said.
For reasons like this, Libby said student mental health and school safety share an unfortunate relationship.
"When something happens, as what happened … in Allen, our kids come to school fearful. Our adults come to school fearful. And we have to address that or learning doesn't happen," Libby said. "It's not because people don't want to learn, it's because the brain is always wondering if they're safe."
Copyright 2023 TEXAS TRIBUNE. All rights reserved.