'It's got to stop': Waco teen who fired AK-47 at detective sentenced to 25 years in prison
Devonte Terrell Adams was involved in six shooting incidents in Waco within a seven-week period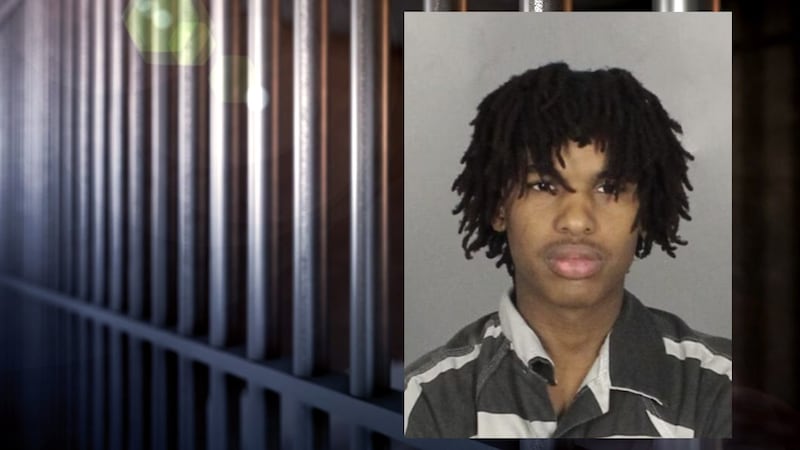 Published: May. 17, 2023 at 6:54 PM CDT
WACO, Texas (KWTX) - A Waco teenager who fired at least 13 rounds from an AK-47 rifle at a Waco police detective while fleeing the scene of another shooting in 2020 was sentenced to 25 years in prison Wednesday.
Judge Susan Kelly of Waco's 54th State District Court heard testimony from seven prosecution witnesses and five defense witnesses during a three-hour sentencing hearing before sending 19-year-old Devonte Terrell Adams to prison for 25 years.
A 54th State District Court jury took just 10 minutes to convict Adams of aggravated assault after a trial in February. Adams elected to have Kelly assess his punishment, which ranged from five to 99 years in prison or up to life.
The hearing was attended by 30 to 35 members of the Waco Police Department, including an assistant chief, two commanders and at least two sergeants.
Adams, who has an extensive juvenile record, was 16 at the time of the incident, and was certified to stand trial as an adult.
Before sentencing Adams, Kelly reminded him of the testimony about the rash of shootings by young offenders in Waco over the past few years, and told him that there has to be accountability for his actions.
"You have the opportunity to tell those other kids who are putting our officers and the community in danger, put the guns down. You are not even able to drink alcohol legally. It's got to stop."
Prosecutors Ryan Calvert and Luke McCowan offered testimony during the hearing that showed Adams was involved in six separate shooting incidents in Waco within a seven-week period, all just weeks after he was released from a two-year stint for robbery in a Texas Juvenile Justice Department facility.
Adams and two co-defendants were being sought for their involvement in a shooting incident at the Estella Maxey apartment complex in 2020. Waco police Detective John Clark, who was in the area that afternoon on other police business, heard the shots, first from a pistol and then multiple shots in rapid succession from a large-caliber rifle, and went to the area to see if he could assist other officers.
As Clark, who was driving an unmarked police vehicle, and other officers descended on the apartment complex, Clark said he spotted a black Jeep that matched the description of the suspects' vehicle. Clark pursued the speeding vehicle while the chase was captured on his body camera.
The Jeep ran a stop sign on Old Dallas road, and a passenger wearing a yellow hoodie, who later was determined to be Adams, leaned out of the driver's side back window with an AK-47 and fired 13 shots at Clark's vehicle. Clark could be heard on the radio calmly saying he was being fired upon and requesting other officers to converge on the area.
Officers lost the Jeep, but Adams, Wilford Carpenter, who was driving the Jeep, and Jaquan Davis, a passenger, were arrested later. Officer Jeremy Angel testified that Adams had a pistol on him and threw it away as officers came to arrest him in April 2020.
Carpenter and Davis both pleaded guilty and were sentenced to 20 years and 15 years in prison, respectively.
Clark testified Wednesday that he was "calm at first and then pissed off" as Adams continued to shoot at his vehicle, and spray the residential neighborhood with bullets from the high-powered rifle.
Clark said he went through a variety of emotions after the incident was over, saying it was the only time in his 33-year police career that he has been shot at. He said the most emotional part was having to call his wife, knowing how she would react to the life-threatening incident.
"I hope to never have to have that conversation again," Clark said.
Clark declined comment after the hearing.
Adams, who decided to testify Wednesday, continued to deny his involvement in any of the six shootings until Calvert's withering cross-examination forced him finally to admit his guilt. As the cross-examination continued, Adams, who cast his gaze toward the floor, asked Calvert to ask another question, telling him that the other shootings were not relevant to the crime for which he was convicted.
Kelly sternly interrupted his testimony and instructed him to answer the questions. She reminded him that she was in charge and would determine the relevancy of the testimony before repeating Calvert's question of whether Adams lied in his testimony Wednesday or was lying to detectives when he admitted being at the scene of the shootings. Adams said he was backed into a corner and forced to go to trial because prosecutors offered him 35 years in a plea bargain, which he said he was unwilling to accept.
In defense testimony, Adams' aunt, grandmother, sister and girlfriend testified that he had a rough upbringing, spent time in foster care, and was sexually abused as a child. They said both his parents are in prison and his father was never really involved in his life, making him weary and distrustful of male authority figures.
Calvert said after the hearing the he respects the judge's decision.
"Twenty five was not something we were willing to offer him from the DA's office, so if he wanted something less than what we were offering, he was going to have to go to trial," Calvert said. "Mr. Adams made it clear on the stand today he has never accepted any responsibility or accountability for his actions. From the time he was arrested, he has continually lied in an attempt in get himself out of trouble or at least minimize the trouble he was in, and that continued today on the stand."
Adams' attorney, David Hudson, asked the judge for a 10-year prison term, telling her in summations that Adams is still young and deserves a second chance.
Calvert disagreed, telling the judge that "the notion of letting him breathe free air as a young man is ridiculous to the point of being reckless."
Adams must serve at least half of his term before he can seek parole.
Calvert praised Clark, Sgt. Sam Key and the entire police department for their work on the case.
"They did a great job on all of these investigations and it has been a pleasure and continues to be a pleasure to work with them," Calvert said. "We are grateful for the job they do every day, and of course, we are most grateful that Detective Clark was not injured in this shooting."
Copyright 2023 KWTX. All rights reserved.