Texas House passes bill restricting the college sports teams transgender athletes can join
Senate Bill 15 would allow people to sue colleges or universities they believe violate a prohibition on trans athletes' sports participation.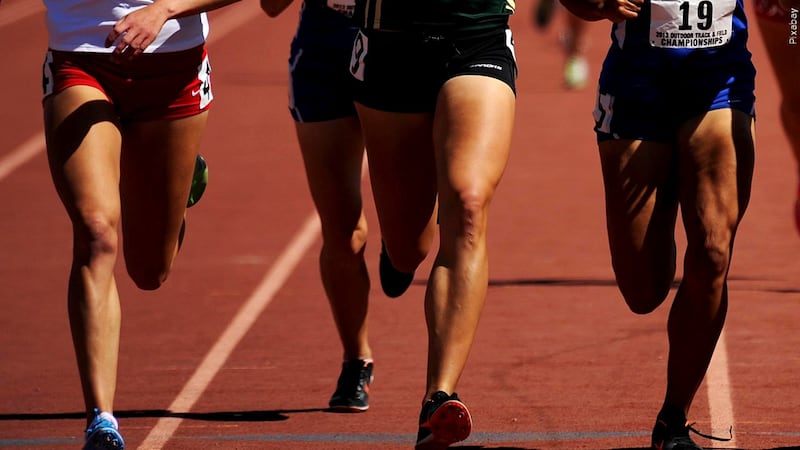 Published: May. 18, 2023 at 12:45 PM CDT
(TEXAS TRIBUNE) - The Texas House gave final approval Thursday to a bill that would prohibit transgender men from competing on men's college sports teams and transgender women from joining women's college athletic teams, one day after lawmakers gave preliminary approval to the legislation.
The bill includes minor changes that would need to be accepted by the Senate before it is sent to Gov. Greg Abbott, who has voiced his support for the legislation. If the governor approves the bill, it would expand similar restrictions currently in place in Texas K-12 schools into higher education.
Flanked by female Republican House members all wearing bright pink, Rep. Valoree Swanson, R- Spring, said Wednesday the bill is about "fairness" for female athletes.
"This legislation is not about participation. This legislation is not about restricting anyone's opportunities," Swanson said. "This legislation is about intercollegiate athletic competition. We are here to ensure there is fair play at the highest, most competitive levels of college athletics."
Democrats made multiple unsuccessful attempts to kill the bill on technicalities and failed to add several amendments that would've watered it down or voided it. The vote was 93-49, with three representatives present but not voting. Eleven Democrats voted in support of the legislation, though Rep. Jarvis Johnson, D-Houston, later said on social media he voted for the bill due to a machine error and would change his vote. Three of the Democrats who voted for SB 15, Rep. Tracy King, D-Batesville; Rep. Harold Dutton, D-Houston; and Rep. Shawn Thierry, D-Houston, also voted for Senate Bill 14, which would ban doctors from providing transition-related care to children.
"Instead of working to create societies that are more tolerant and accepting, we are putting forward more senseless legislation that targets trans people in particular, and discriminates against communities at large," said Rep. Ana-Maria Ramos, D-Richardson, pleading with members to vote against the bill. "This bill once again is another hateful and fear-mongering bill to distract Texas voters from the real issues not being addressed this session. And it encourages discrimination and inclusion against transgender Texans."
Immediately after the vote Wednesday, LGBTQ groups voiced their disapproval on social media.
"Students should be able to play the sports they love as their true selves — free from extreme government overreach and cruel political attacks," the American Civil Liberties Union of Texas wrote on social media.
Senate Bill 15 requires athletes to join the college sports teams that align with their sex assigned at birth, regardless of their gender identity. It provides whistleblower protections for people who report violations at a university athletics program and allows people to file civil lawsuits against a college or university if they believe the institution has violated the law.
Under the bill, women would be allowed to join a men's sports team if the school doesn't have a women's team for the same sport.
The House rejected an amendment to clarify the law would only apply to intercollegiate NCAA athletics and not intramural or club sports.
"Oftentimes I've heard on both sides of this argument about fairness," said. Rep. Venton Jones, D-Dallas, as he debated his amendment. "Sometimes this is just about being able to get together and play sports and have those opportunities on campus. And so what I want to make sure is that we did not have this limiting legislation, impacting that very important piece of intramural activity which is often team building and not as competitive as the NCAA level of competition that this bill is seeking to address, as stated by the author and many in support of this legislation.
The Texas Senate approved the bill, which is a priority of Lt. Gov. Dan Patrick, in a 19-10 vote in March.
The bill is one of several that the Legislature is considering this session that could bring major changes to the lives of gay and transgender Texans. But it's unclear what impact this bill would have immediately in Texas' public universities. According to an Austin American-Statesman survey of Texas public universities, the vast majority of Texas schools responded that to their knowledge, they had not had a transgender athlete compete for their university.
For more than a decade, the NCAA has allowed transgender women to participate in women's sports if they had at least one year of testosterone suppression medication to treat gender dysphoria. But last year, the conference's board of governors adopted a new policy that determined trans athletes' qualifications for participation on a sport-by-sport basis. LGBTQ advocates decried the change as the conference bowing to political pressure from those who disapproved of the organization's decision to allow Lia Thomas, a trans woman, to compete on the women's swimming team at the University of Pennsylvania.
The new NCAA policy is still being phased in. As of now, trans athletes who want to participate in college sports must meet previous policy requirements set in 2010 and report their testosterone levels at the start of the season and six months into competition.
Legal experts say the Texas legislation could open up universities to Title IX lawsuits. In 2021, the Biden administration said that law, which was created more than 50 years ago to prohibit discrimination on the basis of sex, applies to LGBTQ students. Last month, the administration proposed an amendment to Title IX that would prohibit blanket bans barring transgender students from participating on sports teams consistent with their gender identity.
The proposal faced mixed reviews from LGBTQ advocacy groups that say it would still allow for discrimination against trans students, while critics say it would threaten women's sports.
"[T]he Department's proposed regulation would attempt to coerce compliance with an uncertain, fluid, and completely subjective standard that is based on a highly politicized gender ideology," 25 Republican governors, including Abbott, wrote in a joint comment. "Most troubling, the proposed regulation would turn the purpose of Title IX on its head and threaten the many achievements of women in athletics."
Last month, the U.S. House of Representatives approved a bill that would amend Title IX to require student athletes to participate on sports teams based on their sex assigned at birth. The legislation is unlikely to pass in the U.S. Senate, where Democrats have narrow control.
Disclosure: The ACLU of Texas has been a financial supporter of The Texas Tribune, a nonprofit, nonpartisan news organization that is funded in part by donations from members, foundations and corporate sponsors. Financial supporters play no role in the Tribune's journalism. Find a complete list of them here.
COPYRIGHT 2023 TEXAS TRIBUNE. ALL RIGHTS RESERVED.