School Choice: A look at what it means for Texas students and families
Published: May. 22, 2023 at 7:21 AM CDT
|
Updated: May. 23, 2023 at 8:35 AM CDT
(KWTX/Making The Grade) - School Choice is a concept that has garnered strong opinions from Texas parents, educators, and lawmakers.
It has become a battle between the haves and the have-nots, rural versus urban, and public or private.
While Senate Bill-8 is now dead, since the Texas House of Representative's Public Education Committee failed to pass it, it could still be revived during the anticipated special legislative session Governor Greg Abbott has vowed to call for in order to push through one of his signature legislative agenda items.
School Choice programs come in many forms. While commonly called the "school voucher program," in Texas it is called an "education savings account," also known as ESAs.
Ke'Sha's special report airs tonight at 10 p.m. CLICK HERE to watch our newscast online.
For more Making The Grade special reports, click here.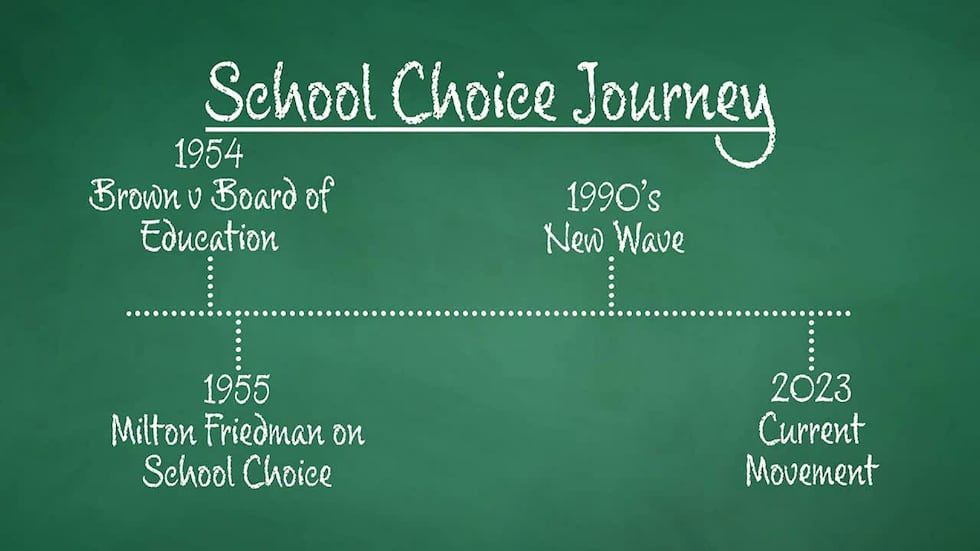 The difference stems from where the money comes from , and who gets it.
According to Merriam Webster, a voucher is a coupon issued by the government to a parent or guardian to be used to fund a child's education in either a public or private.
What the governor is pushing is not a coupon. It is actual money in the bank.
The government would deposit a certain amount of taxpayer money in a student's ESA.
The parent then uses that money to pay for private school tuition, and other approved educational needs or materials.
Since it does not always cover the entire bill, some students must depend on scholarships, or their family's own money, to make up the difference.
The School Choice movement has been around for decades.
Some could argue, the idea arose following the landmark U.S. Supreme Court decision in the Brown v. Board of Education in 1954.
The following year, Economist Milton Friedman, co-founder of the Friedman Foundation for Educational Choice, now known as EdChoice, said we should use free market techniques to improve public education in America.
At the time, students were sent to neighborhood schools, whatever was closest to their homes.
Friedman argued that parents should use state money to send their children to whatever campus they thought best.
The latest wave in the school choice movement started in the late 1990s, and has grown ever since.
Today, according to the American Federation for Children, nearly 30 states have some type of school choice voucher program.
Eleven, specifically include ESAs or education savings programs, what Abbott is pushing in Texas.
They include Arizona, Florida, Indiana, Mississippi, New Hampshire, North Carolina, Tennessee, and West Virginia.
So far this year Utah, Iowa, and Arkansas have all approved this type of school choice measure.
People on both sides of this issue have expressed strong opinions.
Supporters argue that school choice is inclusive for all, giving low-income students access to campuses they otherwise would not be able to afford.
Opponents say the private schools getting this state money can hand-pick their students, which could exclude those with certain challenges.
Plus, private schools do not have to adhere to the same accountability standards as public schools.
Either way, it is a highly divisive issue that is being debated in the legislature as we speak.
Copyright 2023 KWTX. All rights reserved.