Ja Morant is 'fine,' taking a social media break, police say after welfare check due to cryptic post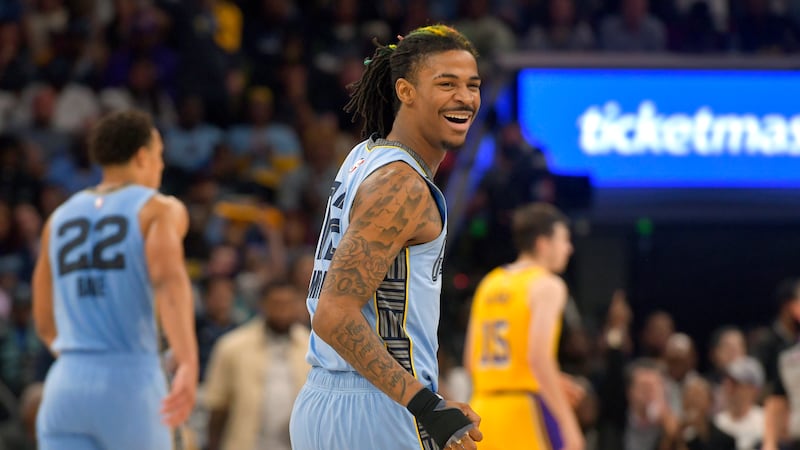 Published: May. 25, 2023 at 11:02 AM CDT
MEMPHIS, Tenn. (AP) — Police in Tennessee conducted a welfare check Wednesday on suspended Memphis Grizzlies guard Ja Morant and say "he is fine" after cryptic messages appeared on his Instagram account and were later deleted.
The post from earlier Wednesday included messages and pictures saying "Love ya ma," "Love ya pops" and "You da greatest babygirl love ya." A fourth message simply read: "Bye."
Shelby County Sheriff's Office spokesman John Morris told The Associated Press in a phone call that deputies checked on Morant at his home Wednesday morning.
"He advised us that he is taking a break from social media," Morris said.
Morant, 23, was suspended from all team activities following a video of him holding a gun that circulated May 13 on social media. The video was the two-time All-Star's second display of a firearm within three months in a social media video.
The first video cost Morant an eight-game suspension and about $669,000 in forfeited salary in March. The second could be much more expensive with his five-year, $194 million max contract set to begin this coming season.
The video captured May 13 and widely shared online was streamed by an associate of Morant and showed him holding what appeared to be a gun as he sat in the passenger seat of a vehicle. The first video showed him flashing a gun in a strip club.
The Grizzlies suspended Morant from team activities on May 14, pending the league's investigation.
Spotrac.com noted Morant is projected to be paid $33.5 million for the 2023-24 season if the NBA salary cap is $134 million. A suspension of 20 games or fewer would cost Morant $231,034 per game while more than 20 games would mean he loses $304,545 a game.
Powerade, the sports drink company, pulled an ad featuring Morant almost immediately after the March video.
___
AP NBA: https://apnews.com/hub/nba and https://twitter.com/AP_Sports
Copyright 2023 KWTX. All rights reserved.