Texas teen 'Steve O' pleads guilty to selling fentanyl-laced pills
This is the second guilty plea in the wake of a recent series of juvenile overdoses in the Carrollton-Flower Mound area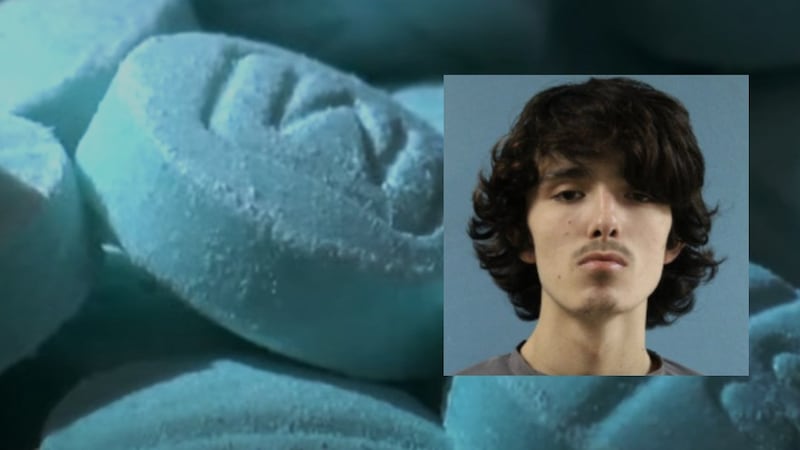 Published: May. 30, 2023 at 5:16 PM CDT
NORTH TEXAS (KWTX) - Stephen Paul Brinson, a.k.a "Steve-O," 18, is facing up to 40 years in federal prison after he pleaded guilty on May 30 to conspiracy to possess with intent to distribute a controlled substance, said Leigha Simonton, the U.S. attorney for the northern district of Texas.
Brinson, an admitted fentanyl trafficker, was responsible for distributing thousands of counterfeit pills across North Texas out of a home in Flower Mound, Simonton said.
The teenager used an Instagram account to facilitate the sale of the round blue pills, which were imprinted "M/30″ to resemble legitimate 30mg oxycodone pills.
According to court documents, Brinson acted as the source of supply for fentanyl to Donovan Jude Andrews, the Carrollton, Texas dealer who allegedly capitalized on the arrest of Luis Navarrete and Magaly Cano to advertise his pill business.
Andrews is allegedly tied to at least one juvenile fentanyl overdose – that of a 14-year-old girl who paid her dealer through CashApp, prosecutors said.
Navarrete and Cano, along with their supplier, Jason Villanueva, are allegedly tied to more than ten other deaths, Simonton's office announced.
During a search Brinson's residence, investigators recovered approximately 1,800 fentanyl-laced pills, along with cocaine, marijuana, and two firearms.
In plea papers, Brinson admitted that, at the time of the search, he was armed and on his way to deliver an M/30 pill to a customer in Flower Mound.
Brinson is the second defendant charged in the wake of the Carrollton-Flower Mound juvenile overdoses to enter a guilty plea.
Cano, 29, pleaded guilty earlier this month. Six other defendants – including Andrews, Villanueva, and Navarrete – have been charged, but not yet convicted.
Federal officials say illicitly produced, fentanyl-laced pills often look similar to legitimate prescription pills like Oxycontin or Percocet, but can pose significantly more danger.
On the street, these pills are often referred to as "M30s" - a reference to the markings on some of the pills.
They are also called "blues," "perks," "yerks," "china girls," or "TNT."
DEA research shows that six out of ten pills laced with fentanyl contain a potentially lethal dose.
Officials remind the public that "one pill can kill. " For additional information and resources, CLICK HERE.
Copyright 2023 KWTX. All rights reserved.