Community organizes fundraiser to aid fallen Cameron officer's family
Published: Jun. 12, 2023 at 7:47 PM CDT
|
Updated: Jun. 13, 2023 at 10:13 AM CDT
CAMERON, Texas (KWTX) - Central Texans are gathering their most prized items for the Sergeant Clouse Benefit.
The Heart of Texas Networking Group is hosting the benefit Wednesday to support the family of the fallen officer.
Izera Davis, a member of The Heart of Texas Networking Group, said the organization wanted to plan ways for the community to give back to the family of Sergeant Joshua Clouse, who sacrificed his life to protect it.
"The loss of Sergeant Clouse is sad and something no one should have to endure," said Davis.
In early May, Sergeant Clouse died in the line of duty while responding to a search warrant.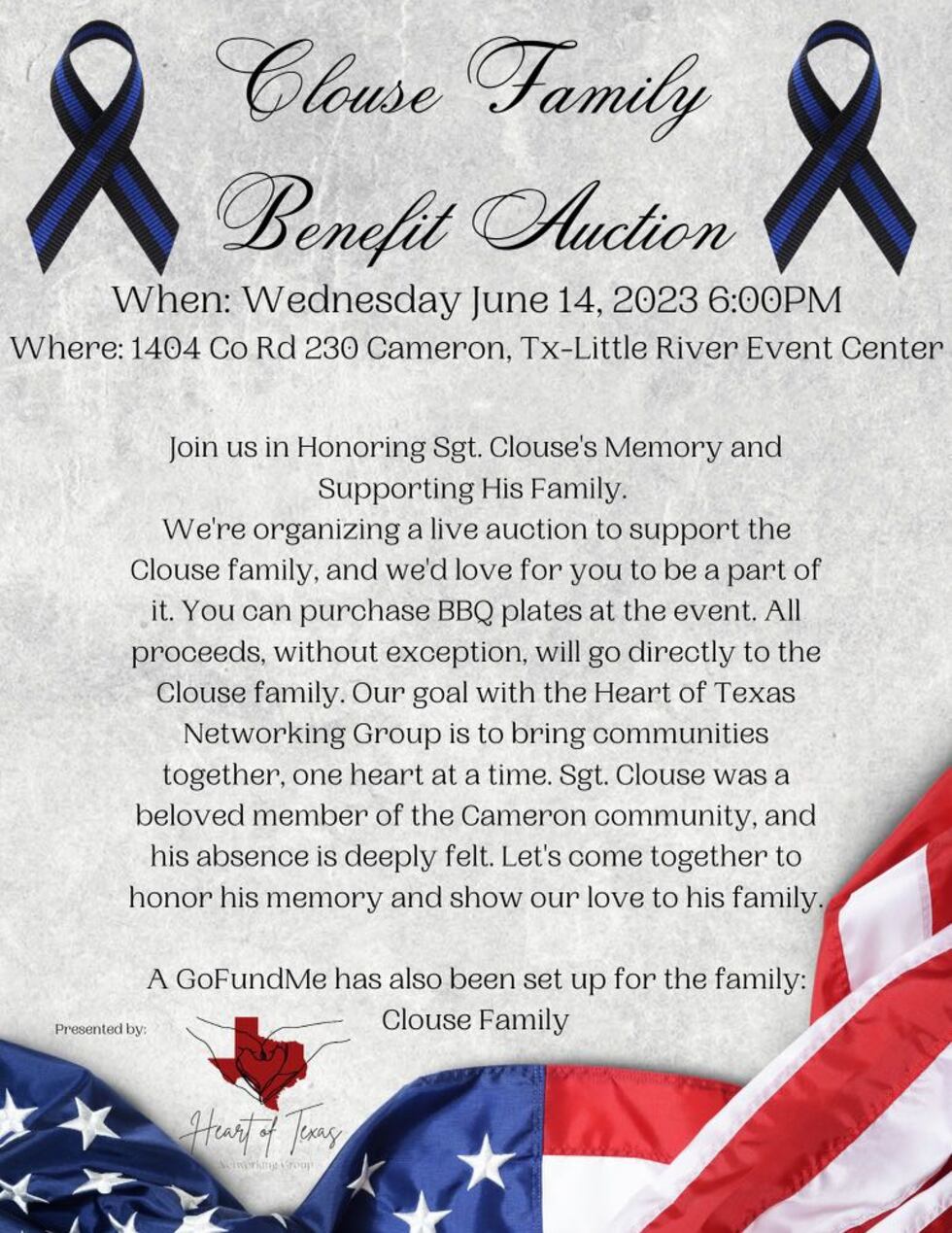 Davis the benefit includes both silent and live auctions, as well as barbecue plates for sale.
Davis said people from all over the country donated more than 100 items for each auction.
A variety of items are in the auction from a lifetime of free oil changes, cattle and even a trip to the U.S. Capitol.
"Everyone from the community, all the way from small business owners to large business owners have really taken their time to show that they care about this family," said Davis.
The community not only cares about the Clouse family, but the sacrifices of all first responders.
"Those are such pillars in the community that I think are often very underappreciated and those are people that we need. Not only do we need people to do that now, we need the future generations that grow up to want to do those things," said Davis.
The benefit is Wednesday at the Little River Event Center starting at 6.
You can still donate items at the Cameron Police Department until Wednesday afternoon, or donate to the GoFundMe link to aid college tuition.
Copyright 2023 KWTX. All rights reserved.