Playdium Pool in West closed for remainder of the season as public health district investigates E. coli outbreak
Published: Aug. 8, 2023 at 11:37 AM CDT
|
Updated: Aug. 11, 2023 at 11:30 AM CDT
WEST, Texas (KWTX) - BREAKING: The Waco-McLennan County Public Health District on Friday confirmed "an outbreak of E.coli linked to the Playdium Pool in West" and further said that "Playdium will be closed for the rest of the season for thorough cleaning, disinfection, and water quality testing."
Officials said 73 cases of E.coli have been reported to the Health District as of 4:00 p.m. on Aug. 11. The exposure dates range from July 28 and continue through the last day the facility was open, Aug. 6, the public health district said.
E.coli bacteria, which have many strains, are known to cause a range of gastrointestinal symptoms, including diarrhea, abdominal cramps, nausea, and vomiting.
"Individuals who have visited the Playdium during the specified dates and are experiencing such symptoms are strongly advised to seek medical attention promptly," the health district said, "It is essential for affected individuals to inform their healthcare provider about their potential exposure to E.coli."
The health district said the four patients that have tested positive for E.coli have not tested positive for E.coli 0157, which is the strain associated with a high risk of severe disease that requires hospitalization, and sometimes results in death.
"The current outbreak has caused only relatively mild illness and no hospitalizations or deaths," officials said.
The management at Playdium is reportedly "cooperating fully with health officials and is committed to implementing corrective measures to prevent future incidents," health officials said.
"The Health District will work closely with the Playdium to ensure that all necessary steps are taken to ensure the safety and well-being of the community."
PREVIOUS ARTICLE:
The Waco-McLennan County Public Health District on Aug. 8 confirmed to KWTX it is investigating cases of E.coli infection "potentially linked to exposure at the Playdium Pool" in West.
Health officials said there are now 42 individuals - up from 25 on Wednesday - who reported experiencing symptoms of gastrointestinal illness after their exposure to the pool between July 29 and Aug. 4. The ages of the people affected range from one year to 59 years, health officials said.
Lab tests confirmed at least four individuals tested positive for an E.coli infection, the public health district said. So far, no one has required treatment at a hospital.
"We are doing an investigation here," Vaidehi Shah, senior epidemiologist with the health district, said. "There is a correlation here, but there's no causation yet."
"A thorough pool inspection was conducted by the Health District Environmental Health team" on Aug. 4, the health district said.
Chelsea Giles and her family visited the pool on July 29.
"Two days after we left the pool everybody started getting sick," Giles said.
She said her, her boyfriend, her aunt and her one-year-old daughter all all started having gastrointestinal illness symptoms.
"We both started getting the stomach cramps, the nausea, diarrhea, all of that stuff," Giles said.
She's still awaiting lab results to find out if her daughter tested positive for e.Coli. For now, Giles said she's worried about her baby's health.
"She still wakes up in the middle of the night, and I assume it's the stomach cramps because she doesn't wake up in the middle of the night," Giles said.
The local health district said "according to the inspection report, there have been no incidents involving fecal contamination, and the pool's water chemistry is within acceptable parameters. Additionally, daily maintenance logs are being maintained."
The public health district said it is collaborating with state authorities to explore the feasibility of conducting E.coli testing on the pool water.
"Considering that there have been no reported instances of exposure after 8/6, it is conceivable that the outbreak has been contained," officials said, "This occurrence appears to have been an isolated point exposure outbreak."
The health district is still interviewing people who visited the pool and will then move onto the next phase of its investigation.
"What are the common trends with all of this data?" Shah said. "Then we try to identify or pinpoint on what caused the outbreak."
The Waco-McLennan County Public Health District confirmed with KWTX that Playdium Pool hasn't failed any pool safety inspections in the last five years. These inspections test for the water chemicals, but don't test for bacteria like E. coli that may be in the water.
Playdium Pool provided teh following statement below on their Facebook: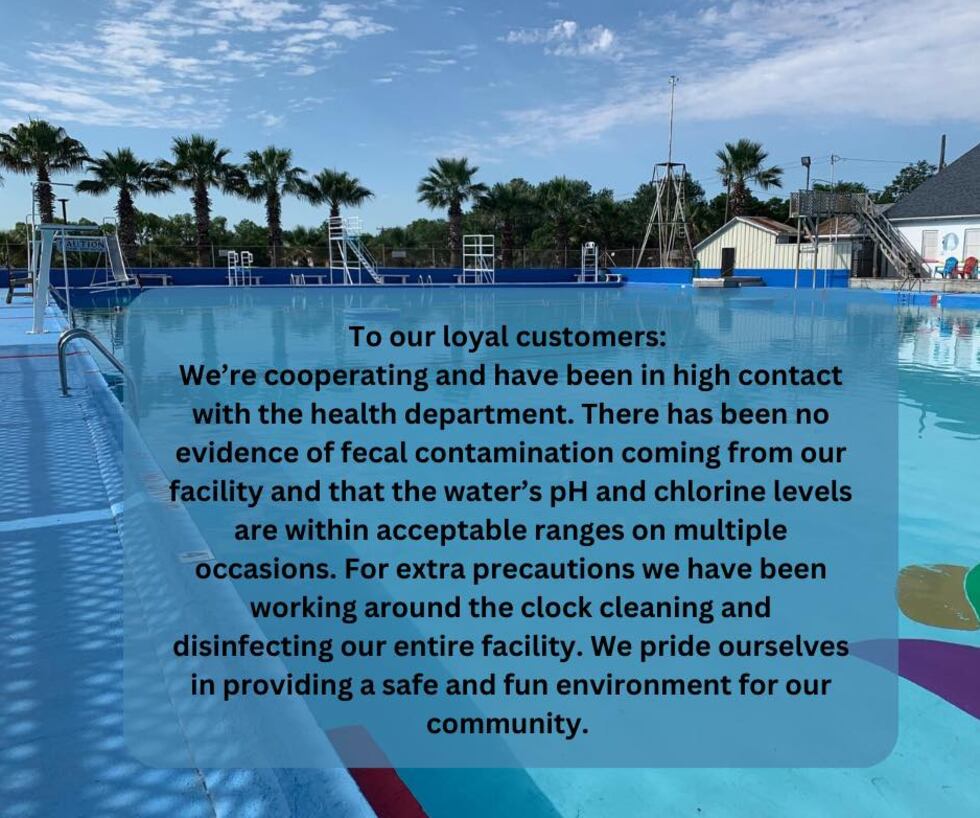 Copyright 2023 KWTX. All rights reserved.