TIMELINE OF EVENTS: The murder of Vanessa Guillén, the search for her remains, and her family's fight for justice
Published: Aug. 14, 2023 at 12:12 PM CDT
(KWTX) - Cecily Aguilar, the only person charged and convicted in the murder of Vanessa Guillén, is at a federal courthouse in Waco to learn her punishment for her role in the murder.
Below is a timeline of events beginning from the day Vanessa Guillén disappeared on post at what was then known as Fort Hood in Central Texas. The information was compiled from KWTX archives and USA Today.
APRIL 22, 2020: Army Pfc. Vanessa Guillén is last seen at in the parking lot of the Regimental Engineer Squadron Headquarters on what was then known as Fort Hood.
APRIL 22, 2020: Guillén's family alert Fort Hood to alert officials at about 9 p.m. that Guillén is not responding to text messages or phone calls from her boyfriend or relatives.
APRIL 23, 2020: The U.S. Army Criminal Investigation Division is notified Guillén is missing. According to USA Today, a witness told investigators that before Guillén disappeared, she left the arms room where she was working to go to an arms room controlled by Spc. Aaron David Robinson to confirm serial numbers for weapons and equipment.
APRIL 24, 2020: Fort Hood Military Police issue a "Be on the Lookout" order for Guillén to law enforcement agencies in Bell County. Investigators on post said Guillén's car keys, barracks room key, identification card and wallet were found in the armory room where she had been working.
APRIL 27, 2020: The Criminal Investigation Division offers a award of up to $15,000 for information leading to the whereabouts of Guillén.
APRIL 28, 2020: According to USA Today, investigators speak with Robinson and tells them that after he finished his work on April 22, he went to his off-post residence that he shared with his girlfriend, Cecily Aguilar, and did not leave the rest of the night, except around 6:30 p.m. when he had to come on post to sign on to a government computer to enroll in training.
MAY 1, 2020: Family and friends of the missing Fort Hood soldier traveled from her hometown of Houston to Killeen to conduct their own search with the hope of getting answers in her disappearance.
MAY 18, 2020: Investigators interview two witnesses who say that on April 22, they saw Robinson pulling a large "tough box," with wheels, that appeared very heavy in weight, out the arms room where he worked, according to USA Today. The two witnesses said they observed Robinson load the "tough box" into his vehicle and drive away.
MAY 19, 2020: Robinson consents to a search of his cell phone, which according to USA Today, shows he made multiple calls to Aguilar the night of April 22 and as early as 3:05 a.m. April 23.
JUNE 10, 2020: During a news conference, Guillén's family claims, that prior to her disappearance, Guillén told them that she had been sexually harassed at Fort Hood and was afraid of reporting it to her superiors.
JUNE 12, 2020: The Guillén family holds a protest outside of Fort Hood, demanding commanders on post provide more information about their loved one's disappearance.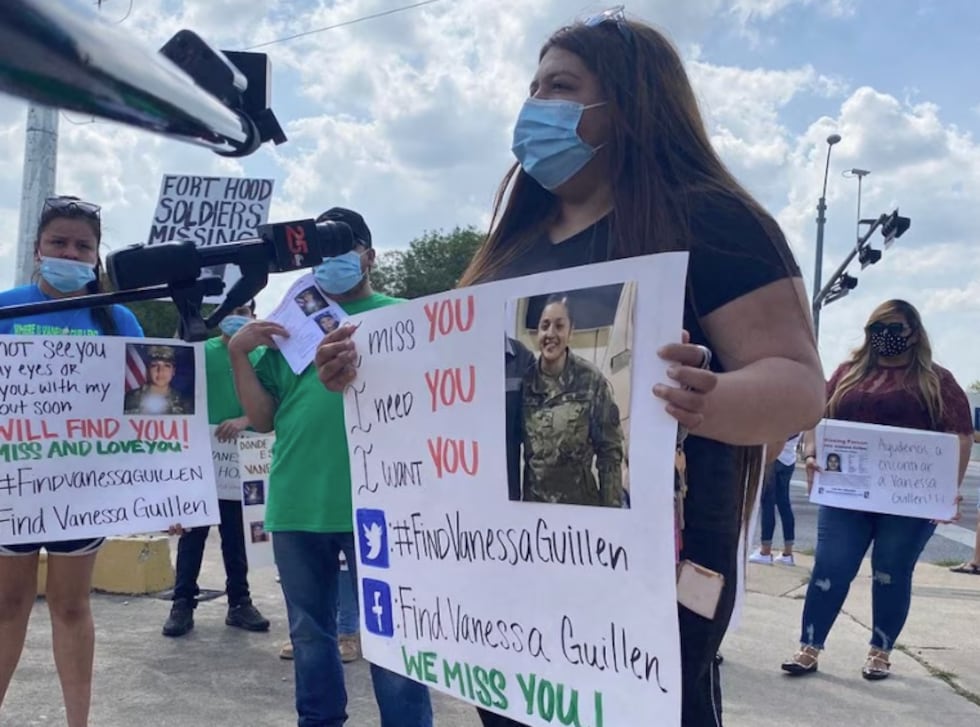 JUNE 15, 2020: Investigators with the Army CID increase the reward for information leading to the whereabouts of Guillén to $25,000. During a news conference, The Army CID reveals it interviewed more than 150 people, and that it has no credible information or reports that Guillén was sexually assaulted, per USA Today.
JUNE 19, 2020: During the search for Guillén, authorities find skeletal remains in a field in Killeen, Texas. Investigators would later confirm they are the remains of Pvt. Gregory Morales, who was last seen in August 2019. Investigators say the Morales and Guillen cases are related.
JUNE 21, 2020: Authorities search the Leon River in Belton, Texas after obtaining location data from Robinson's phone indicating it was in that area.
Investigators find the burned remains of what appears to be the same "tough box" witnesses described Robinson leaving Fort Hood. They also smell something decomposing, but they do not find any human remains.
JUNE 22, 2020: Search efforts intensify in an area along the Leon River in Bell County.
JUNE 25, 2020: Texas EquuSearch continues its search for Guillén's remains in Bell County.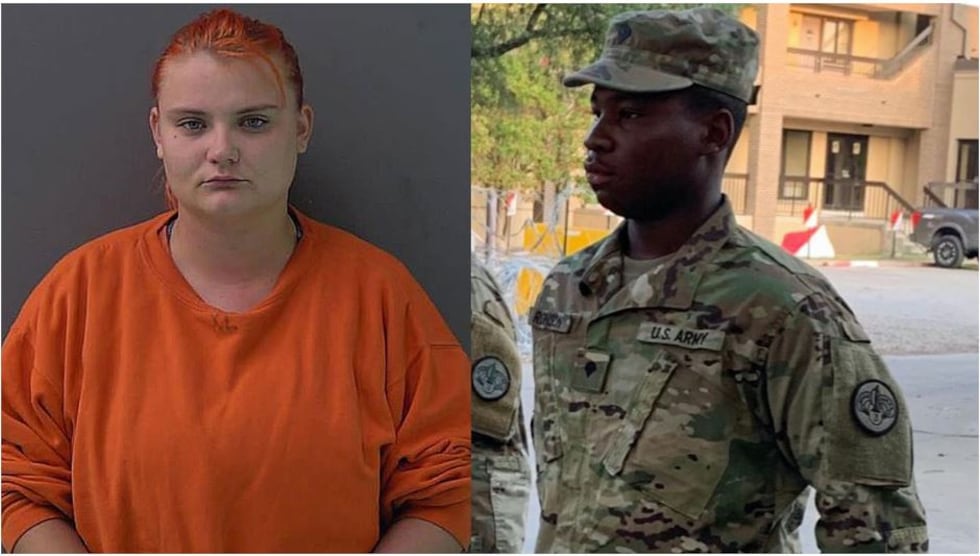 JUNE 30, 2020: A worker building a fence on a property near the intersection of FM 436 and Hartrick Bluff Spur along the Leon River discovers human remains.
Aguilar reveals to investigators that Robinson admitted to her that he fatally struck Guillén with a hammer in the arms room on post.
Aguilar further says that Robinson took Guillén's body off the post, and showed Guillén's body to Aguilar. Aguilar admitted they tried to dispose of the body over several days.
The Lone Star Fugitive Task Force tries to find Robinson, who absconded from Fort Hood.
JULY 1, 2020: Robinson fatally shoots himself when confronted by law enforcement in the 4700 block of East Rancier Avenue in Killeen.
Aguilar is arrested and charged.
JULY 2, 2020: A chilling affidavit obtained by KWTX states Robinson bludgeoned Guillén to death with a hammer and that her body was later dismembered and burned.
JULY 5, 2020: Maj. Gen. Scott Efflandt, III Corps deputy commanding general, reveals a DNA analysis confirmed remains found on June 30 near the Leon River in Bell County were those of missing Army Spc. Vanessa Guillén.
Efflandt said he had hoped Guillén would be found alive and returned to her family. "We all feel her loss, the of a vibrant young soldier," he said.
JULY 13, 2021: The slain soldier's family says the Army's administrative investigation found that Guillén was sexually harassed by several NCOs, but not by Robinson, her killer.
NOVEMBER 29, 2022: Cecily Aguilar waives her right to a trial in the murder of Fort Hood soldier Vanessa Guillen and pleads guilty to a single count of accessory after the fact and three counts of making a false statement.
AUGUST 14, 2023: Cecily Aguilar on Monday was sentenced to 30 years in prison for her role in the killing of Vanessa Guillen.
"Our hope is that today's sentence brings a sense of relief and justice to the Guillen family, who have endured such pain throughout these past few years," said U.S. Attorney Jaime Esparza for the Western District of Texas.
"Ms. Aguilar's actions were indefensible, and she will now face the maximum penalty for the choices she made. I'm grateful for our law enforcement partners who worked tirelessly on this case, as their dedication was essential in bringing this defendant to justice."
Copyright 2023 KWTX. All rights reserved.