Making The Grade: Central Texas public schools show scattered responses to using popular artificial intelligence chat bot in the classroom
Published: Aug. 16, 2023 at 12:06 AM CDT
COPPERAS COVE, Texas (Making The Grade) - As students head back in the classroom, Central Texas public schools are divided over how to respond to new artificial intelligence tools that have developed and grown in popularity over the summer.
Our Making the Grade team asked every public school in our viewing area how they are handling the new artificial intelligence technology.
Of those that responded to the inquiry, school districts across the region are approaching the advancing technological tools in a variety of ways.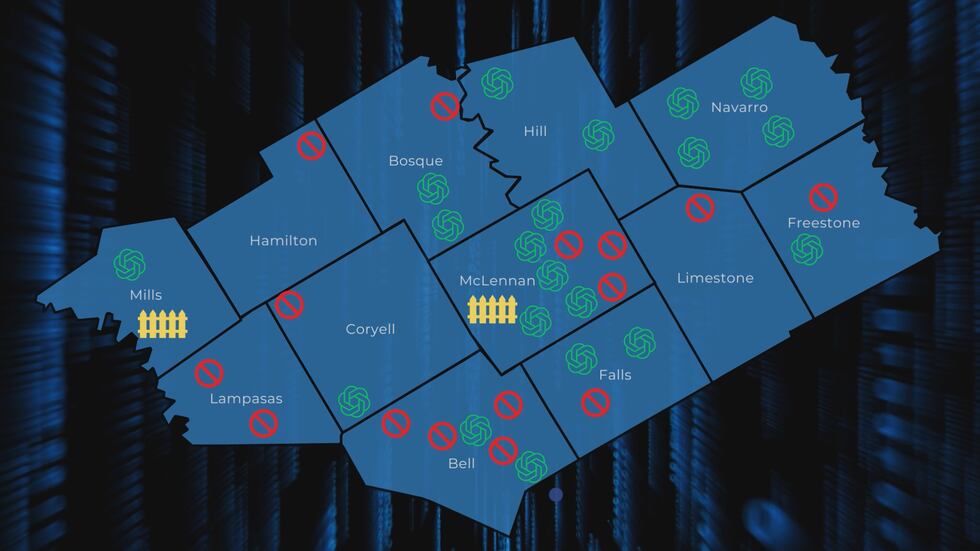 Schools not blocking ChatGPT
More than half of schools that responded to the request, ranging in size and location, are allowing access to ChatGPT and similar artificial intelligence tools.
Copperas Cove ISD is one of the districts that is not blocking the chat bot in hopes of educating teachers and students how to use the tool effectively and morally.
"A.I. are popping up everywhere," Holly Landez, who is the CCISD Director of Digital Learning and Innovation, said. "We need our teachers to be fully aware of how they can use it to boost productivity and also be aware of how students are using it."
CCISD hosted a variety of professional development trainings over the summer for teachers to learn about artificial intelligence tools.
Stacy Tomblin-Weaver is one of the teachers that attended the trainings. She is teaching English and reading to seventh graders this year.
"What I want to pass down to students is giving them a love of reading and make them life-long learners," she said.
PDF FILE: List of Central Texas school districts allowing use of Chat GPT and those that are blocking the technology
However, that love for reading could be in jeopardy if kids decide to skip the book, and, instead ask ChatGPT to complete their assignments for them.
"It's definitely a concern," she said. "We want our students to generate their own ideas. We want them to learn the writing process, and we want students to create those extended responses on their own."
This is why she went to the training as well as a number of other teachers with the district.
Now, she has a better understanding of detecting when students turn in work that was generated by A.I., but she also is familiar with how to use the software as a tool.
From fear of the unknown to excitement about the future, Tomblin-Weaver looks forward to utilizing the chat bot as a helpful tool to create rubrics, lesson plans and presentations.
"I'm really excited about it and using it as a resource," she said. "This is mind blowing."
She plans to include conversations about artificial intelligence tools throughout the school year.
Rogers ISD, which is a smaller district, is also choosing not to block the platform.
"Our teachers are aware of ChatGPT," Rogers ISD stated. "Luckily, as a small district, our teachers are able to get to know our students on an individual basis and can spot work that does not resemble other work they turn in."
Schools blocking ChatGPT
About 45% of schools that responded to our request said they are blocking access to ChatGPT and artificial intelligence tools.
Temple ISD is choosing to block access to the chat bot right now.
"We have blocked access to ChatGPT on campus for students," Temple ISD Superintendent Dr. Bobby Ott said.
He said he and the district has concerns about the actively developing technology. He said, while he agrees that the technology is part of the future, he said it is not far enough along.
"There's information that's missing in some of these artificial intelligent platforms," he said. "That's going to take time to upload too, so you have to be very cautious about that because that could be misleading for students."
ChatGPT does not contain data on information released past September 2021.
This is one of the reasons why Ott believes the safest option is to prevent students from using it in the classroom.
"We're researching this, we're going to have plans for it," he said. We're not saying A.I. will never be present in the education environment, but what we are saying is allow the adults to be the drivers of it."
Adults do have access to the tool on campus. Similar to CCISD, Temple ISD has been training staff about the technology over the summer. The district hopes that staff will establish ways to use the best use the tool at school.
Riesel ISD is also choosing to restrict access to ChatGPT on campus.
"While the advancements in this technology are commendable and have the potential to revolutionize education, the inherent risks associated with children engaging with ChatGPT or similar A.I. systems outweigh the benefits to their access," the district stated.
Many school districts who are blocking access for students disclosed that they are allowing teachers to be able to access the chat bot. Some teachers in schools said they have used ChatGPT in the classroom to demonstrate its abilities.
Districts on the fence
Some districts who responded to our request that are either blocking or allowing access to the platform said they are on the fence with their decision.
Goldthwaite ISD is one of the districts that is blocking the chat bot; however, that may not be the case for long.
"We have actually talked about not blocking it at all," the district stated. "We have been doing research on programs that will identify A.I. generated text and trying to teach our students to responsibly use A.I."
McGregor ISD said the district is currently blocking ChatGPT but said it would reevaluate as more information is revealed about the technology's impacts.
Districts not tracking ChatGPT
Some school districts KWTX spoke with, who we are choosing not to name, said they have not heard of ChatGPT or do not know much about the chat bot.
Expert Opinion
ChatGPT was released by OpenAI in November 2022. It encompasses a large variety of datasets that allow you to type in questions or demands, and it generates an immediate response.
Baylor Professor Matthew Brammer has been researching ChatGPT since December 2022 said its vital for schools to know and understand this technology.
"This is a revolution in the way that we communicate the way we get information just like the cell phone," he said.
However, he did reveal some flaws of the chat bot, including its ability to also be inaccurate, have a built-in bias and create a platform for plagiarism.
"The biggest thing is to stay away from fear of this tool," he said.
He said schools should consider showing students how to detect when the tool is inaccurate or needs editing.
"It is powerful, and it is here," he said. "Let's use it morally because it will help us."
Brammer found ways for ChatGPT to help him as a professor.
"I typed in—give me my lesson plans…it turned days of work into a click," he said.
Teachers like Tomblin-Weaver and educators across the industry are facing another technological advancement, discovering ways to use it themselves and aiming to make sure students are getting the best education at a time when this technology continues to grow.
This is only the start of conversations about artificial intelligence tools like ChatGPT and no right answer is clear to school districts across the region.
Copyright 2023 KWTX. All rights reserved.