Celebrated McLennan County detective retires to continue fighting human trafficking with nonprofit
Published: Aug. 22, 2023 at 4:45 PM CDT
WACO, Texas (KWTX) - Joseph Scaramucci, known internationally for his role in fighting human trafficking and training other law enforcement agencies, is leaving the McLennan County Sheriff's Office to take a similar position with an Oregon-based nonprofit group.
Scaramucci, 40, resigned Monday after 16 years with the sheriff's office, where he traveled to Mongolia, Iraq, Poland, Ukraine and eight other countries and 44 states to fight human sex and labor trafficking and to train law enforcement agencies in those regions.
He will become the director of law enforcement engagement for Skull Games, a nonprofit group devoted to fighting human trafficking.
Scaramucci, who also has teamed with other agencies to battle the burgeoning sex trade at Super Bowl and Major League Baseball All-Star game sites, has directed a number of sting operations throughout Central Texas that led to the arrest of 660 sex buyers and the closure of a number of massage parlors.
His efforts also have led to 281 victims identified and the arrest of 160 traffickers, he said.
"While I am saddened to leave a career that has been a blessing for the last 19 years, I am excited to move forward in his chapter," Scaramucci said. "I will be able to have a far-reaching global impact on human trafficking and child exploitation, and assist law enforcement with their efforts at a national and international level on a full-time basis.
"While I'm leaving my full-time status with the sheriff's office, I will be staying on as a reserve deputy sheriff, assisting locally with the same operations we have always done, and we will continue to serve the citizens of this county, while continuing to hold those who prey on the innocent accountable."
A former Marine who worked previously at the McLennan Community College and Bruceville-Eddy police departments, Scaramucci said he will be able to work remotely from his home in China Spring while serving as a sheriff's office reserve officer.
Jeff Tiegs, founder and president of Skull Games, is a retired Delta Force lieutenant colonel. He said hiring Scaramucci is a dream come true for the organization, adding he can't "begin to measure the impact this will have in this fight to bring freedom to the oppressed and strike fear in the oppressor."
"We've been working with Joe for years, and he has been critical in helping us develop a successful strategy to combat sexual exploitation," Tiegs said. "He is world renowned for his expertise and we are excited to be joining forces more than ever."
He said Scaramucci is a founding board member of Skull Games and will help build relationships with law enforcement agencies across the U.S. to "identify both victims and predators, interrupt the cycle of violence and assist in restoring those affected by trauma."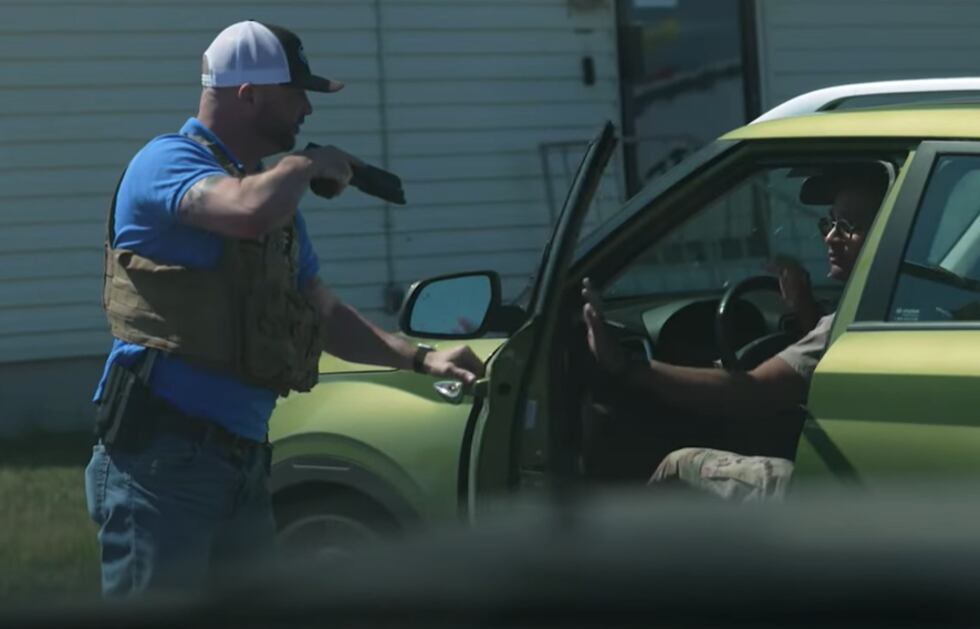 "In short, Joe will continue to do what he has been doing as a detective in Texas, but will be able to commit 100 percent of his time to counter exploitation…He will be available to coach, train and mentor any law enforcement partners, so they are more efficient and effective," Tiegs said.
Scaramucci said the name of the nonprofit group comes from a phrase by former pimp-turned-author Iceberg Slim, who wrote that "pimping isn't a sex game, it's a skull game."
McLennan County Sheriff Parnell McNamara said while his office is sorry Scaramucci has resigned, he is grateful he can stay on in the role of reserve deputy.
"First of all, we are very proud of Joe," McNamara said. "We are proud of the job that he has done and for the effort he has put forth to fight human trafficking. He has certainly taken that fight to a new level, and we will continue to fight human trafficking on that level. We are proud of Joe. He got a tremendous offer in the private sector, and he will still be working with us as a reserve officer from time to time and carrying the badge of McLennan County."
Scaramucci's role at the sheriff's office was funded by state and federal grants and he said the grants were listed in his name. McNamara said he is unsure what effect Scaramucci's resignation will have on the grants.
Tiegs said that in the past 90 days, his group has supported law enforcement with nearly 200 leads that identify women they suspect are being trafficked. He said they also have developed 60 leads that they passed on to law enforcement with evidence of trafficking and another 20 leads of persons of interest they suspect are traffickers.
Copyright 2023 KWTX. All rights reserved.