Jonathon Brooks rushes for 2 scores as No. 3 Texas routs Baylor 38-6 in their final Big 12 matchup
Baylor falls to Texas 38-6 in what may be their final matchup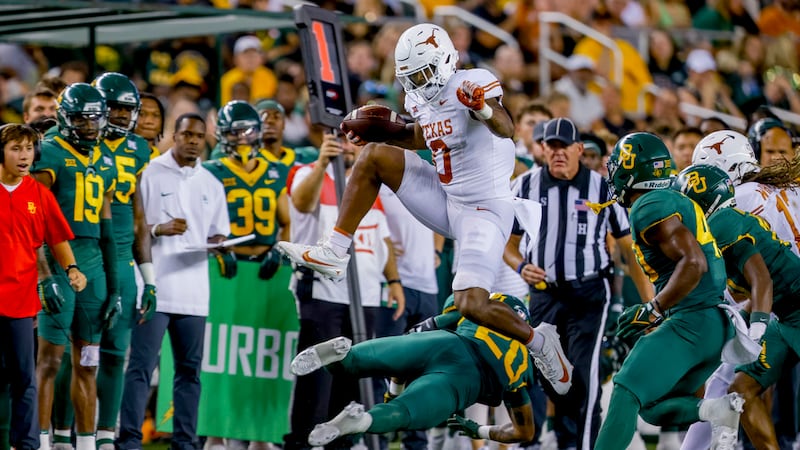 Published: Sep. 23, 2023 at 9:56 PM CDT
WACO, Texas (KWTX) - Coming off their first win of the season last week against Long Island University, Baylor looked to keep their momentum against #3 Texas.
Baylor's early offensive struggles opened the door for Texas to take control of the game.
Texas's defensive line dominated Baylor, getting constant pressure on Baylor's quarterbacks and sacking them 5 times. They also held Baylor's vaunted run game to 60 yards and an average of 1.9 yards per carry for the game.
That pressure contributed to Baylor quarterback Sawyer Robertson struggling, finishing the game throwing for 203 yards and an interception. Robertson was pulled midway through the fourth quarter in favor of RJ Martinez.
In his short time in the game, Martinez went 9/18 for 102 yards through the air and added 22 yards on the ground.
Baylor's struggles were not exclusive to the offense, as it felt like Texas could get anything they wanted against Baylor's defense all game.
Texas quarterback Quinn Ewers had a good performance, throwing for 293 yards and a touchdown and running for another score.
Even with Ewers playing well, Texas's run game was the focus of the offense. The Longhorns ran all over the Bears, running ball 34 times for 175 yards and 4 touchdowns.
Baylor will look to get back on track as they go on the road next Saturday (9/30) against UCF for their first road game of the season.
Copyright 2023 KWTX. All rights reserved.