Central Texas songwriter honored with 'Song of the Year' award by Nashville Songwriters Association International
Published: Oct. 2, 2023 at 5:48 PM CDT
WACO, Texas (KWTX) - A songwriter from Central Texas who wrote her first song in Waco at the age of seven says she's living her dream after penning "Heart Like a Truck," the #1 hit song on country radio for her friend Lainey Wilson.
Trannie Anderson, 31, a 2011 Midway High School graduate, and 2015 Baylor graduate, was honored this past week at the historic Ryman Auditorium in Nashville by her peers with "Song of the Year" for the Nashville Songwriters Association International (NSAI).
She said to be chosen by other songwriters is the greatest honor.
"The stars that have had to align for things like this to happen is truly a miracle," Trannie said as she accepted the award.
For Trannie, the pursuit of songwriting has been a near lifetime in the making. "I started writing songs when I was seven years old in Waco, Texas, where I grew up," Trannie told the audience to cheers.
Trannie says her parents, Kyle and Bill Stevens, of Waco, supported her dream as a child. She calls her mom, Kyle, her number one fan and says it was her dad who bought her a piano as a young girl.
"That love and obsession for songwriting and storytelling led to starting bands, and record EP'S and taking Nashville trips before I ever had a driver's license. So, thank you, mom, who's in the second row, for driving me around."
"Thank you to my dad, too, though he really wishes I was a banker and not a songwriter, but he did buy me a piano when I was a little kid," she laughed.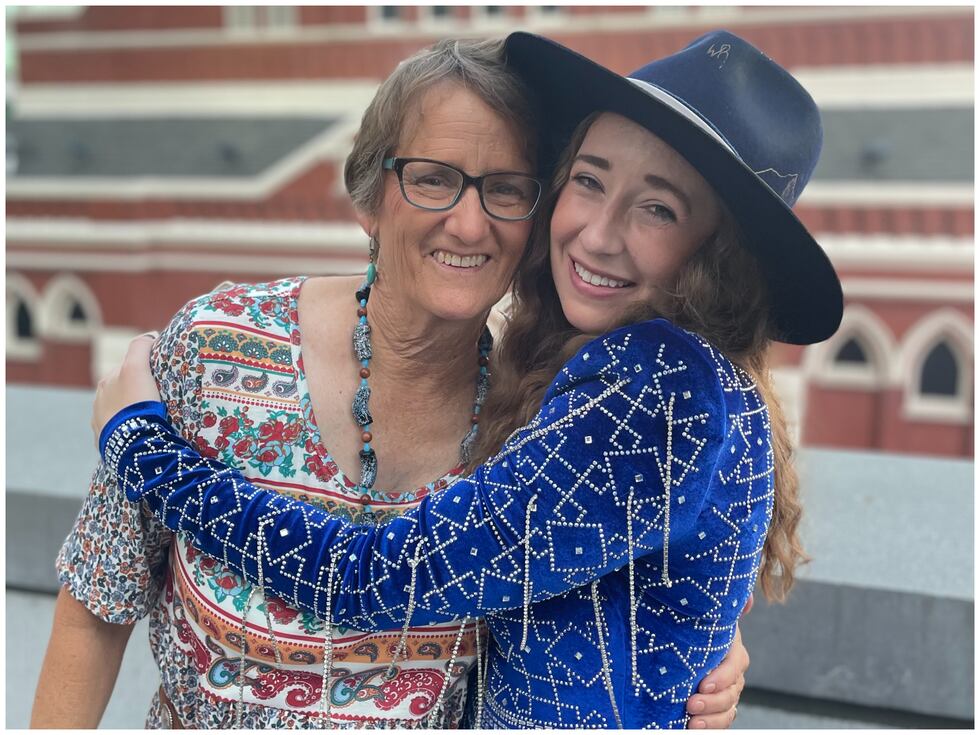 While Trannie will always consider Central Texas home, she's been living in Nashville since graduating Baylor in 2015.
She got her first big break in 2018 signing a publishing deal with Sonic Music.
Trannie, who wowed the awards show audience with her voice while performing the hit song, says she never wanted to be an artist.
"Those are just hats I don't want to wear at all," Trannie said. "The singing I love but everything else that comes with being an artist is just not something I was in love with, like creating music."
While Lainey Wilson is a household name in country music today, she's been one of Trannie's best friends since they met in Music City in 2015.
"Lainey and I met two weeks after I moved to Nashville," she said. "We both had a mutual friend that thought that we would hit it off and we did."
The friends, with the help of songwriter Dallas Wilson, wrote "Heart Like a Truck" during the COVID pandemic. Lainey Wilson said she knew it was special from the get-go and gives Trannie much of the credit.
"'Heart Like a Truck' was an idea that Trannie brought into the room," Wilson said. "It was the middle of the pandemic. That title just immediately just stopped me in my tracks. I knew it was going to be special before we even started the song. I just had that kind of weird feeling."
Trannie has three other songs on Wilson's highly acclaimed 2022 album, "Bell Bottom Country."
She's also behind songs recorded by duo Dan + Shay and Nate Smith.
Lainey Wilson's upcoming album will feature songs by Trannie, though no details have been released yet.
In the meantime, she's songwriting every day while living her dream.
"It's a 9 to 5 job," she told KWTX.
"Hearing an audience sing the songs back is the coolest part for me," Trannie added. "I want to write songs that make somebody of any shape and size and background feel something. l feel like "Heart Like a Truck" is like that. It has a large audience. Little girls love that song and old men love that song and identify with it so for me to go to one of Lainey's shows and see a very diverse crowd identifying with that song too is just incredible."
"My goal in music is to do just that."
Copyright 2023 KWTX. All rights reserved.