Ex-civil engineer sentenced to life in prison in McLennan County child sex abuse case
"Men don't get more evil than Thomas Webb," prosecutor says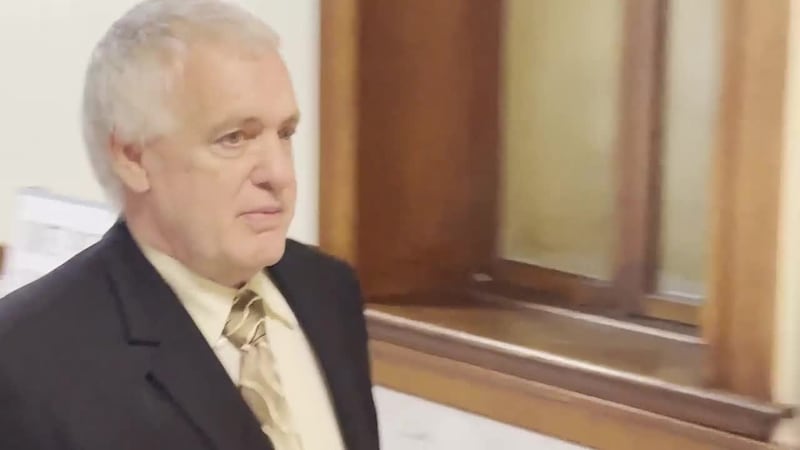 Published: Oct. 2, 2023 at 6:06 PM CDT
WACO, Texas (KWTX) - A former McLennan County man called the pinnacle of evil by a prosecutor after he sexually abused at least five young girls and one boy was sentenced to life in prison without parole Monday.
Jurors in Waco's 19th State District Court deliberated 10 minutes before deciding that 64-year-old Thomas Webb deserved the maximum sentence after his conviction earlier Monday for continuous sexual abuse of young children.
Webb, a former civil engineer with the U.S. Army Corps of Engineers, was convicted of abusing two young sisters, his relatives, at homes in Waco and Axtell when the girls, who are now teens, were in elementary school. The older girl testified that the sexual abuse continued for almost a decade.
While Webb was on trial only in the abuse of the two sisters, two other family members also testified that he also sexually abused them, too, and two of their friends told jurors that Webb touched them inappropriately under the guise of playing with them in a swimming pool.
Prosecutors Liz Buice and Tara Avants said in a joint statement after the trial that they appreciate the work of the investigators from the McLennan County Sheriff's Office, Child Protective Services and forensic specialists from the Advocacy Center for Crime Victims and Children.
"Today the jury convicted a perpetrator of sexual abuse who has victimized multiple generations of children. We are grateful for the jury's verdicts that have ensured that Thomas Webb will never harm another child," the prosecutors said.
Webb's attorney, Sylvia Cavazos, of San Antonio, asked jurors for a minimum, 25-year sentence, telling jurors that with no possibility of parole, that likely would be a life prison sentence for Webb.
"Although we respect the jury's verdict - they were the triers of fact - Mr. Webb is disappointed. However, we hope the family and the victims have closure," Cavazos said after the four-day trial.
Presiding juror Anthony Suter said the jury's verdict on sentencing Webb "was unanimous as soon as we walked into the room."
RAW FOOTAGE: Thomas Webb at the McLennan County Courthouse
"We just felt that he impacted so many lives, and we saw that over the last week, so (his age) really wasn't a concern for us," he said.
Buice and Avants called Webb a narcissistic, manipulative sexual predator who used his substantial financial means to groom his young, impoverished victims by buying them phones, clothes, drugs, alcohol, and in one case, a secret apartment after one of his victims left home and was still in high school.
Cavazos painted Webb as a good father to his own two children, a longtime girls' softball coach and a generous benefactor to his extended family members. She said he knew the troubled homes they came from and tried to help them and their families financially when he could.
She said Webb, who did not testify during either trial phase, continually has denied the allegations.
Buice told jurors in punishment-phase closing statements that Webb "walks into a room full of kids and looks at it like a candy store."
"Men don't get more evil than Thomas Webb," Buice said. "He moved through this community and multiple families and through multiple generations like a wrecking ball, leaving destruction, trauma, heartache, depression and sleeplessness in his wake. It doesn't get more evil than that. And now you have to decide what that's worth."
McLennan County District Attorney Josh Tetens said he is pleased that Webb is headed to prison.
"Our team continues to prepare for trial, ready to address any potential legal challenges, and our McLennan County jurors are responding with harsh and appropriate verdicts," Tetens said. "Mr. Webb groomed and terrorized his victims, and he'll now spend the rest of his life in prison. Our community is without doubt safer today with Mr. Webb off our streets."
The woman testified that Webb started touching her over her clothes when she was in the fourth grade while Webb was living with her family on North 44th Street in Waco. The abuse continued after her family moved to a home on Old Mexia Road in Axtell, she said.
"I was scared," she said. "I didn't know what was going on. It was the first time anything like that happened to me... I knew it wasn't right and I just ran out of the room."
She also told jurors that the lasting trauma from the abuse affected her own relationships, saying the exhilarating experience normally associated with someone's first kiss was ruined because she saw Webb's face when she closed her eyes.
Copyright 2023 KWTX. All rights reserved.