The first true fall cold front of the season blasts through Friday
Published: Oct. 2, 2023 at 11:32 AM CDT
|
Updated: Oct. 2, 2023 at 12:26 PM CDT
WACO, Texas (KWTX) - After one of the hottest and driest summers of all time coupled with one of the hottest Septembers of all time, we're jumping for joy since we're just days away from two cold fronts that'll bring us both a decent amount of rainfall AND will usher in some of the coldest temperatures since late April and early May!
We'll need to get through some rain first!
Before we reach the promised land, we'll need to contend with a pretty rainy stretch of time Wednesday and into Thursday as the first cold front arrives.
The storm system responsible for the first cold front is pretty massive and that'll allow for moisture to stream back in from the Gulf of Mexico. We'll notice the extra moisture and humidity starting on Wednesday when morning low temperatures start out in the mid-70s. By the by, we'll be cooler Saturday afternoon then our morning temperatures will be Wednesday morning! The extra moisture and humidity may turn to a few scattered showers and likely non-severe storms Wednesday afternoon, especially near and east of I-35.
The main wave of rain may not actually push in until after midnight Thursday, so it's looking likely for an extremely soggy morning commute Thursday as numerous to widespread showers and non-severe storms push in. Depending on the speed of the front, we could potentially see rain come to a close gradually from west to east Thursday afternoon as the front moves through, but Thursday's front won't really have enough muster to knock the moisture out of the atmosphere, so we'll have another chance for a few showers Friday as the front pushes through.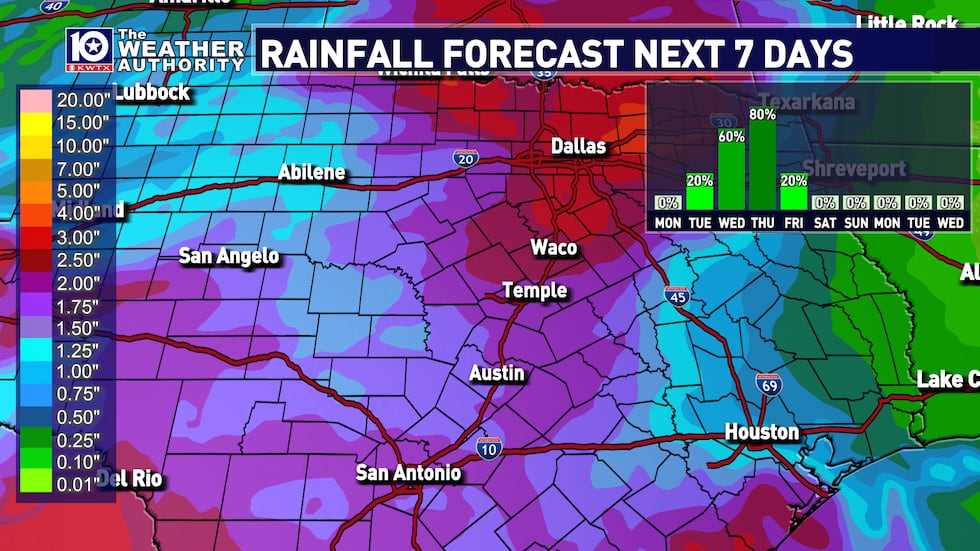 When rain finally comes to a close, we're expecting rainfall totals to be between an inch and two inches area wide. There will likely be some spots that see isolated three-inch plus totals. Nuisance flooding is expected, but the potential for flash-flooding is lower and likely will be more isolated.
Time for parkas?
Not quite yet. Although feeling high temperatures in the 70s for highs may be a bit of a shock to your system, we're expecting some really pleasant and comfortable daytime temperatures but you might want to consider finding your favorite sweater and making sure it's good to go for the weekend.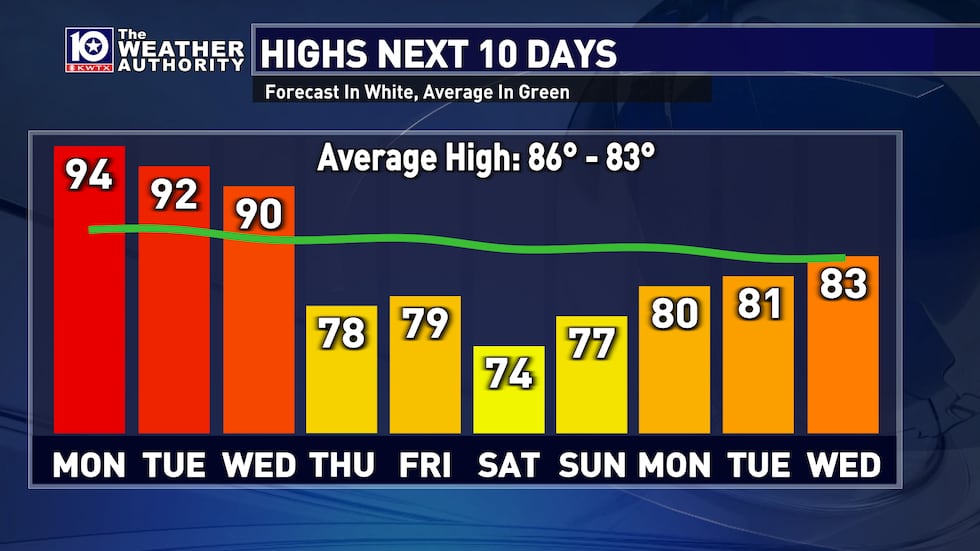 High temperatures are expected to slide into the 70s from Thursday through at least Saturday. The first cold front brings us the clouds and, especially on Thursday, the rain to help keep temperatures held in check, as highs Thursday and Friday reach the upper 70s. Highs in the upper 70s are below average for this time of year, but we'd likely be a lot warmer were it not for the rain and the lingering cloud coverage.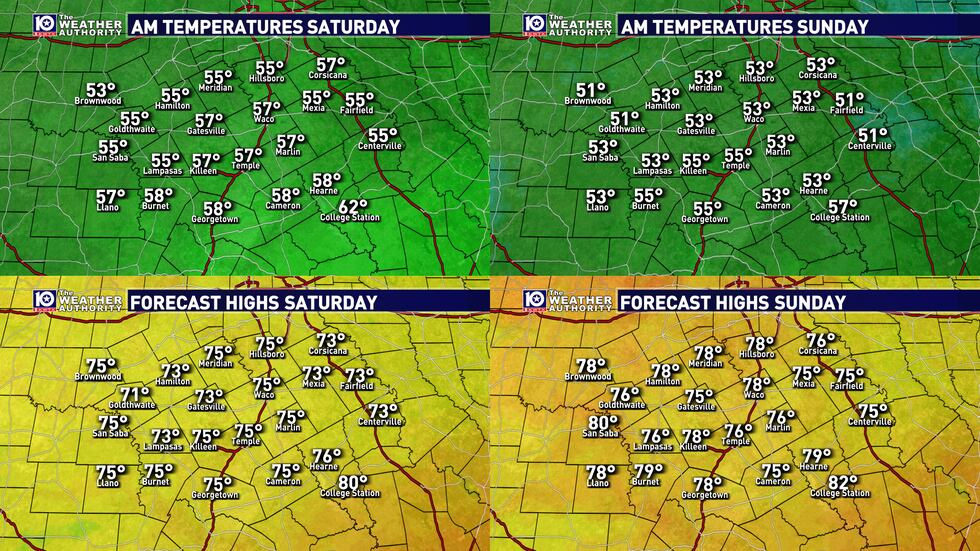 The true fall air, arriving from the Pacific Northwest, pushes through with the second front arrives Friday. With cooler and more importantly drier air moving in, it'll allow temperatures to drop a bit more this weekend during the day while overnight lows bottom out in the 50s! Low temperatures in the 50s haven't been seen on any sort of widespread basis since the beginning of May!
Copyright 2023 KWTX. All rights reserved.