Fall's Arrival in Central Texas: Rain & Cooler Temperatures Timeline
Published: Oct. 3, 2023 at 4:11 PM CDT
|
Updated: Oct. 4, 2023 at 11:22 AM CDT
WACO, Texas (KWTX) - We have been waiting on it to finally feel cooler in Central Texas and its full steam ahead to what'll be our first true fall cold front arriving later this week!
Wednesday is the transition day away from the heat and into the rainier and eventually cooler conditions. Thanks to increasing cloudiness and returning moisture, overnight lows will only drop into the mid-70s and we'll potentially start out about 10° warmer on Wednesday compared to Tuesday with a bunch more humidity hanging around too!
Rain Chances & Timing
Wednesday starts out mostly dry, scattered showers and storms are expected to move in from the south near and east of I-35 during the day. If you live west of I-35, you likely won't see much of any rain during the day, but the first of two cold fronts starts to push in from the west and northwest after sunset. We're expecting at least one distinctive round of heavy rain which will likely arrive around or shortly after midnight. The atmosphere could be worked over enough to prevent that second round of rain from taking hold, but we are expecting it to happen, as of now. Rain chances will be high Thursday morning but will then likely taper off during the afternoon. The second cold front, pushing in Friday looks to end the rain with drier air filtering in.
Severe storm Concerns?
The first wave of rain likely won't produce any severe weather, but we could see a stray strong storm with gusty winds and some small hail. The second wave of rain, should it form, will push in as the actual front pushes through mainly Thursday morning after sunrise.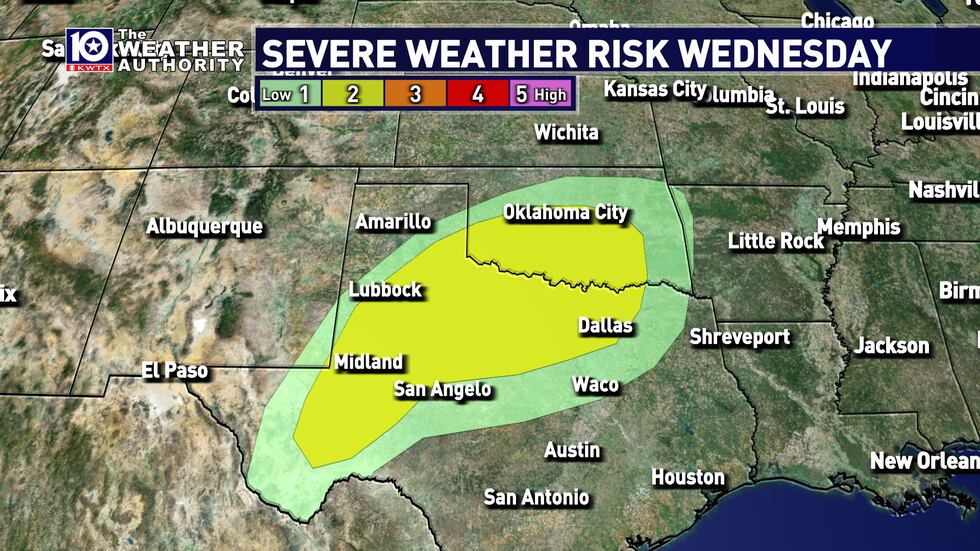 Estimated Rainfall Amounts
At least an inch of rain is expected through Friday, but we could 2″ or more of rain near and east of I-35, especially if the second wave of rain pushes in.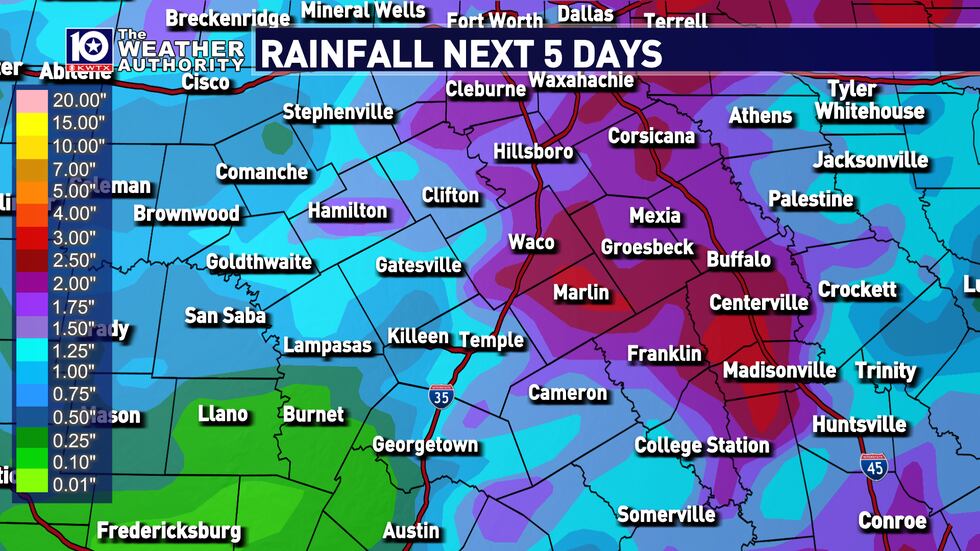 Cooler Temperatures on the way
It's finally going to feel like something other than summer. For the first time since April, we are going to see temperatures drop to 70s for afternoon highs. Wednesday is still expected to be warm, around 90° and then dropping about 10° for Thursday and Friday, an afternoon high around 80° expected both days.
Since the first cold front doesn't push through with cooler air attached, we'll have to wait until cold front number two arrives Friday in order to drop those temperatures even more. We'll remain near 80° Friday afternoon despite gusty north winds returning, but those north winds stay strong through Friday night.
Under partly cloudy skies, highs will drop into the low 70s Saturday with mid-70s returning Sunday.
Upper 70s and low-to-mid 80s return for highs Monday through next Thursday.
Overnight Lows
As far as morning lows go, we're still stuck in the 60s and 70s every morning through Friday, but Friday's afternoon front will drop temperatures into the mid-50s Saturday morning and then should drop into the low 50s Sunday and Monday! It's entirely possible for more rural and low lying locations to briefly dip into the upper 40s!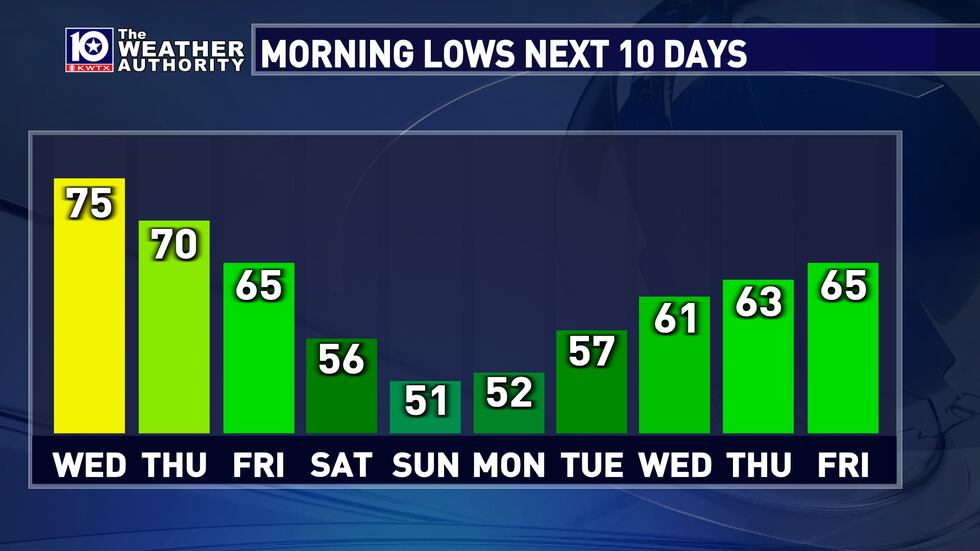 What's to follow?
Another cold front could potentially push through next weekend, but details are murky, at best, in regards to that front. For now, let's all enjoy the rain and cooler temperatures in the forecast that will make it feel like Fall.
Copyright 2023 KWTX. All rights reserved.