U.S. Postal Service Commemorates Legacy of Ruth Bader Ginsburg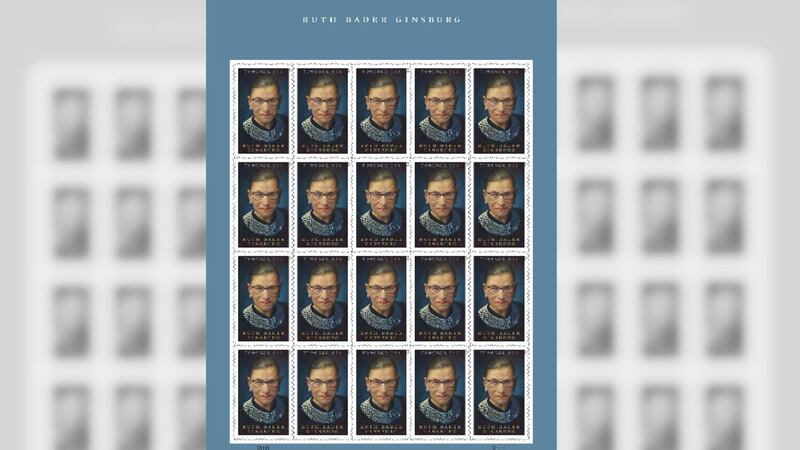 Published: Oct. 3, 2023 at 11:20 AM CDT
WASHINGTON (KWTX) - The United States Postal Service has released a new Forever stamp honoring the late Supreme Court Justice Ruth Bader Ginsburg.
The stamp's unveiling took place at the Smithsonian's National Portrait Gallery during a first-day-of-issue dedication ceremony that was open to the public.
Designed by Ethel Kessler, an art director for USPS, with a Michael J. Deas oil painting based on a photograph by Philip Bermingham, the stamp captures the 107th U.S. Supreme Court justice in her black judicial robe and favorite white-lace collar.
"Justice Ginsburg was an iconic figure who dedicated her life to public service and the pursuit of justice," said USPS Board of Governors Chairman Roman Martinez IV. "She was a true pioneer, and it is our honor to celebrate her incredible legacy in this way. This stamp serves not just as a tribute but as an inspiration for future generations to uphold the values she fought for."
The stamp will serve as a lasting tribute to the Brooklyn native who has left an indelible impact on American jurisprudence and society at large.
The Ruth Bader Ginsburg stamp is being issued as a Forever stamp and is available in panes of 20 at select Post Office locations nationwide and at usps.com/shopstamps.
Forever stamps will always be equal in value to the current First-Class Mail 1-ounce price.
Copyright 2023 KWTX. All rights reserved.