Becky Carrigan
August 13th, 1948 – October 9, 2023
Updated: Oct. 17, 2023 at 4:26 PM CDT
Rebecca Ruth Fowler Carrigan passed away October 9, 2023, at the age of 75, in her home at Cedarwood Stables in Chalk Bluff, Texas. Becky, as her family and friends called her, passed away in her sleep, one day after suffering a stroke, which had followed a period of declining health. The family will hold a combination memorial service, celebration of life, and Cedarwood reunion in the Spring, at a date to be determined.
Becky was born in Shreveport, Louisiana, but she was raised in Houston, Texas. It was in Houston that she developed her life-long love of horses. Some of Becky's fondest memories from her childhood involved her, her sister Ann, and her father going to Memorial Park once a month, on the Saturday closest to the 17th. On that day, there was a stable that allowed customers to ride horses for an hour. As Becky told her family years later, she looked forward to this "like you wouldn't believe." Her favorite horse to ride during this period was a black horse with white hairs on his neck, and she drew this horse on every piece of paper she could at school. Becky called him Obahof.
This passion for horses only increased as she grew older and rode more frequently. She carried it with her to the University of Texas (UT) at Austin where she studied microbiology in the spare moments she was not riding at Black Acres, a stable outside of Austin owned by Kurth Sprague. There she met fellow UT student and horse fan, Dennis Carrigan. Already an accomplished rider when she arrived in Austin, Becky went on to win many competitions over the next two plus decades at horse shows all over Texas.
After she graduated from UT, she married Dennis. Following some moving around while Dennis finished his commitment to the Air Force, they settled on Dennis's family farm, Cedarwood, outside of Waco where they could pursue their dream of expanding and growing horse stables together. While her love for horses endured, multiple new forces began to compete with them. First, along came Murphy, a dalmatian puppy given to her by Dennis. From the day Murphy arrived until the day she died, she was never without a dalmatian, often two. Second, Murphy and Dennis had to compete for Becky's love with her two sons, William Dean, born in 1970, and Patrick Lee, born in 1973. Bill and Pat frequently joked that they did not doubt her love for them but noted that it often operated quite differently than the love she carried for her dalmatians. As one example of this tough love, they both remember her losing her mind at Bluto's pizza, when the boys went inside to pick up the pizza and decided to try to get in a game of the new arcade hit, Donkey Kong. In hindsight, she was justifiable in her anger, though the subsequent ban on Bluto's and Donkey Kong still seems excessive. These moments, while frequently recounted in exaggerated form at family gatherings were far less frequent than the thousand other moments of influence when she introduced them to things such as riding (horses of course), music (Simon and Garfunkel), authors (Orson Scott Card), television (Star Trek) and movies (Star Wars). Most important, she was an inspiration as someone who followed her passion and dreams and never lost faith with hard work to achieve them.
In addition to raising Bill and Pat, she helped move Cedarwood Stables to the next level, expanding from riding lessons and boarding horses to eventually hosting a half-dozen horse shows every year. During the 1970s and early 1980s, like everyone who lived at Cedarwood (not only family but near innocent bystanders like Mike Stark), she gave her heart, soul, and at least 80 hours of work per week to the place. For Becky, as for so many of us, these "golden years" were draining but incredibly rewarding.
In the early 1980s, after her children were older, she returned to college, this time to study accounting. She graduated with very high marks from Baylor University and passed all four parts of the rigorous Certified Public Accounting license examinations on the very first try, a rarity among test takers. For many years, she worked at the firm now known as JRBT (Jaynes, Reitmeier, Boyd & Therrell). Not long after, she and Dennis divorced, and she moved to the Austin area, where she joined another firm before establishing her own accounting business. During this time, she lived in Utley as it was close to one of her favorite horse stables in Texas. After she retired and sold her business, she returned, at the invitation of Dennis, to Cedarwood, where she had spent so many happy years with her family. She built a small new home on the property and lived there until her passing, watching lots of television, railing against the state of politics, and spending time with her two beloved dalmatians, Duncan and Bridget.
Becky was preceded in death by her parents, Henry Florey Fowler and Margaret Walker Fowler; and her sister, Ann Fowler.
She is survived by Dennis; her sister, Katy Holder; her son, Bill, and daughter-in-law, Emily; her son, Pat, and daughter-in-law, Patty; niece, Ashley Holder; nephew, Greg Carrigan; as well as four grandchildren, Julia (21), Sara (19), Abigail (13), and Liam (11). In lieu of flowers, please share your favorite memories of the deceased or make a small donation in her honor to your favorite horse charity or the Humane Society. The family invites you to leave a message or memory on our "Tribute Wall" at www.WHBfamily.com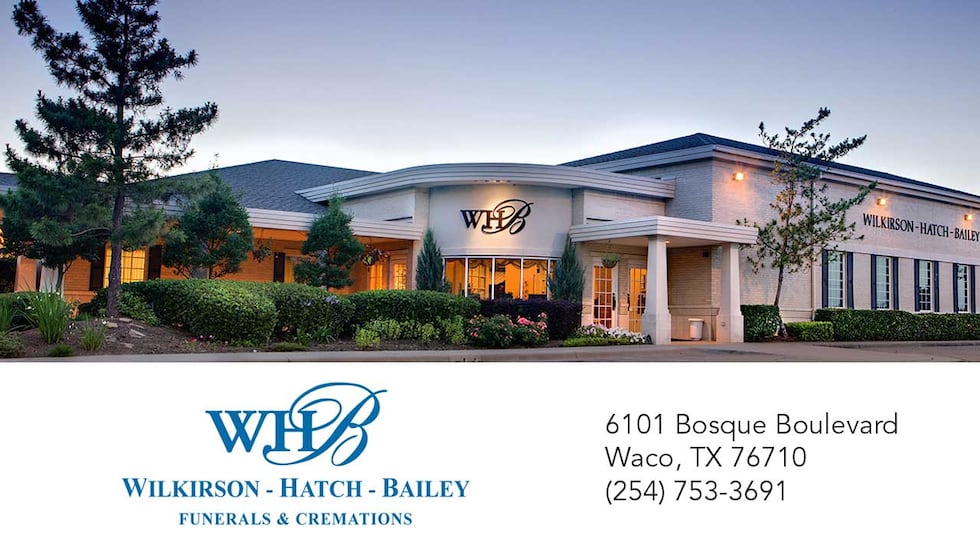 Copyright 2023 KWTX. All rights reserved.