Ervin Daniel "Dan" Willingham, Jr.
October 28th, 1946 - October 10, 2023
Updated: Oct. 12, 2023 at 2:14 PM CDT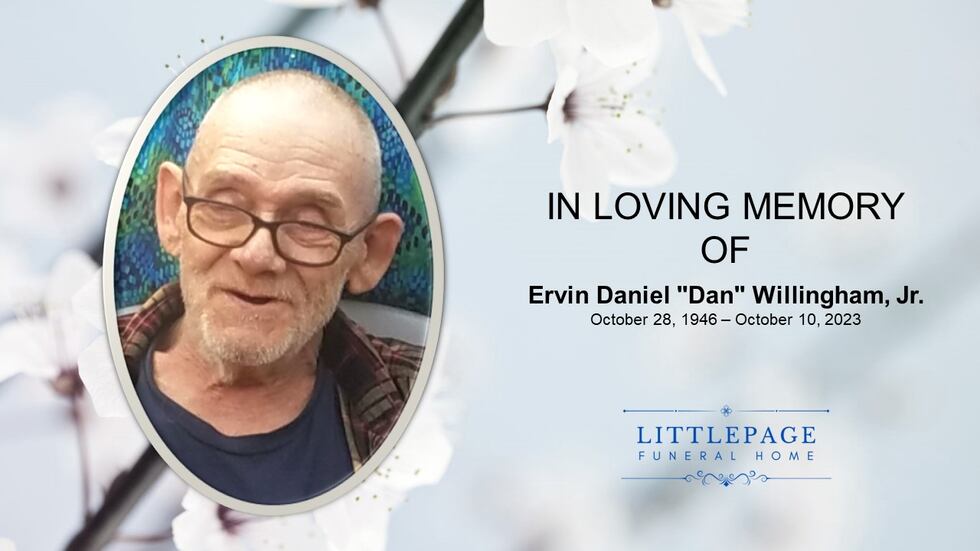 Ervin Daniel "Dan" Willingham, Jr. October 28, 1946 - October 10, 2023 Dan Willingham, 76, of Mart, Texas passed away on the evening of October 10, 2023, surrounded by his family. Visitation will be held 6:00-8:00 p.m. Friday, October 13, 2023, at Littlepage Funeral Home in Mart. Graveside service will be held at 2:00 p.m. October 14, 2023, at Mart Cemetery with Dr. Rex Bland officiating.
Dan was born October 28, 1946, in Waco, Texas. Dan grew up on a dairy around Elk, Texas with his mother, grandparents and sister who was always his best friend In his early 20′s he worked for Baylor University as part of the kitchen staff. As his life progressed, he spent most of his time working for construction companies. Dan never married nor had children of his own but loved his numerous great and great-great nieces and nephews. Dan enjoyed watching westerns, listening to country music, assembling model cars and drawing.
Dan was preceded in death by his parents, father Ervin Willingham, Sr., and mother Lure' Freedman Berk and his sister Carla Sue Kirkland. Survivors include his nieces Terry Persilver, Connie Austin, and Rachel Rowe, who were more like his siblings than nieces. Honorary pallbearers will be Cheston Rowe, C.J. Persilver, Josh Persilver, William Waldrep, Zane Rowe and Jace Rowe. The family would like to extend a special "thank you" to Providence Hospice, Luke and Nicky Stokes, Dr. Rex and Tonya Bland and Olive Branch Baptist Church of Axtell, Texas for their love and support.

Copyright 2023 KWTX. All rights reserved.