Shapen's 2 touchdowns lead Baylor to huge conference win over Cincinnati
Baylor gets their third win of the season with the 32-29 win over Cincinnati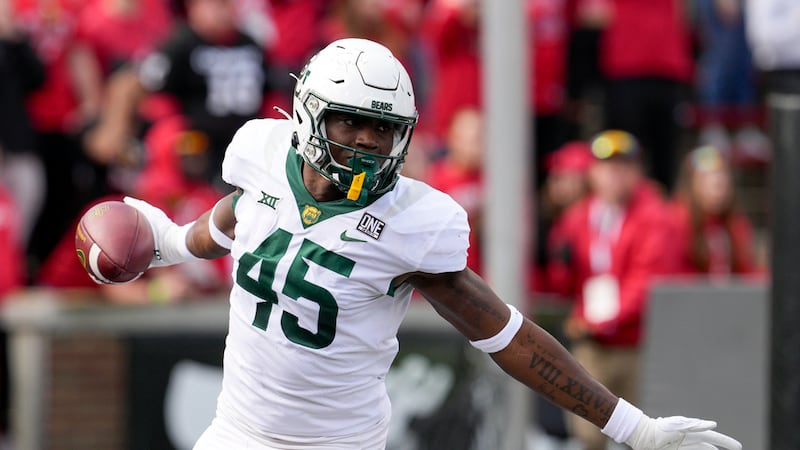 Published: Oct. 21, 2023 at 2:41 PM CDT
|
Updated: Oct. 21, 2023 at 2:42 PM CDT
CINCINNATI, Ohio (KWTX) - Coming out of their bye week, Baylor was looking to get their third win of the season in a Big 12 matchup against Cincinnati.
Baylor's offense came out and leaned heavily on their pass game, throwing the ball 42 times.
The Bears quarterback Blake Shapen made the most of the heavy workload by throwing for 316 yards, 1 touchdown and adding a score on the ground.
Ketron Jackson Jr. benefited greatly from the offensive approach, racking up 130 receiving yards on 5 catches.
Cincinnati took the opposite approach Baylor's offense took, running the ball 43 times.
The Bearcats dominant run game gashed the Bears defense for 288 yards and helped keep them in the game.
With about two minutes to go in the fourth quarter, Cincinnati got the ball back down three.
After Cincinnati's offense moved the ball near midfield, Baylor's defense got a crucial stop on fourth down to give the ball back to the Bear's offense.
Cincinnati quarterback Emory Jones had a solid performance completing 19 of 30 passes for 162 yards and 2 touchdowns. Jones also added 56 yards on the ground.
The Bears secured an impressive win against a conference rival on the road and hope to carry that momentum back to Waco as they prepare for Iowa State to come to town next Saturday (10/28).
Copyright 2023 KWTX. All rights reserved.