UMHB falls to No. 20 Hardin-Simmons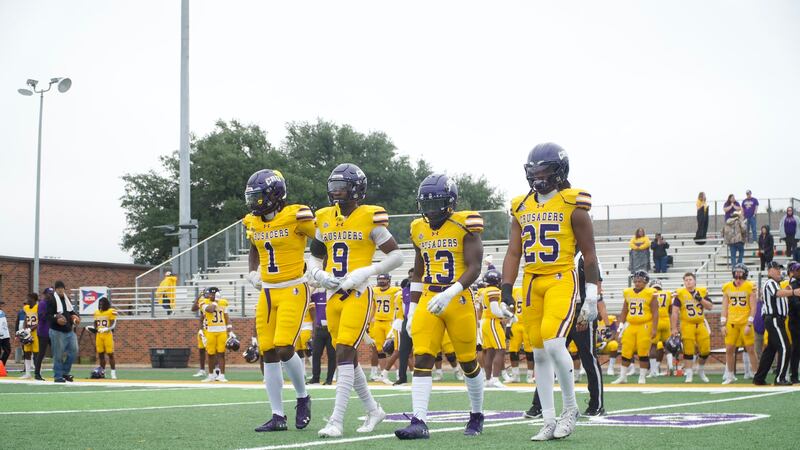 Published: Oct. 28, 2023 at 5:06 PM CDT
ABILENE, Texas (KWTX) - The University of Mary Hardin-Baylor football team dropped a 24-14 decision to Hardin-Simmons University Saturday afternoon in Abilene. The loss drops the Cru to 4-4 on the season and 3-1 in American Southwest Conference action while the Cowboys improved to 7-1 overall and 4-0 in league play.
UMHB forced a three-and-out on the Cowboys' first offensive possession. The Cru drove all the way down to the two-yard line on the next series but a pair of incompletions and a missed field goal attempt left them empty. The Cru defense forced another punt on the next drive before marching 70 yards down the field for a score. Isaac Phe capped the 10-play drive with a five-yard touchdown punch to give the Cru a 7-0 lead.
The Cowboys evened the game at the close of the first quarter but a holding call brought the score back. UMHB's defense stifled the next plays, forcing the Cowboys to settle for a field goal. The Cru held the ball for 6:25 on the second offensive possession of the second quarter but a blocked field goal kept the score 7-3 at the half.
Hardin-Simmons forced a fumble on a UMHB punt return at the beginning of the third quarter, getting the ball on the UMHB two-yard line. Defense held for two plays before Colton Marshall gave the Cowboys the lead with a one-yard touchdown run. Hardin-Simmons scored again on their next possession to go up by 10 with 4:01 left in the third quarter.
The Cowboys put another score on the board with a two-yard touchdown punch on the first play of the fourth quarter. UMHB responded, driving 75 yards with a four-yard touchdown rush from Isaac Phe. The Cru offense continued to push but wasn't able to cut into the deficit, falling 24-14 to the Cowboys.
Phe threw 25 completions for 233 yards, leading the Cru to 403 yards of offense in the contest. Jerry Day, Jr. led UMHB with nine catches for 116 yards while Romello Cook added five grabs. Kenneth Cormier, Jr. was the Cru's leading rushing, running for 100 yards on 13 carries while Ozias Wright added 65 yards on 16 carries.
Omari Frazier led UMHB with 10 tackles in the game, adding two tackles for loss. Trace Holmes added six tackles while Titus Dunk also had two drops for loss.
UMHB closes the home slate next week in a 1 p.m. contest against East Texas Baptist University at Crusader Stadium in Belton.
Copyright 2023 KWTX. All rights reserved.