Jean Lewis McReynolds
December 4th, 1931– October 28th, 2023
Published: Oct. 31, 2023 at 3:57 PM CDT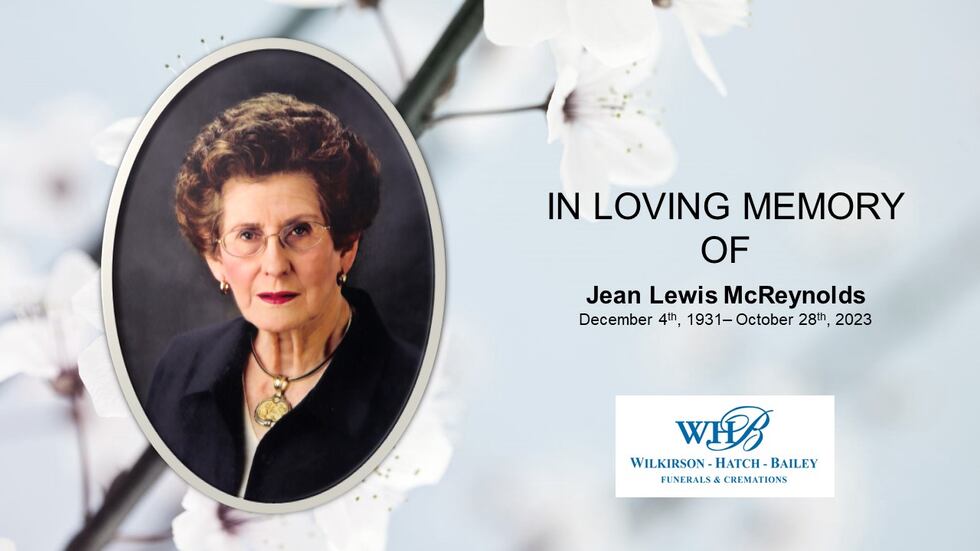 Jean Lewis McReynolds, 91, passed away peacefully at home Saturday, October 28, 2023, surrounded by family.
A memorial service will be held at 11:00 a.m., Friday, November 3, 2023, at First Methodist Church – Downtown (formerly Austin Avenue Methodist Church), 1300 Austin Avenue with the Reverends Brandon Frenzel and Chris Mesa officiating. A private burial at Oakwood Cemetery will precede the service. Visitation will be from 5:00 p.m. until 7:00 p.m., Thursday, November 2, 2023, in the Garden Room of Wilkirson-Hatch-Bailey Funeral Home, 6101 Bosque Blvd.
Jean was born in Waco on December 4, 1931, the only child of Harry Johnson Lewis and Nina Harwell Lewis. But for a few brief years in Austin and Niagara Falls, NY, she was a lifelong Wacoan, educated at Miss Duncan's kindergarten, Sanger Heights elementary, West junior high, and Waco high school. When her father thought she was too young to go away to college at age 16, she entered Baylor University, where she was a member of the Athenian Club. She transferred to the University of Texas, where she was a member of the Texas Alpha chapter of Pi Beta Phi, graduating in 1952 with a Bachelor of Arts in mathematics and one of only two women math majors at the University of Texas. She was a debutante of Hedonia Club and a duchess of Mardi Gras in Galveston. She married J. Carroll McReynolds on November 10, 1955.
After teaching high school math in Waco and Austin, she earned her Master of Arts in economics from Baylor in 1957. She taught economics and banking in the Hankamer School of Business at Baylor from 1957 until 1962, leaving when her son was born. She later rejoined the economics faculty from 1967 to 1972.
Jean came of age at a time when opportunities for women in the business world were few and far between. She blazed trails in a male-dominated world not as a crusader, but as one who proved she could succeed with, in the words of Shirley Temple Black, "hard work, timely humor and a lack of resentment," yet always remain a true lady. While at Baylor, she was selected as one of seven women in the inaugural class of the Southwestern Graduate School of Banking at SMU (SWGSB), graduating with distinction in 1959. She later served on the faculty of SWGSB for 33 years, teaching future bank leaders from across the state and the nation.
In 1960, she received a fellowship from the Foundation for Economic Education to spend a summer in the Wall Street headquarters of Merrill Lynch in New York City, interacting with the organization from the office of the president to the traders on the floor of the New York Stock Exchange. Most Wall Street restaurants did not allow women in the dining rooms at lunch, yet instead of letting it bother her she became friends with the street vendors and sandwich shop proprietors.
In 1972, she seized the opportunity to leave the academic world, joining the First National Bank of Waco as one of the first female Senior Vice Presidents in banking in Waco. When told that her responsibilities would include developing a program to attract and maintain women as bank customers, she asked "What do you have in mind?" Their reply was "That's what we want you to figure out." She developed the "First Ladies" program that catered to women customers. Originally designed to provide financial information and guidance to women, it grew to include tours, excursions and entertainment. Soon after, husbands wanted to join their wives (as guests; only women could be members of First Ladies). Many would travel all over the US and around the world on First Ladies trips. Her annual trips to New York at Christmastime would often include groups up to 100, many of whom went back year after year. After 23 years at First National, she left when it was acquired by a large, impersonal national banking organization and joined Texas National Bank, with many of her customers following her "across the street."
Jean also had a lifelong commitment to civic service in Waco. At the age of 26, Waco business leaders selected her to travel to Indianapolis to receive the initial gift from the Parrott family that established what today is the Waco Foundation. In 1965, she served as one of the youngest presidents of the Junior League of Waco. She also served as president of Historic Waco Foundation, the Waco Symphony Council, and Bluebonnet Girl Scouts Council. She served many leadership roles at Austin Avenue Methodist Church, including chair of the administrative board. She was the first woman appointed to the Board of Directors of the Greater Waco Chamber of Commerce and the first woman member of the City of Waco Plan Commission. She served on the Waco City Council from 1988 through 1992, and as Mayor Pro Tem in 1991-92. She was named Outstanding Waco Citizen in 1978 by Mortar Board at Baylor, and was a 2008 Distinguished Alumna of WISD. Yet despite all her professional and civic involvements, she always took time to be a loving and devoted mother to Lewis.
Her mother instilled in her a love of symphonic music and her father a love of sports. She grew up attending the original Waco Symphony and Baylor football and basketball games. She spent many Sundays as a child going to Waco Pirates minor league baseball games with her father, always with the admonition from her mother not to stay for both games of the doubleheader (which they usually did). Later in life, she enjoyed traveling all over the country with Lewis to hear major symphony orchestras and watch Baylor football and women's basketball, and even attended games at 24 of the 30 major league baseball parks with him. She also spent many an afternoon playing mahjongg with her fellow "mahjongg ladies."
She was preceded in death by her parents, Harry and Nina Lewis; and her beloved bichon frise, Buttons.
Survivors include her son, Harry Lewis McReynolds, and his wife, Paula, of Waco, Texas; first cousins, Jerry Ann Howard and husband, Don, of Stamford, David Harwell and wife, Patti, of Longview, Texas, Susan Drew of Phoenix, Arizona, and Betty Amerson of Caldwell, Texas; other very close cousins, Beverlyn Eckert and husband, Al, of Little Rock, Arkansas, Roy Bailey and wife, Tina, of Dallas, Texas, Brad Bowen and wife, Sandra, of Colleyville, Wes Bailey and wife, Rebecca, of Waco, Texas, Hatch Bailey of Waco, Texas, Cordia Herrington and husband, Tom, of Franklin, Tennessee, Becky Marquis and husband, Rich, of Franklin, Tennessee, Alan Barton and wife, Melissa Ann, of Charleston, South Carolina, as well as many other relatives and friends. Her family also expresses its deepest appreciation to Yolanda Vega, Liz Torres, and Tina Thomas for their years of selfless dedication, care, and love to Jean.
Honorary Pallbearers will be Craig Winchell, Johnny Bledsoe, Joel McIntosh, Ronnie Glaesmann, Stephen Heyde, David Harwell, and Reverend Tom Robbins.
Memorials may be made to Waco Symphony Foundation, P.O. Box 1201, Waco, TX 76703 or First Methodist Church – Downtown Campus, 1300 Austin Ave., Waco, TX 76701.
The family invites you to leave a message or memory on our "Tribute Wall" at www.WHBfamily.com
VIEW ORIGINAL: https://www.whbfamily.com/obituaries/Jean-Lewis-Mcreynolds?obId=29744855#/obituaryInfo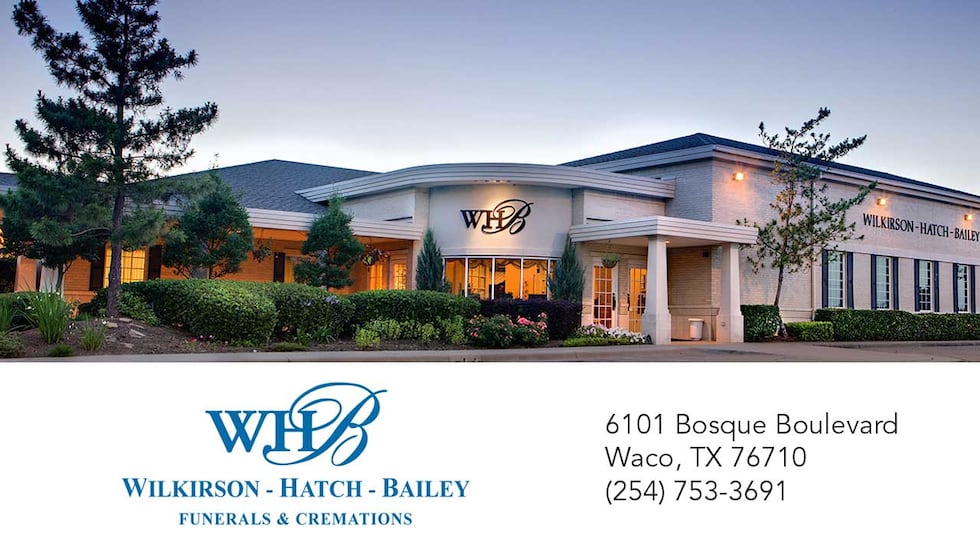 Copyright 2023 KWTX. All rights reserved.