Margaret Brown
December 13th, 1931– October 29th, 2023
Published: Oct. 31, 2023 at 5:00 PM CDT
|
Updated: Nov. 1, 2023 at 9:45 AM CDT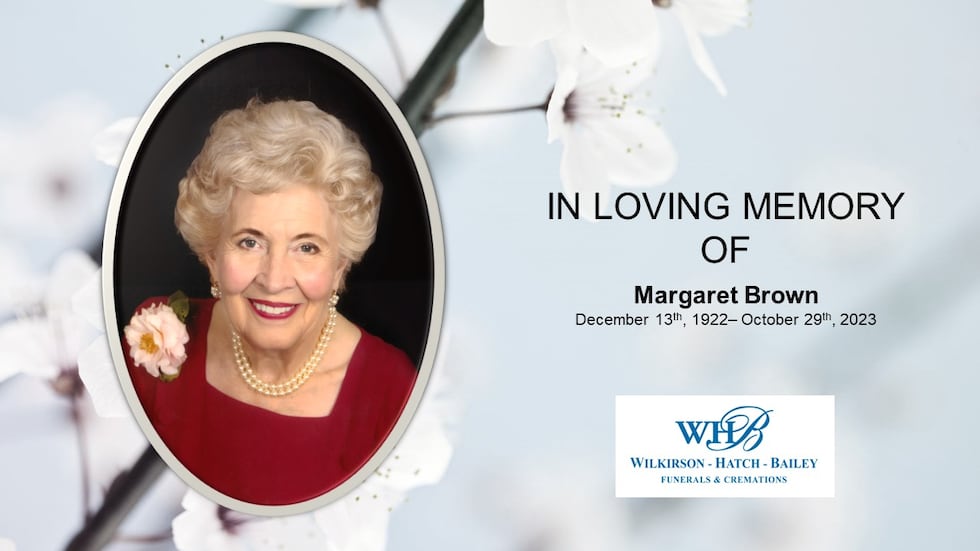 Margaret Cannon Boyce Brown devoted wife, mother, grandmother, great-grandmother and friend went to be with her Lord and Savior Jesus Christ Sunday, the 29th day of October 2023. She was just under 101 years old.
Services will be held at 1:00 p.m., Saturday, November 11, 2023, at St. Paul's Episcopal Church, 515 Columbus Ave., Waco, Texas. Interment will follow at Oakwood Cemetery. The family will receive guests at the family home from 5:00 p.m. until 7:00 p.m., the evening prior to the funeral.
Margaret loved life, loved learning, loved people, and intentionally lived her faith in Jesus Christ with an outpouring of love and hospitality to all who crossed her path.
As Discover Magazine noted, "If you have ever wondered what it would be like to be touched by the wand of a fairy godmother, it's like being touched by Margaret. She exudes caring and kindness and is a shining example of loving your neighbor as yourself. In the past years, thousands of people have been the recipients of the nurturing of our extraordinary lady."
Margaret was born in Amarillo, Texas, on December 13, 1922, to John Kirkpatrick and Margaret Curtis Boyce. Both families were early settlers of Amarillo. The Curtises arriving in 1902 from Henrietta, Texas, and the Boyces, arriving from Tennessee in 1908.
Her maternal grandfather and great-grandfather were early cattlemen of Amarillo and New Mexico. Her great-grandfather, the legendary William Riley "Bill" Curtis, was one of the pioneer cattlemen of the Diamond Tail Ranch in Texas.
Margaret Cannon, as her Amarillo friends affectionately called her, attended Amarillo public schools and Amarillo Junior College. In 2002, she received the Amarillo College Distinguished Alumni Award.
She received her Bachelor of Science in Home Economics degree at the University of Texas in Austin, graduating in 1944. She loved her time in Austin. She was a member of Kappa Alpha Theta sorority and would later receive the Theta of the Year award from both the Austin and Waco alumnae associations.
After graduation, Margaret moved to New York City to attend Columbia University. She and three friends from Texas lived at the Barbizon Hotel for Women, enjoying all the city's life and glamor. Margaret had never lived outside of Texas and considered her experience in New York City to be a pivotal time in her life. She earned a Masters of Arts from Columbia in 1945.
Upon graduating from Columbia, Margaret returned to Austin and taught Home Economics at the University of Texas from 1946-1951. She became an assistant professor and taught Cooking, Meal Planning and Table Service. Known as "The Bride's Course," it was a class taken by just about every female on campus. Many of these women would become her dear friends.
In 1951, she married her beloved Shepherd Spencer Neville Brown of Waco, Texas. She once commented that, in her eyes, she never felt like Spencer aged since the day they first met. She loved wearing his camellias in her hair which became her signature look. She always said that Spencer was her greatest cheerleader. She had a small needlepoint pillow in her bedroom which read, "Happiness is Being Married to Your Best Friend." This statement summed up their 58 years of marriage until he passed away Easter Sunday, April 12, 2009.
Margaret and Spencer had 5 children: Maria, Spencer Jr., Margaret, Stanton and Boyce. On Christmas night 1961, they lost their oldest daughter Maria, aged 8, to a sudden illness affecting her heart. At the time, Margaret was six months pregnant with her fourth child Margaret and Spencer relied on their faith in God's promises and His Word to carry them through this difficult time. Rather than allow their grief to devastate themselves and their family, they chose to use their grief as a catalyst to help others in their suffering. This loss of her firstborn, began a quiet ministry to other grieving mothers. When Margaret heard of a mother who had lost a child, whether she knew them or not, she would go to comfort that mother with words of encouragement, sharing that there could be life and hope after such a great loss. This was a service to others that she never talked about. She just loved and cared for others who were hurting.
Margaret's sincere love for family and friends extended to her community with a great love for the arts, education, and historical preservation.
She used her amazing talents of innovative thinking, courage, determination and her love of people to create projects that would better the lives of those around her and bring friends together for a worthy cause.
In 1956, Margaret had a vision to start a preschool of exemplary standards and Christian values which her daughter Maria would be able to attend. Her idea of a preschool program for 3-year-olds (added to an existing church-school) was rejected. Margaret, not to be deterred, went to her own rector proposing that her church start their own school. With friends and her organizational skills, St. Paul's School opened in September of 1956, and now operates preschool through sixth grade.
That same year, she served as Chairman of the Ways and Means committee of the Junior League of Waco where she spearheaded the fund raising for and renovation of the historic home Fort House for their headquarters. In 1970, Fort House was recognized by the National Register of Historic Places.
In her term as president of the Junior League of Waco, 1959 through 1960, Margaret proposed the creation of a charity ball to raise funds for the Waco community. She gathered a group of friends and together they launched the Junior League Charity Ball which served as a major fundraiser for the city of Waco for many years. In 1965, the Waco Symphony needed community and financial support. Margaret had the idea of creating a Junior Belles program to raise money for the symphony and provide a cultural experience for young women in their junior year of high school. The idea was embraced and was a grand success and served as the predecessor to the current Belles and Brass program.
Margaret's talent for organization and her love for her country created an historic opportunity. In 1961, Margaret was approached by three Waco businessmen and asked to help run the state-wide campaign for John Tower, who was running as a Republican for the U.S Senate. At that time, Texas was a one-party state and most thought that a Republican win was impossible. But, having seen impossibilities turn into possibilities, Margaret was undaunted and enthusiastically accepted the challenge. John Tower became the state's next senator and served for over 24 years. He was the first Republican senator elected in Texas since Reconstruction in the 1870′s. His election pioneered the way for future Republicans to be elected in Texas and for the future of Texas as a two-party state.
Margaret's passion for history and her country served as the foundation for her love of historical preservation. She believed that preserving historical homes and opening them as public museums, brought history to life and taught a new generation to appreciate the courage and bravery of the past. She hoped that the wisdom from past generations could inspire future heroes to preserve our freedoms and this great nation.
Through her membership and leadership in such organizations as the National Society of Colonial Dames of America (NSCDA), Sulgrave Manor, Daughters of the American Revolution and Daughters of the Republic of Texas, her passion for bringing history to life for her fellow countrymen was fulfilled.
With the NSCDA, she served as president of the Texas chapter as well as corresponding secretary. During her tenure as NSCDA Texas Chapter President, she was honored to help support the Neil-Cochran House Museum in Austin, Texas, which the Texas Society of NSCDA continues to manage.
She also served internationally for 10 years as a board member for the Sulgrave Manor, George Washington's ancestral home in Banbury, England. Built in 1539, this museum home is visited by people from all over the world. She loved her yearly trips to England and as her board position was ending, she and Spencer were honored to provide the funding to build the Courtyard Hall, a beautiful event center for Sulgrave Manor.
Margaret served as a board member and as a Board Emeritus member of the Friends of the Governor's Mansion in Austin, Texas. This organization preserves the historical collections, beautifies the gardens and educates the public about this historic house.
In addition to historic preservation, Margaret was also passionate about the arts. She was honored and appointed by the Governor of Texas for a six-year term on the Texas Commission on the Arts and served as a founding member and National Advisory Board member for the National Museum of Women in the Arts Museum in Washington, D.C.
Of all her achievements, the revival of the Waco Cotton Palace remained one of her greatest joys. While the first Cotton palace ended at the time of the Great Depression, Margaret envisioned a beautiful revival pageant retracing Waco's history to serve as a legacy for future generations. Undaunted by those who thought her idea was an impossible dream, she and a group of her friends spent two years researching and planning how to execute it. Then one evening she announced to her husband Spencer, "We are going to put on a pageant!" Waco inaugurated the first Waco Cotton Palace Pageant in 1970.
Little did Margaret realize the full impact this dream would have on the Waco community.
Celebrating its 50th year in 2020, the Waco Cotton Palace pageant continued to be fresh and interesting through talented leadership and innovative performances. From the outstanding Baylor and McLennan County Community College theater students to Waco elementary students, local talent and participants from Waco and from all over Texas, all involved enjoyed a unique experience of history and Waco hospitality.
As a result of the pageant, outstanding college student performers received college scholarships and countless Waco businesses enjoyed the benefit of millions of tourism dollars over the years.
Most of all, the pageant allowed the opportunity for hundreds of Wacoans to work together, create life- long friendships and to impact their community for the better.
Though her accomplishments, recognitions, awards and service to her community, state and nation, are too many to record here, Margaret Brown's love and kindness remains her greatest legacy.
She always greeted others with a warm twinkle in her eyes and a benevolent smile. Her genuine interest in people and amazing ability to remember names left a lasting effect on all those she encountered.
She cherished her family and extended family and desired for her children, grandchildren, great- grandchildren, her many cousins and extended family to stay close and love each other always.
Margaret's positive attitude, encouraging words and wise counsel, her ability to see the best in others, find a blessing in each day and, her ability to have a grateful heart no matter the circumstances are all truly reflections of the remarkable woman everyone loved. It is often said that the eyes are a reflection of the soul and Margaret's radiant soul sparkled.
Margaret's love of life, family, friends and community has been a blessing to us all.
"But now faith, hope, and love remain, these three; but the greatest of these is love." 1 Corinthians 13:13
Margaret was preceded in death by her parents, Margaret Owen Curtis Boyce and John Kirkpatrick Boyce; her husband, Shepherd Spencer Neville Brown, Sr.; her daughter, Maria Neville Brown II; her granddaughter, Willow Brown; her brother-in-law, and sister-in-law, Stanton and Jackie Decordova Brown; and her brother and sister-in law, John Kirkpatrick and Sidney Stinnett Boyce, Jr.
She is survived by her brother, James Curtis Boyce, and sister-in-law Anne Dryden Boyce; as well as her four children and their spouses, Spencer and Becky Matustik Brown, Margaret Brown and Keet Lewis, Stanton Brown and the Reverend David Sattler, S. Boyce and Len Mcclane Brown; Margaret is also survived by her grandchildren, Scott and Alicia Lombardo Stem, Camilla Brown and Nick Custis, Elise Brown, Spencer Brown, Ill, Cannon Lewis and Gavin McClintock, Caroline Lewis and Chris Abbott, Mariah Sattler, Karlie Sattler, Lella Sue (Susie) Brown and Annah S. Brown; as well as seven great-grandchildren.
The family suggests those attending may want to celebrate Margaret's life and home going by wearing colorful clothes, the kind Margaret always loved.
In lieu of flowers, the family encourages gifts to:
Festival on the Brazos (formerly Waco Cotton Palace Pageant), c/o Missy Larson, P. 0. Box 7211, Waco, TX, 76714
Sulgrave Manor- https://www.sulgravemanor.us/donate/ St. Paul's Episcopal Day School - c/o M'Lissa Howan, 517 Columbus Ave, Waco, TX, 76701 or http://www.speswaco.org/about/contact-us.cfm
*Barcus, N. (1994, April). Margaret Cannon Boyce Brown: The Magic of An Extraordinary Lady. Discover Magazine, Page 28.
VIEW ORIGINAL: https://www.whbfamily.com/obituaries/Margaret-Cannon-Brown?obId=29749374#/obituaryInfo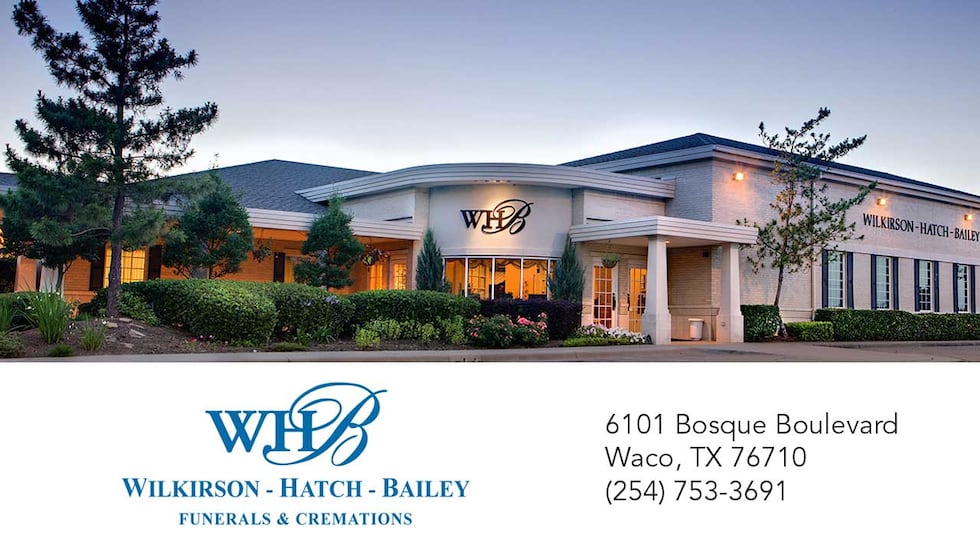 Copyright 2023 KWTX. All rights reserved.