Duck hatched at Central Texas High School becomes beloved by students, staff
Published: Nov. 1, 2023 at 5:45 PM CDT
WACO, Texas (KWTX) - A local high school has an unusual guest that's become so popular among students and staff she's even signing autographs – a duck named Wilbur.
Wilbur was born in March in the Vet Science Lab at Midway High School and from the day her egg hatched, Ag Science teacher Shawn Rejcek knew she was different.
"Her personality came out really early on. I am always interested in that," Rejcek said. "I went snooping around when they were starting to hatch and that one just ended up following me."
And she's never stopped.
Wherever the teacher goes, the duck follows.
"No matter where I was, she would hear me and see me and she would bolt down to the end of the hall wherever I was," Rejcek said.
"I started letting her out in classes and she'd mill around with the kids but as soon as I say 'Wilbur, it's class time' she bolts down to my room next to me and the kids follow."
There's plenty of video shot of Wilbur's antics.
She follows Rejcek every step and twist and turn he takes down the hall.
If he goes into a room, she follows. If he turns around, she's the first to make a U-turn. And if Rejcek stops, video has captured the pattering of her feet coming to a halt and then starting again as soon as he takes another step.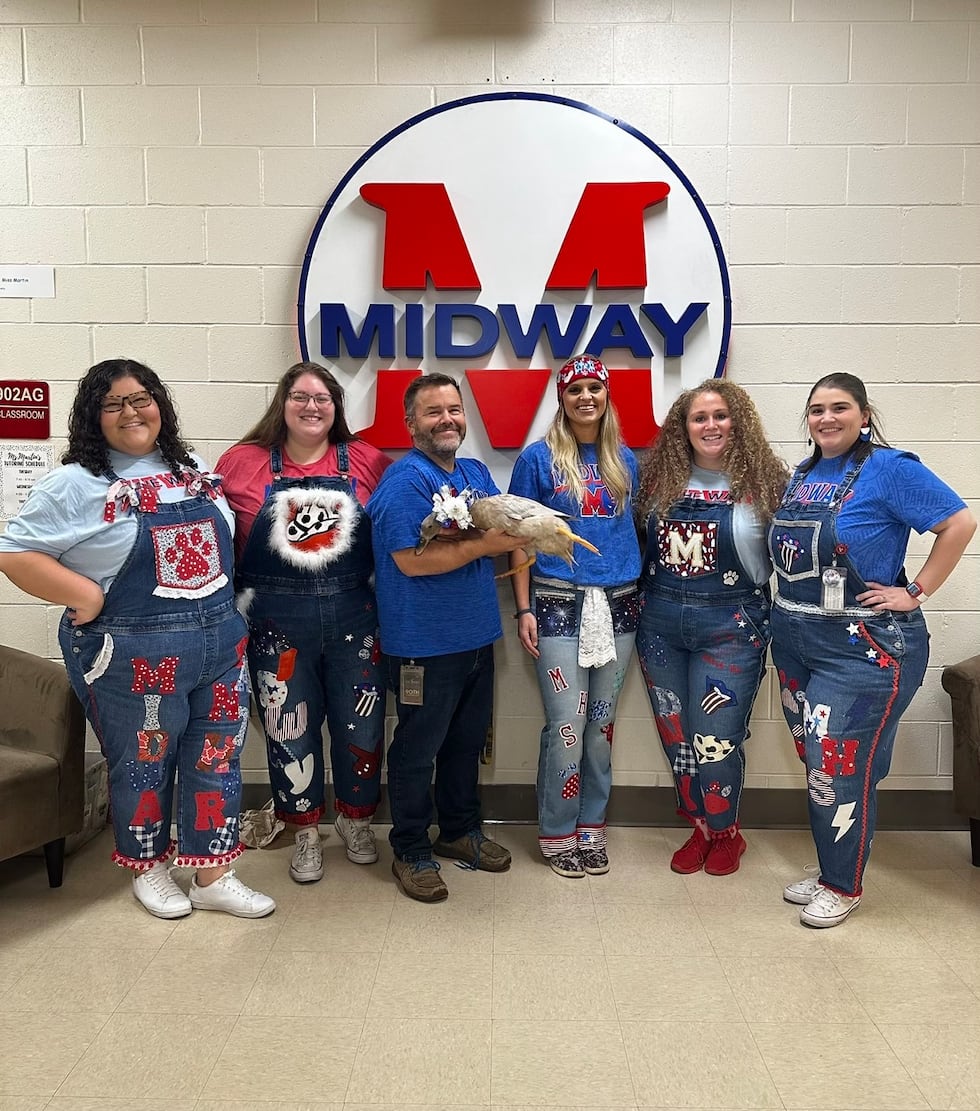 "She knows every square inch of that building," Rejcek said.
Wilber attends classes with the teacher and sets an example, he said. Wilbur wears an ID reminding students to carry their identification and the duck is never absent setting an example that there's no excuse for skipping class.
"We say 'hey if Wilbur can do it, you can do it," he laughed.
"Wilbur has done a great job at connecting with the kids. I've had several kids that have come in and said how much they enjoy seeing her each day and she's really kind of a highlight of the day. She's certainly a highlight for me although it's like having a toddler sometimes and keeping up with them but she has done a great job in the department, and we really enjoy having her around."
To add even more personality to the duck's already amiable demeanor, she never misses out on a chance to dress-up.
Wilbur has donned pink for Barbie day and pink-out day at Midway.
She dressed up for homecoming and this past week went in costume as a spider for Halloween.
Students have created an Instagram account for Wilbur and because of her celebrity status she'll be signing autographs with paint on her foot Saturday, November 11, from 2-5 p.m. at the Midway FFA Fall Festival.
For more information you can visit the Midway FFA page at (6) midway ffa-official - Search Results | Facebook.
Copyright 2023 KWTX. All rights reserved.