Dr. Clem Edward Malone
May 27, 1946 – October 27th, 2023
Published: Nov. 1, 2023 at 10:46 PM CDT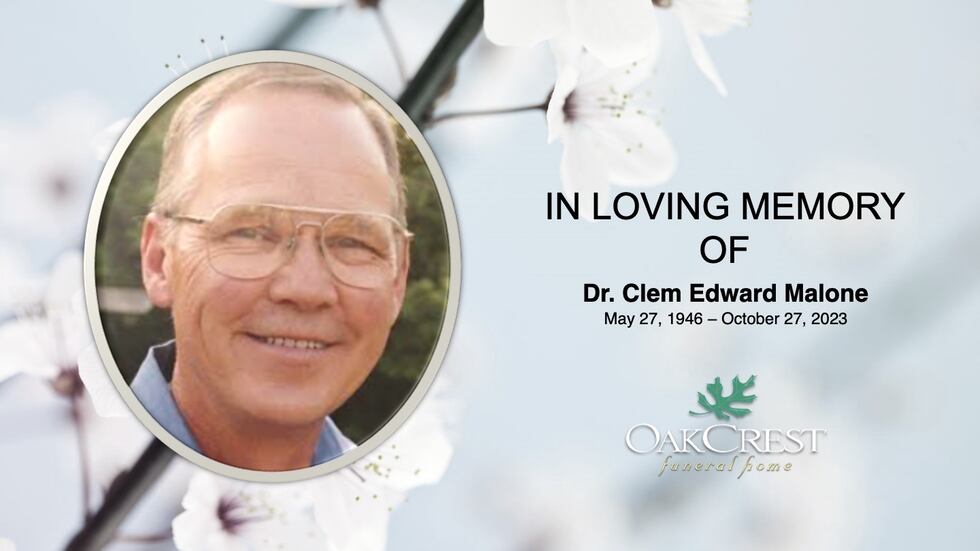 Dr. Clem Edward Malone, age 77, of Waco, Texas, passed away Friday, October 27, 2023. A Celebration of Life service will be held at Waco Memorial Park in the Mausoleum Chapel on Saturday, November 4 at 1 pm with Derek Dodson officiating. Hors d'oeuvres and drinks will be served immediately afterwards at Sironia Uptown Cafe (1509 Austin Ave, Waco 76701). Visitation with his family will be 5-7 p.m. Friday, Nov. 3, at the OakCrest Funeral Home, 4520 Bosque Blvd., Waco.
Clem was born in Waco on May 27, 1946. He graduated from Texas A&M in 1969 with a Doctor of Veterinary Medicine degree. Clem operated a successful veterinary clinic in Waco for 46 years. His gentle and professional demeanor made him a valuable asset to his profession. Additionally, Clem proudly served on the board of the Waco Animal Shelter for many years.
In 1968 he married his late wife, Donna, and they had three children, Amy, Jonathan, and Kimberly. To his pride and joy all of them became A&M graduates themselves. Clem and Donna first opened their veterinary practice in Temple, TX. Later they moved to Waco and opened Family Pet Care Clinic on Valley Mills Drive.
In 1997, he married Christina and they raised their son, Cody. Clem found his passion not only in his love for his career but also in partnering with Cody in tournament fishing. Together Cody and Clem placed and won many tournaments. If Clem wasn't working he spent hours chasing those big bass across the Texas lakes. He loved fishing with "His Boy"!
Clem was preceded in death by his parents, Alpheus and Beatrice Malone; his brother, Patrick Malone; and late wife, Donna Malone.
Clem leaves behind his wife, Christina Malone; children, Amy Crowell and husband, Blake, Jonathan Malone and wife, Carrie, Kimberly Hardaway and husband, Kyle, and Cody Malone and wife, Sabrina; grandchildren, Madeline Huffhines and husband, Cole, Jacob Crowell and wife, Brielle, Mason Malone, Avery Mae Malone, Anna Beth Hardaway, Brooke Hardaway, Grayson Hardaway, Bennett Hardaway, Evelyn Hardaway, Lakeyn Malone, Ethen Wells, and Alex Wells.
Clem was a loved and cherished husband, father, and "Poppie" to his 12 grandkids. We celebrate his life and although he will be missed by all, we rejoice in the fact that he is with Jesus.
VIEW ORIGINAL: https://www.oakcrestwaco.com/memorials/dr-clem--malone/5315677/index.php

Copyright 2023 KWTX. All rights reserved.