Mississippi State a much-needed win for the Aggies to build momentum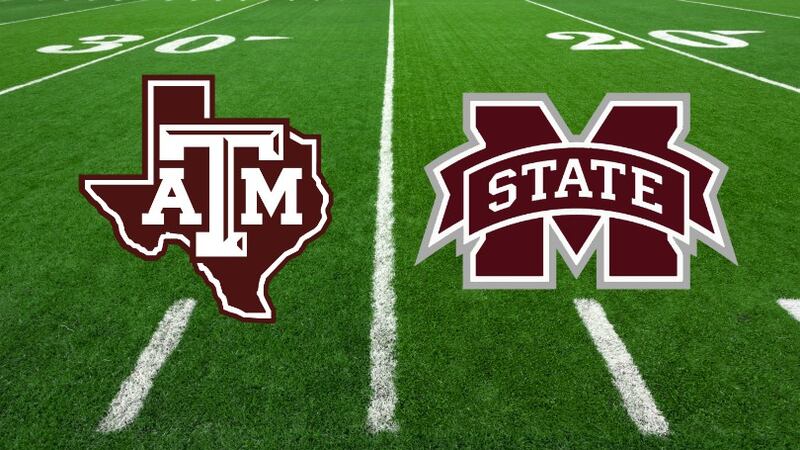 Published: Nov. 7, 2023 at 5:16 PM CST
BRYAN-COLLEGE STATION, Texas (KBTX) - Texas A&M football returns to Kyle Feild this Saturday to take on a Mississippi State team that's 4-5. It's the only SEC night game at home this season with a 6:30 p.m. kickoff on ESPN 2.
The Aggies are looking to bounce back after another close loss to Ole Miss. The Aggies are 5-4 overall and their 3 SEC losses have all been by one possession.
The Maroon and White are in desperate need of a win. A victory over Mississippi State on Saturday would make A&M bowl eligible for the first time since 2021. The Aggies are 19-point favorites over the struggling Bulldogs who are 1-5 in conference play. Head coach Jimbo Fisher and the Aggies need to seize the opportunity this week to get a win and build some momentum for the rest of the year.
"It's going to be a very tough game," Fisher said. "They're physical up front. We need to play well, get back in the groove, and flush that one from last week. Take what we did well and build on it. The inches we have to find in the other phases we have to correct and move on and get ready to play a Mississippi State team this week," Fisher added.
"Just being home I think that will help a lot," senior fullback Earnest Crownover said. "The 12th Man, they've always been on our side, so it'll be good to be home and to make sure that we can be a good offense," Crownover added.
"We're just going to play to our standard that we know how to play to," exclaimed defensive lineman Albert Regis. "That wasn't our best performance, but all we can do now is learn from it and grow from it as a team," Regis added.
The Aggies and Bulldogs have split their last four meetings with Mississippi State winning their last two matchups.
Copyright 2023 KBTX. All rights reserved.