Ernestine Denard
August 23, 1936 – November 4, 2023
Published: Nov. 8, 2023 at 2:11 PM CST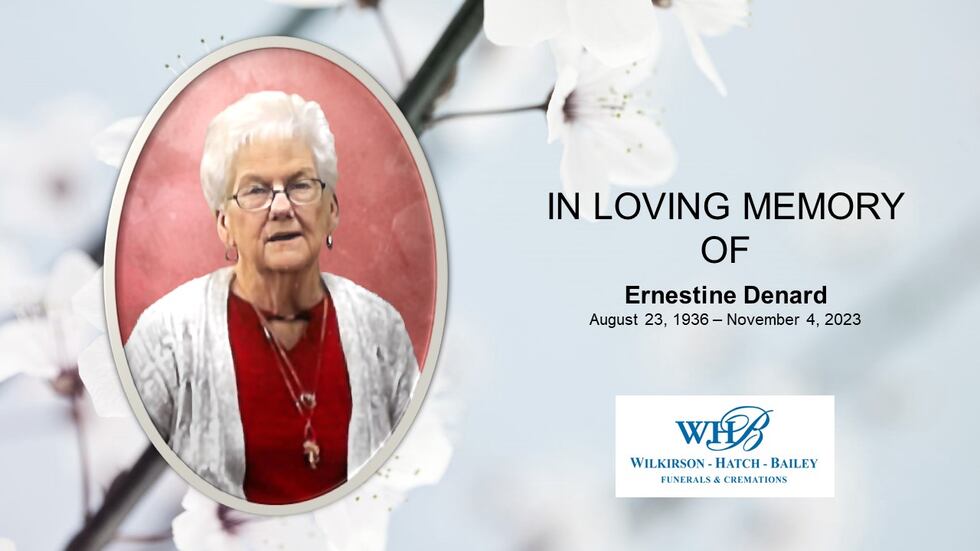 Ernestine Ferrell Denard, loving mother, grandmother, and great-grandmother, passed away Saturday, November 4, 2023, at the age of 87.
A graveside service will be held at 10:00 a.m., Thursday, November 9, 2023, at Waco Memorial Park in Robinson, Texas. Visitation will be from 5:30 p.m. until 7:00 p.m., Wednesday, November 8, in the Garden Room at Wilkirson-Hatch-Bailey Funeral Home in Waco.
Ernestine was born on August 23, 1936, in McLennan County, Texas, to Oddie F. Ferrell and Mabel Scoggins. Ernestine graduated from McGregor High School and went on to work as a secretary at Braswell Davis Design. Later, she became the co-owner of Century Saw & Tool before retiring. She was a faithful member of the First Baptist Church Hewitt.
Ernestine found joy in her weekly workouts with her Silver Sneakers group and cherished the Tuesday afternoon Chicken Foot games with her church friends. Though her greatest enjoyment came when she was able to watch her great-granddaughter play softball. Ernestine will be remembered for her kindness, love for her family, and the lasting friendships she formed.
Pallbearers will be Michael Johnson, Cecil Pogue, Heath Laughlin, Alex Goff, David Goff, and Mark Scoggins. Honorary pallbearers include Jerry Goff and her great-grandsons.
She was preceded in death by her husband, Howard Ray Denard; daughter, Connie Denard Laughlin, parents; Oddie F. Ferrell, and Mabel Ferrell Hodges; stepfather, Raymond Hodges; brother, Gordon "Sonny" Ferrell; and sister, Geneva Ferrell Goff.
Ernestine is survived by her daughter, Sharon Denard Johnson, and husband, Teddy of Crawford; son, Mark Scoggins, and wife, Maria of Robinson; her grandsons, Michael Johnson, and wife Brandi, of Crawford, Heath Laughlin of Riesel; granddaughter, Scharla Johnson Pogue, and husband, Cecil of Crawford; her great-grandchildren, Savanna Pogue, Tre' and Mikayla Pogue, Brock Hyland, and wife, Scout Simmons, Blaine Hyland, Beryn Hyland, Bostyn Hyland, Asthon DeVoss, and husband, Kory, Preston "Stoney" Laughlin, Heath "Rooster" Laughlin, Amara Rivera, Eric Scoggins; her great-great grandson, Beckett Pogue, as well as numerous nieces and nephews.
In lieu of flowers, the family requests that memorials be made to First Baptist Hewitt in Ernestine's honor. The family invites you to leave a message or memory of Ernestine on her "Tribute Wall" at www.WHBfamily.com
VIEW ORIGINAL: https://www.whbfamily.com/obituaries/Ernestine-Ferrell-Denard?obId=29823458#/obituaryInfo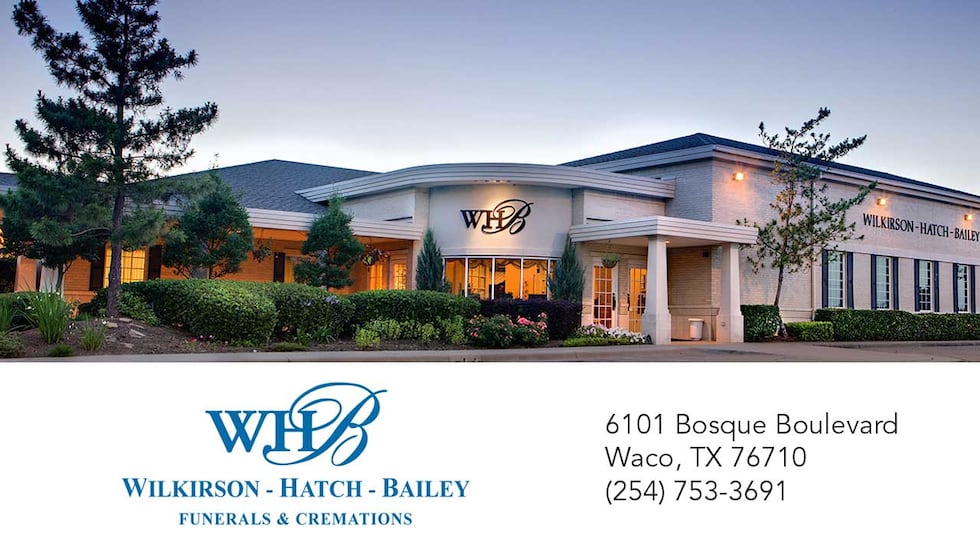 Copyright 2023 KWTX. All rights reserved.