Jim Spencer
October 3, 1934 – November 6, 2023
Published: Nov. 10, 2023 at 2:11 PM CST
Jim Ed Spencer, Sr., 89, of Hewitt, passed away Tuesday, November 6, 2023.
A funeral service will be held at 3:00 p.m., Sunday, November 12, 2023, in the Chapel at Wilkirson-Hatch-Bailey Funeral Home, 6101 Bosque Blvd., in Waco. Nathan Stone will officiate the ceremony. Visitation will begin one hour prior to the service, starting at 2:00 p.m., in the chapel. A graveside service will also be held on Monday, November 13, at 2:00 p.m. at Waco Memorial Park, 6623 I-35 S., in Robinson.
Jim, born in Waco in 1934, was a proud graduate of Adamson High School in Dallas and Texas A&M University, with a commission in the U.S. Army. Serving with honor in the 3rd Armored Division in Germany, he achieved the rank of Captain in the Army reserves. Jim later returned home to Dallas, and married the former Betty Eddelman then moved to Waco in 1965. Once in Waco, Jim dedicated years of service to the Rohan Co. / Division of Certainteed Corp until his retirement in 1997.
Jim was preceded in death by his parents, Edwin Spencer, and Avah Storey Spencer; stepson, Randy Lane; stepdaughter, Brenda Moon; and step grandson, Dustin Moon.
He is survived by his beloved wife of 40 years, Virginia Brink Lane, whom he married in 1983. They lived in Waco and Houston, and they loved to travel together for many years. He is also survived by his son, Jim Spencer Jr.; daughter, Sue Lynn Spencer Adams, and her husband, James, of Troy; grandchildren, Avah Spencer, and Cooper Spencer of Waco, Natasha Carter of Troy, and Brittany Thomas of Garland; his stepchildren; Vickie Gorgas, and her husband, Paul of Keller; Rusty Lane of Royce City; step grandchildren, Michelle Colwick, Tricia Engel, Matt Gorgas, Breana King, Jordan Cox, Ashley Morphew, Carrie Moon, Heather Lochlar, his sister, Ann Crow, as well as many great-grandchildren, nieces and nephews.
If you would like to make a memorial donation, please do so to Meals on Wheels: https://mowwaco.org/, the Humane Society https://www.humanesocietycentraltexas.org/, or the charity of your choice.
The family invites you to leave a message or memory on Jim's "Tribute Wall" at www.WHBfamily.com
VIEW ORIGINAL: https://www.whbfamily.com/obituaries/Jim-Ed-Spencer?obId=29848254#/obituaryInfo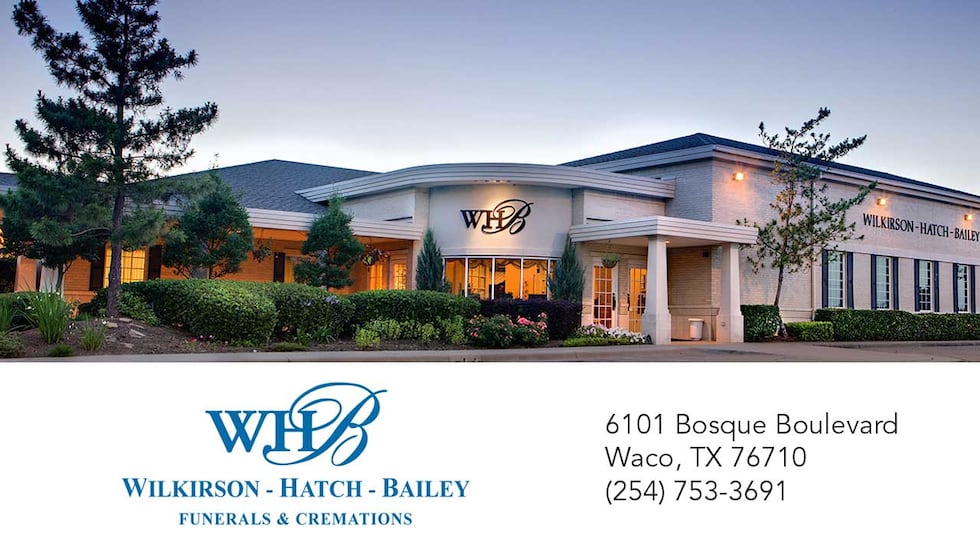 Copyright 2023 KWTX. All rights reserved.