#25 Kansas State uses fast start to roll overmatched Baylor
#25 ranked Wildcats win 59-25 over the Bears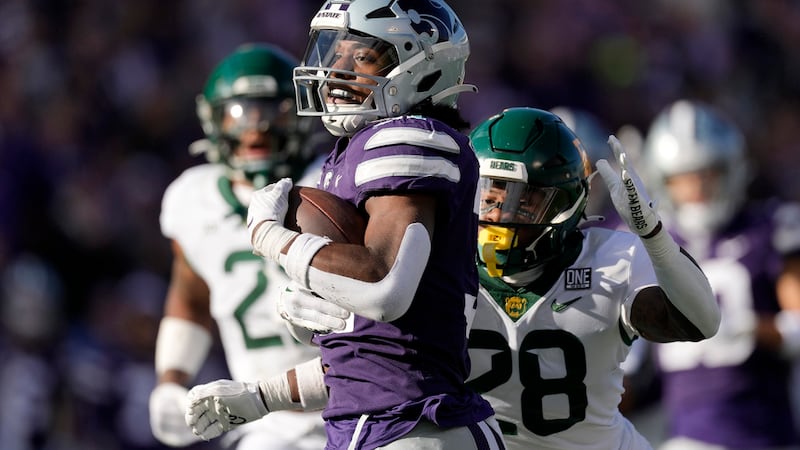 Published: Nov. 11, 2023 at 5:30 PM CST
MANHATTAN, Kansas (KWTX) - Both Kansas State and Baylor came into their matchup looking to rebound after disappointing overtime loses last week. The number 25 ranked Wildcats were trying to keep pace in the wide open Big 12 title race, while the Bears needed a win to retain some hope of making a bowl game.
K-State quickly killed those hopes.
The Wildcats jumped out to a 21-7 lead in the first quarter after two Will Howard touchdown passes and a fumble recovery for a touchdown following a massive hit on quarterback Blake Shapen.
K-State showed some mercy by waiting until the start of the second quarter to make the score 28-7 after letting the clock run down in the first quarter while they were at Baylor's one yard line.
Baylor threatened to at least make things interesting in the second quarter after Shapen found freshman running back Dawson Pendergrass (one of the few bright spots on this year's team) for their second touchdown connection of the game, and the team recovered an onside kick. But ultimately their next drive would end after a fake field goal pass on 4th and 8 from Isaiah Hankins didn't connect.
The Wildcats would stop playing with their food in the second half.
K-State would outscore Baylor 17-6 in the third quarter in route to playing their backups in the fourth.
Kansas State now moves to 7-3 on the season and still maintains an outside shot of playing in the Big 12 title game.
Baylor on the other hand will not be bowl eligible for the second time in four seasons under Head Coach Dave Aranda after falling to 3-7 on the year.
The 34 point loss is the second worst margin of defeat in the Aranda era.
Copyright 2023 KWTX. All rights reserved.