Elijah Robinson begins tenure as Texas A&M's interim head coach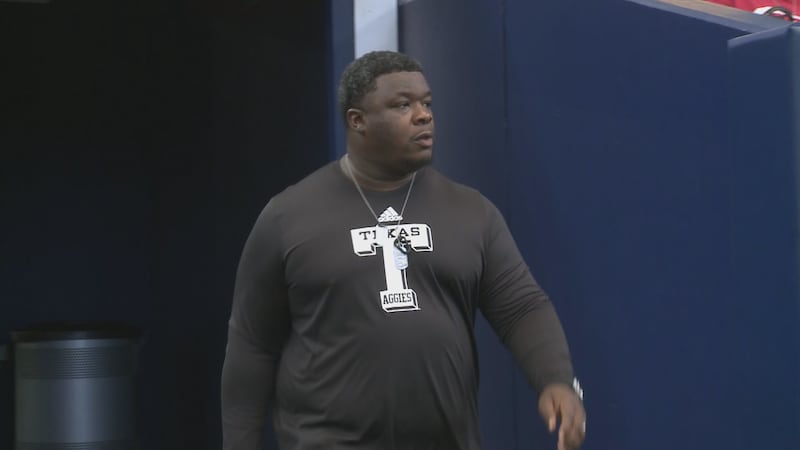 Published: Nov. 13, 2023 at 3:42 PM CST
BRYAN-COLLEGE STATION, Texas (KBTX) - After Texas A&M fired head football coach Jimbo Fisher on Sunday, Athletic Director Ross Bjork named defensive line coach/co-defensive coordinator Elijah Robinson as the interim head coach.
Robinson addressed the media for the first time on Monday where he focused heavily on the players and helping them through this transition. Bjork mentioned on Sunday that he tabbed Robinson as the interim coach with the players in mind because he knew they would rally around him. Robinson is up to the task and ready to finish the season out strong.
"The players are the most important, so we're going to do things that are going to allow those guys to have fun, play with juice and energy, and understand that it's going to be okay," Robinson reassured. "Whatever that is as a staff, we're going to come together and make the adjustments that need to happen for those guys to enjoy these next few weeks and play as well as possible," Robinson added.
Robinson said when he met with the players, he wanted to form a bond with each position group, not just the defensive line which he's been working with.
"When we talked to the team, we addressed them about the transition," Robinson explained. "I thought those guys handled it really well. Those guys embraced me. Those guys were not just happy about everything that happened, but they understood that what happened happened. They're ready to move forward as far as saying what's next. That's the mentality they had. I'm forever grateful for every guy in that room and the way they embraced me after the news broke," Robinson added.
Bjork also mentioned that the timing of Jimbo Fisher's firing had partly to do with the opponent this week. Preparing for Abilene Christian is not quite as daunting of a task for your first week as head coach as an SEC opponent.
Robinson came to Aggieland in 2018 with Jimbo Fisher as the defensive line coach. He was promoted in 2022 as the assistant head coach and run game coordinator.
Robinson's seen DeMarvin Leal, Micheal Clemons, Justin Madubuike, and Daylon Mack get drafted into the NFL. In 2021, the entire starting defensive line signed NFL contracts.
Copyright 2023 KBTX. All rights reserved.