Tom Gray announces his retirement at 10th Court of Appeals chief justice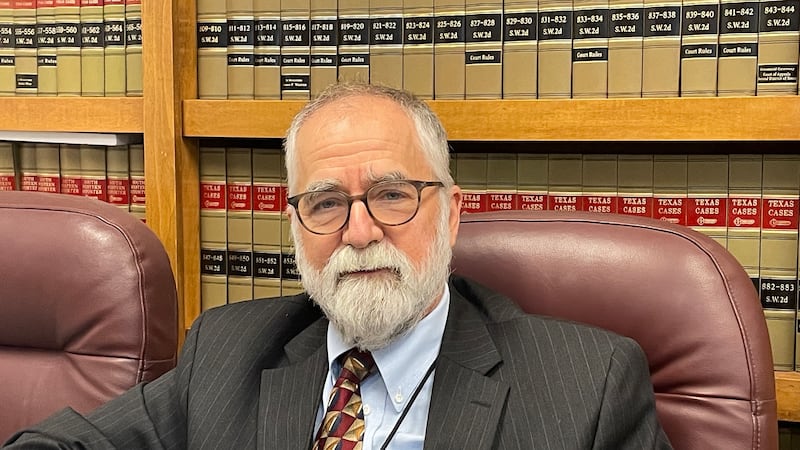 Published: Nov. 16, 2023 at 7:54 PM CST
WACO, Texas (KWTX) - Tom Gray, the second longest-serving chief justice in the 100-year history of Waco's 10th Court of Appeals, will not seek re-election next year and announced his retirement Thursday.
Gray, 67, has served as chief justice on the three-justice intermediate appellate court for 20 years and was a justice on the court for five years before that.
His announcement comes a week after Justice Matt Johnson, Gray's colleague on the court, announced that he is running for the chief justice position. It was unknown until Thursday if Gray planned to seek re-election.
"I wish Tom the very best in his retirement," Johnson said Thursday. "I still plan to continue to campaign districtwide in all 18 counties for the position of chief justice at the court."
The deadline to file for elected office is Dec. 11. No one other than Johnson has filed to run for 10th Court chief justice.
The third member of the court, Justice Steve Smith, also wished Gray well and thanked him for his years of service on the court and to the citizens of Texas. Smith, a former state district judge in Brazos County, ran unsuccessfully against Gray in 2012.
Gray said he thinks he could have defeated Johnson had he run for re-election. However, he said his announcement is in keeping with his "original plan."
"My original plan was to serve the court and to leave it in a better position than I found it," Gray said. "I knew if I couldn't accomplish that by now that I wouldn't be able to. And yes, it is in much better condition than when I got here, especially than when I became chief."
He said when he became chief, there were 499 pending cases. Since then, he said, the court has lowered the average docket to less than 200 cases, with all three justices averaging about 70 cases each.
Johnson, who served as 54th State District Court judge in Waco for 14 years before joining the court three years ago, was critical of the time many cases have remained pending with the court, telling supporters last week that "justice delayed is justice denied."
He said as chief justice, he intends to establish new systems and timelines that will deliver justice in a speedier fashion.
"I have always kept in mind that the people come to the court looking for a decision, and they deserve to have it in a timely manner," Johnson said. "When judges delay decisions or stall in deliberating, sometimes for years, it is absolutely unfair to the litigants. Some actually have their lives placed on hold until a court renders a decision, and that is not proper."
Gray declined comment when asked if the court will be in good hands if Johnson becomes chief justice.
"I don't believe I will respond to that," he said.
Much of Gray's tenure on the court has included public and private disputes with his fellow justices, which a former colleague described diplomatically as a "lack of collegiality."
The Texas Commission on Judicial Conduct issued a rare sanction against an appellate court justice by admonishing Gray in 2009 for demeaning his colleagues in blistering dissenting opinions. The commission also noted that Gray used a key to enter the locked chambers of former Justice Bill Vance and was seen rifling through papers on his desk after hours.
The commission said Gray committed "willful and/or persistent" violations of two standards of conduct for judges, including allowing his fractured relationships with Vance and former Justice Felipe Reyna to affect his behavior. After suspension, a public admonition comes behind a public reprimand and a public warning in terms of seriousness.
"The commission concludes, based on the facts and evidence before it, that Justice Gray allowed his acrimonious relationship with Justices Vance and Reyna to improperly influence his conduct and judgment, and in the process, failed to treat those with whom he interacted in an official capacity, including court personnel, in a patient, dignified and courteous manner," the admonition said.
Gray said he loves the law and ran on his deeply-held belief that "we could have a quicker, cheaper and more understandable judicial system. He said he did not see that concept realized.
"To accomplish that, you have to have a group of like-minded individuals, and I didn't…" Gray said. "The system of putting judges on the court doesn't give any single person the ability to build that consensus. So you worked with what the people send, and that is the strength of the system and it is the weakness of the system. Some justices put an emphasis on speed. Mine has been on getting the right answer. But more importantly than the right answer for an appeals court, you have to get it right for the right reason."
Gray said if he had run for re-election and won, he likely would have resigned mid-term to allow the governor to appoint his replacement to trigger what he called a more vigorous vetting process, noting that Johnson ran unopposed three years ago.
The 10th Court of Appeals hears civil and criminal appeals from courts in an 18-county region of Central Texas.
Copyright 2023 KWTX. All rights reserved.