Hoover's 3 TDs help TCU coast to 42-17 win over Baylor
Baylor and TCU met for 119th time, become most-played rivalry in Texas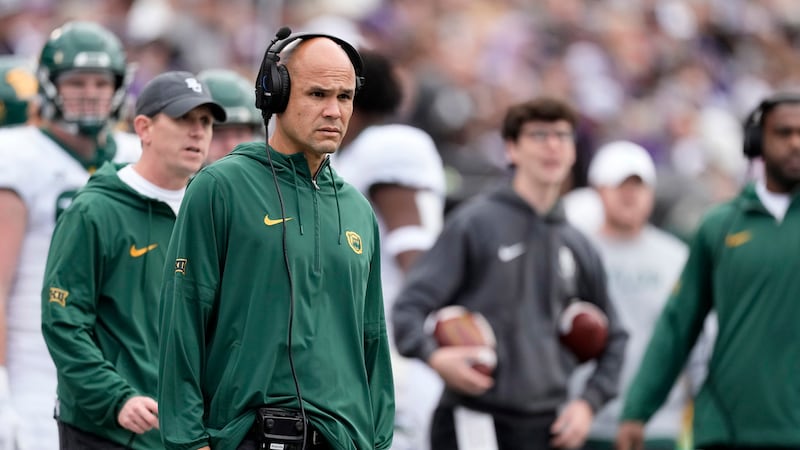 Published: Nov. 18, 2023 at 5:39 PM CST
FORT WORTH, Texas (KWTX) - Baylor and TCU both came into the game desperate to snap a three-game losing streak amid disappointing seasons for each program.
This was the 119th meeting between the two programs, becoming the most-played rivalry in Texas, passing Texas A&M and Texas who have played 118 times.
Baylor took an early 7-0 lead after their defense forced a turnover at the goal line on TCU's first drive of the game.
TCU was not fazed by the early deficit and the Horned Frogs offense gouged the Bears defense with explosive plays and went into halftime with a 14-10 lead.
Coming out of halftime, the Horned Frogs offense continued to hit on all cylinder, extended their lead to 21-10 and putting the pressure on Baylor.
The Bears responded on their following drive as quarterback Blake Shapen connected with tight end Drake Dabney on a 48-yard completion to set up first and goal for Baylor. On the next play, Shapen ran a quarterback keeper to his left for the touchdown and cut TCU's lead back to 4.
Big plays by TCU continued to plague the Bears defense and the Horned Frogs piled on in the second half.
The Bears offense couldn't keep pace with TCU as Baylor falls 42-17 to the Horned Frogs.
Baylor quarterback Blake Shapen went 20/30 for 197 yards and a touchdown. Shapen also added 42 yards and a score on the ground.
TCU quarter back Josh Hoover diced up Baylor's defense, going 24/29 for 412 yards and 2 touchdowns. He also racked up 22 yards rushing and a touchdown on the ground.
Baylor heads back to Waco to prepare for West Virginia next Saturday (11/25) for their final game of the season.
Copyright 2023 KWTX. All rights reserved.